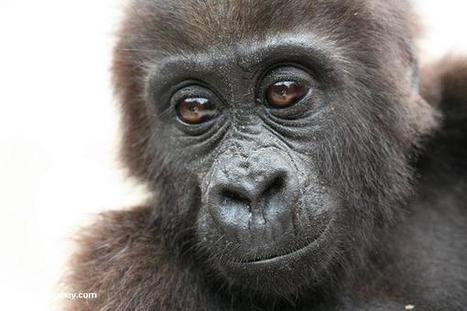 Mongabay,
-▶ GREAT APES HABITAT
Cross River gorillas and eastern gorillas lost more than half their habitat since the early 1990s due to deforestation, logging, and other human activities, finds a comprehensive new assessment across great apes' range in West and Central Africa..
http://news.mongabay.com/2012/1001-great-apes-habitat.html
Mongabay, July 17, 2014
-▶ SURROUNDED BY DEFORESTATION, CRITICALLY ENDANGERED GORILLAS HANG ON BY A THREAD http://news.mongabay.com/2014/0717-dasgupta-gfrn-crgorilla.html
-▶ PRIMATOLOGIST WARNS OF POSSIBLE GREAT APE EXTINCTION http://sco.lt/7zDhMf
VIDEO
GORILLA HABITAT IN RWANDA UNDER THREAT
-▶ Mountain Gorillas survive on a fragile ecosystem and over 200 different varieties of leaves. Rwanda's verdant Virunga forests are a carbon sink and are home to rare mountain gorillas. Their habitat however is critically endangered. New projects seek to protect the primate, its ecosystems and forests... http://sco.lt/7lIwcL
Mongabay, July 09, 2014
-▶ SOLD INTO EXTINCTION: GREAT APES BETRAYED BY PROTECTORS. Corruption in high places, CITES, the international body charged with protecting endangered species has turned a blind eye to massive illegal trade of endangered Great Apes http://news.mongabay.com/2014/0709-sri-stiles-cites-commentary.html
Magazine Good Planet, July 02, 2014
-▶ 'SLAVERY' DRIVING APES TO EXTINCTION http://www.goodplanet.info/en/news/2014/07/02/slavery-driving-apes-extinction/
MongaBay, February 25, 2014
-▶ BORNEO MONKEYS LOSE A TENTH OF THEIR HABITAT IN ONE DECADE. Palm oil, industrial timber plantations, and logging concessions were the biggest dangers for the monkeys... http://news.mongabay.com/2014/0225-endangered-langurs.html
World Widlife Fund - PHOTOS
-▶ 5 GORILLA FACTS YOU SHOULD KNOW http://worldwildlife.org/stories/7-gorilla-facts-you-should-know
Mongabay, March 25, 2014
-▶ OVER 9,000 PRIMATES KILLED FOR SINGLE BUSH MEAT MARKET IN WEST AFRICA EVERY YEAR http://news.mongabay.com/2014/0324-mark-tcs-west-africa-
-▶ HUNTING SEED DISPERSING ANIMALS PUSHING CENTRAL AFRICAN FORESTS TOWARD ECOLOGICAL COLLAPSE http://sco.lt/6Q8PZp
-▶ THE BARBARIC ILLEGAL WILDLIFE TRADE FLOURISHES AND MUST CEASE http://sco.lt/6iIjtx
WATCH
Wildlife Extra News, April 2014
"HOPE" (15:00)
- Rwanda's mountain gorillas star in new documentary
The film, narrated by Sir David Attenborough, takes a historical look back to 1967 when Dian Fossey began her work. Fewer than 300 mountain gorillas remained at the time, their population ravaged by poachers, who for years targeted the gorillas to make money, selling infant gorillas to zoos or the hands and heads of the adults as trophies to wealthy tourists. http://www.wildlifeextra.com/go/news/Mountain-gorillas-film.html#cr
Mongabay, November 27, 2013
-▶ ONLY 28% OF POTENTIAL BONOBO HABITAT REMAINS SUITABLE http://news.mongabay.com/2013/1127-hance-bonobo-range.html
Mongabay, July 17, 2014
-▶ WILL THE LAST APE FOUND BE THE FIRST TO GO? http://news.mongabay.com/2014/0716-zvomuya-gfrn-bonobo-sankuru.html
Treehugger, March 4, 2013
-▶ NEARLY 3,000 WILD GREAT APES 'STOLEN' EACH YEAR http://www.terradaily.com/reports/Nearly_3000_wild_great_apes_stolen_each_year_UN_999.html
The Jane Goodall Institute
-▶ JANE'S REASONS FOR HOPE http://www.janegoodall.org/janes-reasons-hope
"Z00S" (PODCAST)
RadioLab, March 14, 2014
UNCAGING THE CAGED
http://www.radiolab.org/story/91552-zoos/
Science Daily, January 09, 2014
-▶ LOSS OF LARGE CARNIVORES POSES GLOBAL CONSERVATION PROBLEM, CHANGING OUR ECOSYSTEMS FOREVER http://www.sciencedaily.com/releases/2014/01/140109143754.htm
WATCH
PBSNature
"THE FUNKIEST MONKEYS"
Nature observes a troop of endangered crested black macaques and explores what is causing their decline
http://www.pbs.org/wnet/nature/episodes/the-funkiest-monkeys/the-funkiest-monkeys/8625/
International Fund for Animal Welfare, December 11, 2013
-▶ DRAMATIC IMPACTS OF CLIMATE CHANGE ON ANIMALS MUST BE ADDRESSED http://www.ifaw.org/international/news/dramatic-impacts-climate-change-animals-must-be-addressed
MORE THAN HUMAN:
STRIKING PORTRAITS OF ANIMALS
Africa Geographic, February 27, 2014
-▶ VIDEO OF A TOUCHING CHIMP RELEASE FROM JANE GOODALL INSTITUTE'S CHIMP REHAB CENTER IN THE CONGO
http://blog.africageographic.com/africa-geographic-blog/videos/video-of-a-touching-chimp-release/
The Permaculture Research Institute, October 21, 2013
-▶ THINKING LIKE A FOREST - George Monbiot http://permaculturenews.org/2013/10/21/thinking-like-forest/
Climate and Capitalism, December 8, 2013
-▶ ON THE NATURE AND CAUSES OF ENVIRONMENTAL VIOLENCE http://climateandcapitalism.com/2013/12/08/the-nature-and-causes-of-environmental-violence/
FILM
▶ ****REMEMBERING "GREEN"
An Award Winning Documentary by Patrick Rouxel on the Indonesian rainforest, deforestation and orangutan extinction
"GREEN" has now won top awards from the two most prestigious wildlife film festivals in the world...and more than 30 others... http://greenplanetfilms.org/product_info.php?products_id=682
-▶ SURGING DEMAND FOR VEGETABLE OIL DRIVES RAINFOREST DEFORESTATION http://sco.lt/6yY5Vh
-▶ MAJOR PALM OIL COMPANIES ACCUSED OF ECOCIDE, BREAKING ETHICAL PROMISES IN ASIA AND AFRICA http://sco.lt/8TkGjh
ScienceDaily, December 19, 2013
-▶ SUSTAINABLE FORESTS? IF A TREE DOESN'T FALL IN CHINA, CAN YOU HEAR IT ELSEWHERE IN THE WORLD http://www.sciencedaily.com/releases/2013/12/131219154553.htm
-▶ NO TO BIODIVERSITY OFFSETTING : NATURE IS PRICELESS (INVESTING LIKE AN ECOSYSTEM http://sco.lt/7xzjKj
-▶ WHAT'S WRONG WITH TREE PLANTATIONS? http://sco.lt/4iLDeL
-▶ ECOCIDE: A PLAGUE OF DEFORESTATION SWEEPS ACROSS SOUTHEAST ASIA WITH TERRIBLE LOSS OF WILDLIFE AND BIODIVERSITY http://sco.lt/8aPgp7
-▶ CHADS LAST ELEPHANTS - NUMBERS PLUNGE FROM 4,300 TO 450 http://sco.lt/8OieKP

SLIDESHOW
Care2 December 12, 2013
-▶ ANIMALS WHO MOURN THEIR DEAD http://www.care2.com/causes/4-animals-who-mourn-their-dead.html?page=3
The Ecologist, December 12, 2013
-▶ WHAT PRICE NATURE: If the world is to feed a growing population against a backdrop of climate change and biodiversity loss, argues Charles Windsor, we must calculate in the cost of the damage we are causing to soils, water, climate and ecosystems... http://www.theecologist.org/blogs_and_comments/commentators/2194757/we_must_put_a_price_on_nature.html
VIDEO
HOW LEOPARD DIABOLO BECAME SPIRIT
The incredible story of how leopard Diabolo became Spirit
Anna Breytenbach, "animal communicator"
AN URGENT MEMO TO THE WORLD http://thenaturaleye.wordpress.com/2012/07/12/an-urgent-memo-to-the-world/
THE AFRICA'S GREAT FEMALE ENVIRONMENTALIST -
WANGARI MAATHAI
How Does The Simple Act of Planting a Tree Lead to Political Change and a Nobel Peace Prize? http://ow.ly/rNgxM
WATCH
MULTI AWARD WINNING DOCUMENTARY (1:19:57)
"TAKING ROOT THE VISION OF WANGARI MAATHAI"
http://www.youtube.com/watch?v=FNIQLE869VA
Film Website: http://takingrootfilm.com/
▶ THE SIXTH MASS EXTINCTION IS UPON US http://sco.lt/4ywB3h
▶ IGNORING NATURE NO MORE: STATE OF THE ANIMALS 2013 - THE ANIMAL-HUMAN RELATIONSHIP http://sco.lt/88qOMD