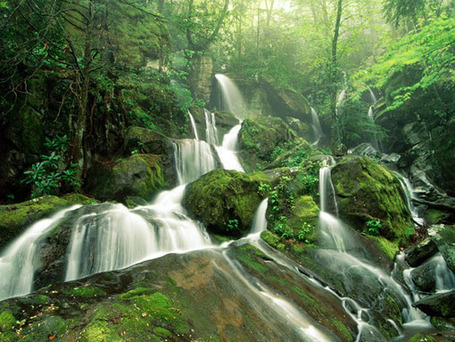 Global Research, May 01, 2014
▶ BIG OIL EYES FLORIDA'S PUBLIC LANDS, PLANS TO DRILL IN THE EVERGLADES http://www.globalresearch.ca/big-oil-eyes-floridas-public-lands-plans-to-drill-in-the-everglades/5380019
FRACKING AMERICA:
MAKING DEALS FOR PRIVATE FOR-PROFIT CORPORATION DRILLING ON OUR PRISTINE PUBLIC LANDS http://www.scoop.it/t/biodiversity-is-life/p/3506892077/fracking-america-making-deals-for-private-for-profit-gas-drilling-on-our-pristine-public-land
Grist, February 04, 2014
▶ STEP RIGHT UP, BIG COAL, FOR AMERICA'S BIG COAL GIVEAWAY. It's bad enough that the federal government leases out public lands to private companies to be torn up and mined for coal. Even worse is that the feds are ripping off taxpayers in the process, leasing the coal tracts at way-below-market prices, through a totally inept program, according to a new federal study. http://grist.org/news/step-right-up-big-coal-for-americas-big-coal-giveaway/
Summit Voice, June 12, 2013
▶ ARE THE FEDS (ON YOUR BEHALF) GETTING SHORT-CHANGED ON WYOMING COAL LEASES? A report by the Department of Interior's Inspector General found that U.S. taxpayers are likely losing tens of millions of dollars on bids from mining corporations as a result of a federal leasing program that undervalues the price of coal...http://summitcountyvoice.com/2013/06/12/are-feds-getting-short-changed-on-wyoming-coal-leases/
Think Progress, June 18, 2014
▶ HOW POLITICIANS ARE USING TAXPAYER MONEY TO FUND THEIR CAMPAIGN TO SELL OFF AMERICA'S PUBLIC LANDS http://thinkprogress.org/climate/2014/06/18/3450397/politicians-taxpayer-money-seize-public-lands/
The Ecologist, June 22, 2014
▶ WE MUST RID THE AMERICAN WEST OF WELFARE RANCHING http://www.theecologist.org/campaigning/2395032/we_must_rid_the_american_west_of_welfare_ranching.html
▶ WELFARE RANCHING: TAKING STOCK OF PUBLIC LAND RANCHING http://publiclandsranching.org/htmlres/wr_taking_stock.htm
▶ MONSANTO GMO TREES DEVASTATE FOREST ECOSYSTEMS, CREATING BIOLOGICAL DESERTS http://sco.lt/52lFDN
======================
Reuters, November 22, 2013
▶ WHY PRIVATELY-FINANCED PUBLIC PARKS ARE A BAD IDEA http://blogs.reuters.com/felix-salmon/2013/11/21/why-privately-financed-public-parks-are-a-bad-idea/
EcoWatch, January 09, 2013
▶ DEATH BY A THOUSAND CUTS: REPORT SHOWS CONSEQUENCES OF DEFUNDING NATIONAL PARKS http://ecowatch.com/2014/01/09/consequences-of-defunding-national-parks/
Al Jazeera America, January 15, 2014
▶ 'GREEN' ENERGY?? LOUISIANA PUBLIC FORESTS BEING SACRIFICED TO FUEL EUROPE'S BIOMASS BOOM http://america.aljazeera.com/articles/2014/1/16/green-energy-demandineuropemaybethreateningamericanforests.html
▶ FOSSIL-FUEL EXTRACTION ON YOUR PUBLIC LAND YIELD MASSIVE ECONOMIC BOON, WELL - SORT OF... http://ow.ly/fXmYN
-▶EPA ALLOWING OIL COMPANIES TO INJECT DRILLING AND FRACKING WASTE INTO AQUIFERS BELOW NORTHERN COLORADO http://www.coloradoan.com/article/20121228/NEWS01/312280037/EPA-allowing-oil-companies-inject-drilling-fracking-waste-into-aquifers-below-Northern-Colorado?nclick_check=1
-▶USA OIL AND GAS DRILLER HAVE INJECTED MORE THAN 10 TRILLION GALLONS OF TOXIC WATER INTO THE EARTH - LEGALLY http://www.scoop.it/t/biodiversity-is-life/p/2759435291/usa-oil-and-gas-drillers-have-injected-more-than-10-trillion-gallons-of-toxic-water-into-the-earth-legally
SELLING OFF OUR PUBLIC LAND FOR GM BIOFUELS
RESEARCH SUGGEST BIOFUELS WILL COST THE EARTH
=========================
ENVIRONMENTAL IMPACT
=========================
September 4, 2013 Grist
▶ WHY ARE THERE PESTICIDES AND GMOs IN OUR NATIONAL WILDLIFE REFUGES? http://grist.org/news/why-are-there-pesticides-and-gmos-in-our-national-wildlife-refuges/
▶ LAW SUIT AGAINST USA GOVERNMENT-SPONSORED PLANTING OF MONSANTO'S GMOs IN WILDLIFE REFUGES http://www.occupymonsanto360.org/2012/03/28/lawsuit-against-government-sponsored-planting-of-monsantos-gmos-in-wildlife-refuges/
The Ecologist, December 12, 2013
-▶ WHAT PRICE NATURE? : If the world is to feed a growing population against a backdrop of climate change and biodiversity loss, argues Charles Windsor, we must calculate in the cost of the damage we are causing to soils, water, climate and ecosystems... http://www.theecologist.org/blogs_and_comments/commentators/2194757/we_must_put_a_price_on_nature.html
VIDEO
▶ KILLING OUR FORESTS AND SOIL WITH CHEMICALS: Majestic Forests in Oregon, at Risk from Timber Industry and Chemical Spraying http://www.scoop.it/t/biodiversity-is-life/p/2674358899/video-usa-majestic-forests-in-oregon-at-risk-from-timber-industry-and-chemical-spraying
Summit Voice, November 11, 2013
▶ SCIENTISTS CAUTION AGAINST TOO MUCH POST-FIRE LOGGING http://summitcountyvoice.com/2013/11/11/scientists-caution-against-too-much-post-fire-logging/
- ▶ SHOULD COMPANIES COMPENSATE SOCIETY FOR ENVIRONMENTAL DESTRUCTION FROM WHICH THEY PROFIT? http://sco.lt/5x2tqz
DON'T LET THIS HAPPEN TO AMERICA
WATCH (56:27)
STEALING AFRICA: WHY POVERTY?
HOW MUCH PROFIT IS FAIR?
https://www.youtube.com/watch?v=WNYemuiAOfU
▶ PESTICIDES ARE KILLING OUR PLANET: DECIMATING POLLINATORS, DRAGONFLIES AND OTHER AQUATIC INSECTS - And YOU http://sco.lt/5XzNlx
▶ PESTICIDE/CHEMICAL REGULATION OVERHAUL NEEDED TO PROTECT ECOSYSTEMS, FOOD CHAIN AND HUMAN HEALTH http://sco.lt/7ZL8yn
▶ CONTEMPORARY AGRICULTURE IS BURNING UP OUR PLANET http://sco.lt/6x8dHN