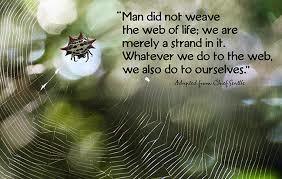 August 29, 2013 Oceanside Star
▶ Canadian Wildlife biologist Neil Dawe says he wouldn't be surprised if the generation after him witnesses the extinction of humanity. All around him, even in a place as beautiful as the Little Qualicum River estuary
...http://www.oceansidestar.com/news/web-of-life-unravelling-wildlife-biologist-says-1.605499
Summit Voice, March 31, 2013
▶ GOP RENEWS ATTACK ON ENDANGERED SPECIES ACT http://summitcountyvoice.com/2014/03/31/gop-renews-attack-on-endangered-species-act/
EcoWatch, February 07, 2014
-▶ WILD PLACES DESTROYED IN THE NAME OF PROGRESS http://ecowatch.com/2014/02/07/wild-places-destroyed-name-of-progress/
Oliver De Schutter, UN Special Rapporteur on the Right to Food
March 10, 2014
-▶ DEMOCRACY AND DIVERSITY CAN MEND BROKEN FOOD SYSTEMS http://www.srfood.org/en/democracy-and-diversity-can-mend-broken-food-systems-final-diagnosis-from-un-right-to-food-expert
-▶ FULL FINAL REPORT http://www.srfood.org/images/stories/pdf/officialreports/20140310_finalreport_en.pdf
Science Daily, January 09, 2014
-▶ LOSS OF LARGE CARNIVORES POSES GLOBAL CONSERVATION PROBLEM, CHANGING OUR ECOSYSTEMS FOREVER http://www.sciencedaily.com/releases/2014/01/140109143754.htm
-▶ ENDING THE WAR ON USA WILDLIFE http://sco.lt/8FVdXF
EcoWatch, December 12, 2013
-▶ U.S. GREAT LAKES ECOSYSTEMS THREATENED BY FOOD SCARCITY http://ecowatch.com/2013/12/12/great-lakes-ecosystems-threatened-food-scarcity/
Climate Progress, November 26, 2013
▶ RAPID PLANKTON DECLINE PUTS OCEAN'S FOOD WEB IN PERIL http://thinkprogress.org/climate/2013/11/26/2999611/plankton-ocean-food-web/
The Permaculture Research Institute, October 21, 2013
-▶ THINKING LIKE A FOREST - George Monbiot http://permaculturenews.org/2013/10/21/thinking-like-forest/
▶ LARGE-SCALE BIODIVERSITY IS VITAL TO MAINTAIN ECOSYSTEM HEALTH http://sco.lt/666xPN
Azcentral.com, January 22, 2014
-▶ WHO NEEDS A REFUGE? LITTLE OWLS. Around Phoenix and other flat Western expanses where the 10-inch-tall creatures were once ubiquitous, bulldozers churn and pavement covers their native turf. Newly planted trees, cactuses and fences hide potential predators such as coyotes or hawks. http://www.azcentral.com/travel/articles/20140119phoenix-owls-refuge-growth.html?nclick_check=1
▶ BALANCE OF NATURE: EXPOSING THE BIG GAME http://exposingthebiggame.wordpress.com/tag/balance-of-nature/
▶ A DISASTER: LOSS OF TWO THIRDS OF TOP PREDATORS CAUSING GLOBAL ECOSYSTEMS TO COLLAPSE http://sco.lt/7XHisr
Guardian, November 27, 2013
-▶ PUTTING A PRICE ON NATURE WOULD BE DISASTROUS http://www.theguardian.com/global-development/poverty-matters/2013/nov/27/price-nature-markets-natural-capital
▶ TREE HEALTH LINKED WITH HUMAN HEALTH - OUR INTERCONNECTED LIVES http://sco.lt/85WZ2v
▶ HEALTHY ECOSYSTEMS: HOW BIODIVERSITY COULD SAVE YOUR LIFE http://sco.lt/7rCeWH
▶ WETLANDS VITAL IN SUPPORTING HUMAN LIFE AND OUR SURVIVAL ECOSYSTEMS http://sco.lt/6Nfjcn
▶ STATE OF THE WORLD'S BIRDS REPORT - INDICATES A PLANET IN PERIL http://sco.lt/4jydYv
▶ THE SIXTH MASS EXTINCTION IS UPON US http://sco.lt/4ywB3h
-▶ GREENLAND'S MELTING: CREATING A DIFFERENT CLIMATE THAN EARTH HAS EVER SEEN http://sco.lt/8bjv73
WATCH
"FROGS"
The Thin Green Line - A World Without Amphibians
WATCH:
CNN VIDEO:
-▶ "OVERFISHED AND UNDER-PROTECTED: OCEANS ON THE BRINK OF CATASTROPHIC COLLAPSE" http://sco.lt/7e9wYL
▶ HUNTING SEED DISPERSING ANIMALS PUSHING CENTRAL AFRICAN FORESTS TOWARD ECOLOGICAL COLLAPSE http://sco.lt/72ozK5
Huffington Post Green, November 22, 2013
▶ THE LANDSCAPE CAN PROTECT OUR HEALTH -- IF WE PROTECT THE LANDSCAPE http://www.huffingtonpost.com/2013/11/22/climate-change-typhoon-haiyan-philippines_n_4320782.html?utm_source=Alert-blogger&utm_medium=email&utm_campaign=Email%2BNotifications
Guardian Environment, January 23, 2013
▶ EUROPE 'HAS FAILED TO LEARN FROM ENVIRONMENTAL DISASTERS'
Europe has failed to learn the lessons from many environmental and health disasters like Chernobyl, leaded petrol and DDT insecticides, and is now ignoring warnings about bee deaths, GM food and nanotechnology, according to an 800-page report by the European Environment Agency. Thousands of lives could have been saved and extensive damage to ecosystems avoided if the "precautionary principle" had been applied.
They accuse industry of working to corrupt or undermine regulation by spinning and manipulating research and applying pressure on governments for financial benefit.
http://www.theguardian.com/environment/2013/jan/23/europe-failed-learn-environmental-lessons
▶ WHY GOOGLE AND SONY ARE TURNING TO NATURE TO INSPIRE THEIR LEADERS. The wisdom of zen master Thich Nhat Hanh http://sco.lt/7UY95t
ROUNDUP - THE ULTIMATE KILLING MACHINE
New Charges Against Monsanto's "Pesticide" Roundup
▶ PESTICIDES ARE KILLING OUR PLANET: DECIMATING POLLINATORS, DRAGONFLIES AND OTHER AQUATIC INSECTS - And YOU http://sco.lt/5XzNlx
September 8, 2013 Scientific American
▶ VULTURES FACE EXTINCTION AND INDIFFERENCE "If they were gone, we'd be left with a huge disease-transmission time bomb,"
http://www.scientificamerican.com/article.cfm?id=vultures-face-extinction-and-indifference
▶ MASSIVE MONARCH BUTTERFLY DECLINE - TRACKING THE CAUSES - HABITAT LOSS, PESTICIDES http://sco.lt/6gjf9t
Thompson Reuter's Foundation October 4, 2013
▶ WORLD'S SACRED FORESTS MAY FALL PREY TO DEVELOPERS, SCIENTISTS WARN http://www.trust.org/item/20131004085253-l4gqn
▶ 'BEE FRIENDLY' PRETREATED PLANTS WITH DEADLY PESTICIDES SOLD TO CONSUMERS http://sco.lt/6CpeAD
September 4, 2013 Grist
▶ WHY ARE THERE PESTICIDES AND GMOs IN OUR NATIONAL WILDLIFE REFUGES? http://grist.org/news/why-are-there-pesticides-and-gmos-in-our-national-wildlife-refuges/
▶ "SUSTAINABLE" PALM OIL SHOULD NOT DRIVE DEFORESTATION http://sco.lt/7N5vU1
▶ DECLINE IN BIODIVERSITY OF FARMED PLANTS AND ANIMALS GATHERING PACE http://sco.lt/7o99MH
▶ HOW BIODIVERSITY COULD SAVE YOUR LIFE http://sco.lt/90Sr2n
▶ THE HIDDEN WORLD OF SOIL UNDER OUR FEET - - SOIL AS A LIFELINE - CLIMATE CHANGE http://sco.lt/4nJvdp
▶ ERADICATING ECOCIDE: WHY BUSINESS LEADERS MUST STEP UP TO THE CHALLENGE http://sco.lt/56vkOH
▶ "WE HAVE FIVE MINUTES BEFORE MIDNIGHT" - UN CHIEF SCIENTIST URGES ACTION ON CLIMATE CHANGE http://sco.lt/7r58s5
▶ A CULTURE SEPARATED BY NATURE CANNOT SURVIVE: BANKRUPTING NATURE http://sco.lt/8MkDxJ
▶ NEOLIBERALIZING NATURE AND PRIVATIZING THE AIR - If We Can't Make Money Off it, it has no value http://www.scoop.it/t/biodiversity-is-life/p/3992906780/neoliberalizing-nature-and-privatizing-the-air-if-we-can-t-make-money-off-it-it-has-no-value
▶ AT THE LIMITS OF THE MARKET: WHY CAPITALISM HASN'T AND CAN'T SOLVE CLIMATE CHANGE http://sco.lt/5OhJZp
▶ LIVING IN THE ANTHROPOCENE: TOWARD A NEW GLOBAL ETHOS http://sco.lt/6FzKSX
▶ WHY CHOOSING NATURE WILL ONLY ADVANCE HUMAN SOCIETIES http://sco.lt/8BIJP7
▶ CONTEMPORARY AGRICULTURE IS BURNING UP OUR PLANET http://sco.lt/9E1XDV
▶ DAMS, ECOCIDE AND WATER RIGHTS: INDIGENOUS COMMUNITIES, ECOSYSTEM, FORESTS DEVASTATED - BIG MONEY DRIVES EXTINCTION http://sco.lt/79BRmT
▶ THE NEW CORPORATE COLONIALISM. DESTRUCTION OF PLANETARY LIFE, INDIGENOUS LAND AND LIVELIHOODS IN THE NAME OF "GROWTH" http://sco.lt/5nT3OT
GO TO:
▶ Latest in GLOBAL CLIMATE CHANGE News http://sco.lt/7Myakz
▶ OUR OCEANS NEED US http://sco.lt/6wow1R
▶ Biodiversity IS Life -- #Conservation #Ecosystems #Wildlife #Rivers #Water #Forests http://sco.lt/8D8NuL
WATCH
FILM: ***"HOME"
An Exquisite Dedication To the Stewards of Our Planet
http://thenaturaleye.wordpress.com/2011/03/26/home-an-exquisite-story-of-our-world/
▶ BLOG -----AN URGENT MEMO TO THE WORLD http://ow.ly/n97Vf