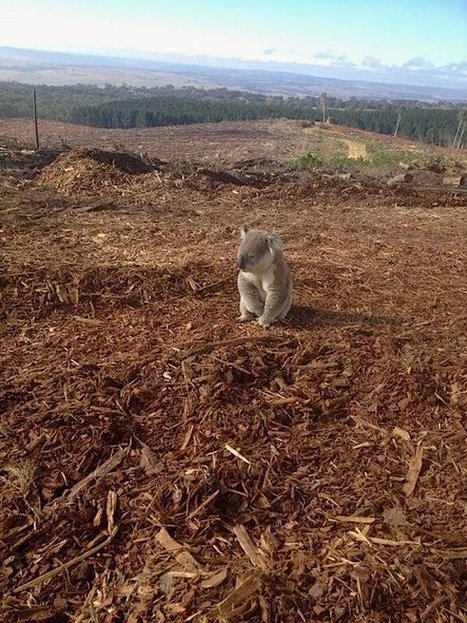 Mongabay, July 10, 2014
▶ A DEADLY GAME: DEMOCRATIC REPUBLIC OF CONGO DEFORESTATION ESCALATES DESPITE RESOURCE SHORTAGE, PROTEST, RAPE, HOMOCIDE http://news.mongabay.com/2014/0710-cannon-gfrn-drc-congo.html
April 17, 2013 Treehugger
▶ AUSTRALIAN DEFORESTATION:
Although the logging operation was approved by the forestry service, judging by the koala's confused expression in this photo, not everyone got the memo.... http://www.treehugger.com/natural-sciences/confused-koala-discovers-his-home-has-been-cut-down.html
Mongabay, June 23, 2014
▶ WORLD HERITAGE COMMITTEE TAKES TEN MINUTES TO REJECT AUSTRALIA'S BID TO STRIP FORESTS OF PROTECTION http://news.mongabay.com/2014/0623-hance-australia-world-heritage-rejected.html
The Guardian, June 23, 2014
-▶ AUSTRALIA: TASMANIA'S NEW LAWS THREATENS PROTESTERS WITH MANDATORY JAIL TERMS It is expected the legislation will primarily be used to target demonstrators unhappy with the logging of the state's forests http://www.theguardian.com/politics/2014/jun/24/tasmanias-new-laws-threaten-protesters-with-mandatory-jail-term
July 24, 2013 Mongabay
▶ AUSTRALIAN LOGGER: FINDING DEAD KOALAS ' A DAILY THING' http://news.mongabay.com/2013/0724-gen-koalas-logging.html
May 21, 2011 Independent
▶ UP A GUM TREE: ARE KOALAS 'SLIPPING TO EXTINCTION? http://www.independent.co.uk/environment/nature/up-a-gum-tree-are-koalas-slipping-to-extinction-2288575.html
Guardian Environment, November 25, 2013
▶ AUSTRALIA UNDER FIRE FOR FAILING TO PROTECT THREATENED ANIMALS http://www.theguardian.com/environment/2013/nov/26/australia-under-fire-for-failing-to-protect-threatened-animals
VIDEO
ABC Australia, October 28, 2013
WOODCHIP GIANT, AUSTRALIAN BLUEGUM PLANTATIONS STRIPPED OF ENVIRONMENTAL CERTIFICATION OVER KOALA DEATHS http://www.abc.net.au/news/2013-10-28/koala-deaths-trigger-apology-from-timber-giant/5050784
Rainforest Rescue
▶ AUSTRALIA: KOALAS CRY FOR HELP - PROTEST. PETITION
The cry of a koala on one of the last trees. The Australian timber industry is cutting down thousands of hectares of former habitat of the koalas. Now journalists and activists present alarming evidence. Many koalas are killed or severely injured by automatic harvesters. Please sign our letter of protest to the Australian government.... https://www.rainforest-rescue.org/mailalert/925/australia-koalas-cry-for-help
▶ GENETICALLY MODIFIED (EUCALYPTUS) TREES DEVASTATE FOREST ECOSYSTEMS, CREATING A POISONED, BIOLOGICAL DESERT http://sco.lt/7vJIwL
WATCH
DR. VANDANA SHIVA "RIGHTS OF NATURE"
2014 Tribunal President Statement - Environment, Biodiversity
=================
WE ARE LOSING OUR FORESTS & ANIMALS AT AN ALARMING RATE
================
New York Times, October 11, 2013
▶ IN INDONESIA, ENVIRONMENTALISTS SEE A DISASTER IN THE MAKING http://www.nytimes.com/2013/10/12/world/asia/in-indonesia-environmentalists-see-a-disaster-in-the-making.html?pagewanted=all&_r=0
Mongabay, May 25, 2014
▶ INDONESIA'S FORESTS INCREASINGLY EMPTY OF WILDLIFE http://news.mongabay.com/2014/0525-meijaard-wildlife-trade-indonesia.html
▶ THERE IS NO SUCH THING AS "SUSTAINABLE" PALM OIL http://sco.lt/61yvZ3
WATCH
TEN NEWS AUSTRALIA INVESTIGATION
PALM OIL ECOCIDE
http://www.scoop.it/t/biodiversity-is-life/p/1561454232/palm-oil-ecocide-ten-news-australia-video
Guardian Environment, March 24, 2014
▶ AUSTRALIAN COMPANIES ACCUSED OF JEOPARDIZING SUMATRAN PRIZED LEUSER ECOSYSTEM INDONESIAN THREATENING WILDLIFE EXTINCTION http://www.theguardian.com/environment/2014/mar/24/australian-companies-accused-of-hampering-conservation-in-indonesia
▶ THE PALM OIL HOLOCAUST - AND WE STAND BY AND ALLOW CORPORATE ECOCIDE? http://sco.lt/7KU641
WATCH
AWARD WINNING DOCUMENTARY
"REMEMBERING 'GREEN'" - AN ORANGUTANS JOURNEY
▶ ASIA PULP AND PAPER STILL DESTROYING FORESTS IN INDONESIA, DESPITE NEW 'SUSTAINABILITY' POLICY http://sco.lt/6GD4W9
▶ CANADIAN MINING COMPANY TO STRIP INDONESIAN FOREST OF PROTECTED STATUS http://sco.lt/8ZU6k5
▶ August 14, 2013 Mongabay
DEFORESTATION: CHINA'S GROWING WINE INDUSTRY THREATENING PANDAS AND OTHER ENDANGERED SPECIES http://news.mongabay.com/2013/0814-gen-pandas-wine.html
▶ August 13, 2013 Mongabay
FOREST FRAGMENTATION LEADING TO HIGHER EXTINCTION RATES http://news.mongabay.com/2013/0813-hance-fragmentation-extinction.html
▶ July 30, 2013 Mongabay
POPULATION OF NEWLY DISCOVERED LEMUR IN MADAGASCAR DOWN TO LAST 50 INDIVIDUALS http://news.mongabay.com/2013/0730-cheirogaleus-lavasoensis.html?n3ws1ttr
August 14, 2013 Mongabay
▶ PAPUA NEW GUINEA
PALM OIL LICENSES TO FOREIGN CORPORATIONS BEING USED TO PERPETUATE FRAUD, LAND GRABBING PROVIDE COVER FOR LOGGING IN NEW GUINEA Foreign companies stripped Papua New Guinea of community-owned forests...Developers are seeking palm oil concessions as a means to circumvent restrictions on industrial logging in Papua New Guinea...foreign companies stripped Papua New Guinea of community-owned forests...Eleven percent of Papua New Guinea's land area has been handed over to foreign corporations, displacing indigenous owners, stripping them of their land rights
http://news.mongabay.com/2013/0814-palm-oil-png-sabls.html
WATCH
"FROGS: THE THIN GREEN LINE"
A WORLD WITHOUT FROGS
WATCH
PBS Nature - Full Episode
"BROKEN TAIL: A TIGER'S LAST JOURNEY'
WATCH
July 4, 2013 theEcologistTV
LIQUID IVORY
HOW PALM OIL IS KILLING INDONESIAN ELEPHANTS http://www.youtube.com/watch?v=vwI-N5KSUjQ&feature=youtu.be
▶ 50 ASTOUNDING FACTS ABOUT RAINFORESTS (INFOGRAPHIC) http://www.huffingtonpost.com/2013/09/12/rainforest-facts_n_3914973.html
Mongabay, June 12, 2014
▶ DESPITE GREEN PLEDGE, WILMAR PARTNER CONTINUES TO DESTROY FOREST FOR PALM OIL http://news.mongabay.com/2014/0612-greenomics-kencana-agri-palm-oil.html
Greenpeace, October 22, 2013
▶ WANT A REASON TO SAVE INDONESIA FROM DEFORESTATION? HERE'S FOURTEEN OF THEM http://greenpeaceblogs.org/2013/10/22/the-environmentalist-14-reasons-we-need-to-save-indonesia-from-deforestation/?utm_source=gpusatwitter&utm_medium=blog&utm_campaign=forests
▶ ECOCIDE: A PLAGUE OF DEFORESTATION SWEEPS ACROSS SOUTHEAST ASIA WITH TERRIBLE LOSS OF WILDLIFE AND BIODIVERSITY http://sco.lt/4lJ5ZR
▶ THE CORPORATE PALM OIL HOLOCAUST: ORANGUTAN CLINGS TO LAST REMAINING TREE IN IT'S FOREST http://sco.lt/6JcGOn
August 10, 2013 Euractive
▶ EUROPE'S FORESTS APPROACH CARBON 'SATURATION POINT' http://www.euractiv.com/climate-environment/europe-forests-run-capacity-abso-news-529850
Mongabay, June 13, 2014
▶ 'BORNE BY THE REST OF THE WORLD' DEFORESTATION HAS GLOBAL IMPACT, REDUCES FOOD SECURITY http://news.mongabay.com/2014/0613-satriastanti-deforestation.html
▶ THE SIXTH MASS EXTINCTION IS UPON US http://sco.lt/4ywB3h
▶ BATTLE FOR THE BEES: DYING BEES RAISE ALARM FOR HUMANS http://sco.lt/8QOFgv
▶ THE LOSS OF OCEAN SPECIES IS STAGGERING http://sco.lt/599jsH
▶ THE TRAGEDY OF WILDLIFE POACHING http://www.scoop.it/t/biodiversity-is-life?page=1&q=POACHING
▶ STATE OF THE WORLD'S BIRDS REPORT INDICATES A PLANET IN PERIL http://sco.lt/4yq6z3
▶ THE BARBARIC ILLEGAL WILDLIFE TRADE FLOURISHES IN INDONESIA AND MUST CEASE http://sco.lt/7vnuMb
The Ecologist
▶ THICH NHAT HANH: MAYBE IN 100 YEARS THERE WILL BE NO MORE HUMANS ON THE PLANET http://sco.lt/7fkZ3B
▶ AN URGENT MEMO TO THE WORLD http://thenaturaleye.wordpress.com/2012/07/12/an-urgent-memo-to-the-world/
▶ WHY CHOOSING NATURE WILL ONLY ADVANCE HUMAN SOCIETIES http://sco.lt/8BIJP7
▶ ECOCIDE AND SACRED LAW: A FUNDAMENTAL INTRINIC VALUE OF THE SACREDNESS OF ALL LIFE http://www.scoop.it/t/biodiversity-is-life/p/3444120897/ecocide-and-sacred-law-a-fundamental-intrinsic-value-of-the-sacredness-of-all-life
WATCH
VIDEO
▶ **** EARTHRACE REVEALS HORROR OF THE ANNUAL 90,000 NAMIBIAN BABY SEAL SLAUGHTER http://sco.lt/5pSMpV
VIDEO
▶ **** CNN: WHAT WE CAN DO ABOUT THE POACHING CRISIS http://sco.lt/8A2hkX
VIDEO
▶ **** MILLIONS OF MIGRATING SONGBIRDS MASSACRED IN THE MEDITERRANEAN http://sco.lt/5VlsJt
GR8 VIDEO
▶ AWHAR - RESTORING THE MESOPOTAMIAN MARSHES IN IRAQ http://sco.lt/5T7sNV
▶ MORE ON EXTINCTION http://www.scoop.it/t/biodiversity-is-life?q=EXTINCTION
▶ MORE ON DEFORESTATION http://www.scoop.it/t/biodiversity-is-life?q=DEFORESTATION