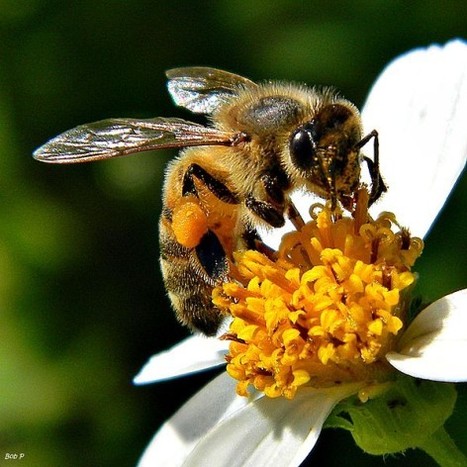 POLLINATION: WATCH THESE BREATHTAKING SHORT CLIPS: A LOVE STORY THAT FEEDS THE EARTH
I've been sharing these beautiful vidoes on twitter for some time - since last year. They are absolutely stunning, and help to remind us about the wonder of creation and the marvel of pollination - a gift provided freely by nature, and one that feeds us. I thought it was high time I shared them a little further. Here they are: http://www.buzzaboutbees.net/pollination.html
(And Just Imagine if All this Pollen was from genetically modified plants and had been Sprayed with Pesticides and Insecticides. What would happen to the bees immune systems and to the honey?)
July 27, 2013 Digital Journal
DECLINE IN BEES IS AFFECTING PLANTS ABILITY TO POLLINATE http://www.digitaljournal.com/article/355300
GARDNERS BEWARD: PLANTS SOLD TO CONSUMERS AS 'BEE-FRIENDLY' PRETREATED WITH DEADLY PESTICIDES http://sco.lt/4zXMBt
--- EUROPEAN UNION REPORT ---
July 23, 2013 EurActiv
DRAMATIC EU 50% BUTTERFULY DECLINE IMPACTING HEALTHY ECOSYSTEMS, BIODIVERSITY AND OTHER SPECIES
Hans Bruyninckx, the EEA's executive director, said: "This dramatic decline in grassland butterflies should ring alarm bells – in general Europe's grassland habitats are shrinking. If we fail to maintain these habitats we could lose many of these species forever. We must recognise the importance of butterflies and other insects – the pollination they carry out is essential for both natural ecosystems and agriculture."
The report flags the over-intensification of agriculture in Western Europe as major cause of the decline.
A statement accompanying the report blames agricultural intensification for creating vast sterile, uniform grasslands which do not provide the habitat needed for many indigenous species to survive. Butterflies, and other species, are also vulnerable to the over-use of chemical pesticides, a major component of intensive farming....
Separately, the EU has stepped up efforts to restrict insecticides in a bid to stave off the decline in bee populations.... http://www.euractiv.com/sustainability/dramatic-eu-butterfly-decline-wa-news-529524
June 5, 2013 Fractured Paradigm
ARE BEES CAUGHT IN A GENETICALLY MODIFIED DOWNWARD SPIRAL? http://fracturedparadigm.com/2013/06/05/are-bees-caught-in-a-genetically-modified-downward-spiral/
August 19, 2013 Time Magazine
THE PLIGHT OF THE HONEYBEE - Mass Deaths of bee colonies may mean disaster for farmers -- and your favorite foods
http://www.time.com/time/magazine/article/0,9171,2149141,00.html#paid-wall
August 14, 2012 Science Daily
STUDY DEMONSTRATES THAT ONE EXTINCTION LEADS TO ANOTHER http://www.sciencedaily.com/releases/2012/08/120814213500.htm?+Animals+News+--+Nature%29
IMPACT OF NEONICOTINOIDS ON BEES, OTHER WILDLIFE, ENVIRONMENT AND HUMAN HEALTH http://ow.ly/e5RYJ
AGRICHEMICAL GIANT, SYNGENTA, FAULTS EU PEER-REVIEWED STUDY TO CURB THEIR KILLER PESTICIDES http://sco.lt/8fqLQ1
April 11, 2013 Corporate Europe Observatory
PRIVATE LETTERS REVEAL SYNGENTA AND BAYER'S FURIOUS LOBBYING AGAINST BEE PESTICIDE BAN http://corporateeurope.org/publications/pesticides-against-pollinators
BAYER RAKED IN $1 BILLION IN 2012 WITH BEE-KILLING PESTICIDES http://www.scoop.it/t/agriculture-gmos-pesticides/p/990749270/bayer-raked-in-1-billion-in-2010-with-bee-killing-pesticides
July 26, 2013 Guardian Environment
UK GOVERNMENT BEE SCIENTIST BEHIND CONTROVERSIAL STUDY JOINS SYNGENTA PESTICIDE CORPORATION - Government agency and pesticides industry are 'too close' http://www.guardian.co.uk/environment/2013/jul/26/government-bee-scientist-pesticide-firm
700,000x LETHAL DOSE OF PESTICIDES FOUND IN BEES http://www.scoop.it/t/agriculture-gmos-pesticides/p/973046639/700-000x-lethal-dose-of-pesticides-found-in-bees
July 21, 2013 - Summit County
PESTICIDES, SUPPRESSING INSECT IMMUNE SYSTEMS AT ROOT OF BEE, BAT AND AMPHIBIAN DIE-OFFS http://summitcountyvoice.com/2013/07/21/environment-pesticides-may-be-at-the-root-of-bee-bat-and-amphibian-die-offs/
PESTICIDES ARE KILLING OUR PLANET: DECIMATING POLLINATORS, DRAGONFLIES AND OTHER AQUATIC INSECTS -- AND YOUR HEALTH http://sco.lt/5XzNlx
WHY WE NEED INSECTS - EVEN PESKY ONES: PESTICIDE REDUCTION ESSENTIAL http://sco.lt/94UwhF
THE DISAPPEARING BEE: AGROCHEMICAL THREAT TO WILD BEES, FOOD SECURITY AND BIODIVERSITY http://www.scoop.it/t/biodiversity-is-life/p/2666624018/the-disappearing-bee-agrochemicals-threat-to-wild-bees-food-security-and-biodiversity
PESTICIDES, CHEMICALS NOW SO WIDESPREAD IN ENVIRONMENT DISRUPTING BRAIN FUNCTIONING IN BEES AND OTHER INSECTS http://sco.lt/7PcIeP
PESTICIDE/CHEMICAL REGULATION OVERHAUL NEEDED TO PROTECT WILDLIFE, ECOSYSTEMS AND FOOD CHAIN http://sco.lt/5oplFx
BEE-KILLING CHEMICAL LURKS INSIDE YOUR FOOD: AGROCHEMICAL THREAT TO WILD BEES, FOOD SECURITY AND BIODIVERSITY http://sco.lt/8mGvg1
NO BAN ON PESTICIDES THAT THREATEN BEES (AND YOU) http://www.scoop.it/t/agriculture-gmos-pesticides/p/2640852274/no-ban-on-pesticides-that-threaten-bees
WILL SYNTHETIC BIOLOGY BENEFIT OR THREATEN WILD THINGS? http://sco.lt/66LUbR
BATTLE FOR THE BEES: Dying Bees Raise Alarm For Humans - Europe Bans Pesticide http://sco.lt/8QOFgv
ALL ABOUT BEES, RELATED REOURCED AND EDUCATION FOR ALL
MORE ON PESTICIDES AND BEES http://www.scoop.it/t/agriculture-gmos-pesticides?q=BEES+PESTICIDES
ALSO SEE:
THE PLANT "BRAIN": COMMUNICATION AMONG PLANTS AND WITH OTHER SPECIES http://sco.lt/7TWRPd
---