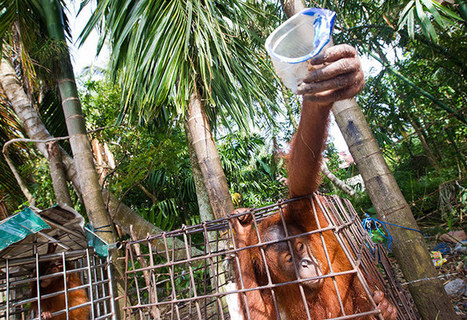 JUNE 20, 2013 Guardian Environment
IN PICTURES:
-▶ A TOUR ROUND AN ENDANGERED WILDLIFE MARKET IN INDONESIA:
Got a spare $200? That's all you need to pick up an orphaned, caged orangutan at this market in Aceh, Sumatra, that has bee trading endangered species for three years... http://www.guardian.co.uk/environment/gallery/2013/jun/20/endangered-wildlife-market-indonesia-in-pictures
October 24, 2012 Mongabay
-▶ INDONESIA REMAINS EPICENTER FOR ILLEGAL WILDLIFE TRADE IN REPTILES AND AMPHIBIANS http://news.mongabay.com/2012/1024-kimbrough-reptile-trade-indonesia.html
June 10, 2013 Mongabay
-▶ THE BARBARIC ILLEGAL WILDLIFE TRADE FLOURISHES IN SUMATRA AND MUST CEASE . In a chilly rain on Sunday, in a town just a few kilometers beyond the edge of a protected Sumatran rainforest, a young orangutan sat perched on a piece of plywood and grabbed the metal wires of his tiny cage... http://news.mongabay.com/2013/0610-kellogg-aceh-wildlife-trade.html
June 12, 2013 Mongabay
-▶ TIGERS, ORANGUTANS, RHINOS: SUMATRA'S BIG MAMMALS ON EDGE OF EXTINCTION as deforestation, mining and palm oil concessions expand,.. http://news.mongabay.com/2013/0612-gen-sumatra-wildlife.html
July 26, 2013 Macau Daily Times
-▶ TIGER TEETH, CLAWS AND BEAR BILE SMUGGLED AS EGG ROLLS http://www.macaudailytimes.com.mo/macau/45690-tiger-teeth-claws-and-bear-bile-smuggled-as-egg-rolls.html?wwftw1
September 13, 2013 Conservation Magazine
-▶ CHINESE TAKEOUT: The Chinese probably eat the world's greatest diversity of wild beasts http://conservationmagazine.org/2013/09/chinese-takeout/
July 23, 2013 Guardian Environment
-▶ SNOW LEOPARDS AND WILD YAKS BECOMING 'FASHION' VICTIMS' http://www.guardian.co.uk/environment/2013/jul/23/snow-leopards-yaks-cashmere-gaots-fashion
July 4, 2012 Focusing On Wildlife
-▶ BEATEN AND CAPTURED ORANGUTAN DIES IN INDONESIA'S ACEH PROVINCE http://focusingonwildlife.com/news/beaten-and-captured-orangutan-dies-in-indonesias-aceh-province/
-▶ PITY THE LITTLE PANGOLINS BEING EATEN INTO EXTINCTION http://sco.lt/4scV9d
July 29, 2013 Japan Times
-▶ INDONESIA EEL HOT ITEM FOR SMUGGLERS http://www.japantimes.co.jp/news/2013/07/29/national/indonesia-eel-hot-item-for-smugglers/
-- WATCH --
December 9, 2012 60 Minutes CBS News
VIDEO REPORT:
-▶ THE RACE TO SAVE THE TORTOISE AND TURTLE http://www.cbsnews.com/video/watch/?id=50136708n&tag=api
July 29, 2013 Care2
-▶ AFTER 16 YEARS IN A WOODEN BOX, SMILING CHIMP RACES THROUGH THE GRASS http://www.care2.com/causes/after-16-years-in-a-wooden-box-smiling-chimp-races-through-the-grass.html
August 1, 2013 Care2
-▶ FLEET OF 'MOMS' RESCUE BABY CHIMPS AND SURPRISE QUARREL ERUPTS http://www.care2.com/causes/fleet-of-moms-rescue-baby-chimps-and-surprise-quarrel-erupts.html
August 26, 2013 Earth In Transition:
-▶ WHY 'EXPERTS' GET SO CONFUSED ABOUT LEGAL RIGHTS FOR NON-HUMANS http://www.earthintransition.org/2013/08/why-experts-get-so-confused-about-legal-rights-for-nonhumans-2/
WATCH -
-▶ DO ANIMALS HAVE EMOTIONS? -▶
Full Episode, PBS Nature Series
-▶ "ANIMAL ODD COUPLES: ANIMAL CROSS SPECIES FRIENDSHIPS" http://www.pbs.org/wnet/nature/episodes/animal-odd-couples/preview/7958/
Are animals capable of feeling complex emotions? Recent observations of unexpected cross-species relationships in zoos and animal sanctuaries around the world may provide some answers. Endearing interactions between a cheetah and a retriever, a lion and a coyote, a dog and a deer, a goat and a horse, and even a tortoise and a goose offer captivating glimpses of supportive connections in the animal world. Each interspecies pair challenges the conventional wisdom that humans are the only species capable of feeling compassion and forming long-lasting friendships. Animal behavior experts weigh in with their opinions, and animal caretakers share their personal experiences with cross-species relationships in this compelling tale of unlikely animal couples.
-▶ LARGE-SCALE BIODIVERSITY IS VITAL TO MAINTAIN ECOSYSTEM HEALTH http://sco.lt/666xPN
-▶ IS THE SIXTH MASS EXTINCTION IS UPON US?: http://sco.lt/6lPJeT
-▶ A PLAGUE OF DEFORESTATION SWEEPS ACROSS SOUTHEAST ASIA http://sco.lt/5sDv5F
June 29, 2013 Mail Online
-▶ INDONESIA: THE TERRIBLE FATE OF RAJA THE BABY ELEPHANT, CHAINED AND HELD HOSTAGE BY AN ANGRY MOB : AN IMAGE THAT WILL HAUNT YOU AND A STORY THAT WILL ENRAGE YOU http://www.dailymail.co.uk/news/article-2351609/The-terrible-fate-Raja-baby-elephant-chained-held-hostage-angry-mob-An-image-haunt-story-enrage-you.html
AND IT'S IN THE USA TOO:
July 23, 2013 The Examiner
-▶ TWO CALIFORNIA MEN ARRESTED FOR RAT AND REPTILE CRUELTY (20,000) http://www.examiner.com/article/two-california-men-arrested-for-rat-and-reptile-cruelty
SEE:
-▶ ECOCIDE: INDONESIA'S RAPE AND PILLAGE OF IT'S FORESTS AND WILDLIFE------DEFORESTATION SWEEPS ACROSS SOUTHEAST ASIA WITH TERRIBLE LOSS OF WILDLIFE AND BIODIVERSITY http://sco.lt/4lJ5ZR
WATCH
Winner of Best Short Documentary - An Orangutans Journey
VIDEO
-▶ ***"REMEMBERING GREEN" http://sco.lt/6JdIP3
-▶ INDONESIA LOST 8.8m ha OF FOREST IN THE 2000's, GENERATING SEVEN BILLION TONS OF CO2 http://www.scoop.it/t/biodiversity-is-life/p/3579095895/indonesia-lost-8-8m-ha-of-forest-in-the-2000s-generating-7-billion-tons-of-co2
-▶ STOP RAZING AND BURNING RAINFORESTS FOR PALM OIL http://sco.lt/6S9nGb
-▶ PALM OIL ECOCIDE - THE DEFORESTATION HOLOCAUST: Fast-Tracking Our Own Extinction http://www.scoop.it/t/biodiversity-is-life/p/1510545458/fast-tracking-our-own-extinction-the-deforestation-holocaust-
-▶ MORE ON THE SLAUGHTER OF ELEPHANTS, RHINOS, TIGERS BY DEFORESTATION http://www.scoop.it/t/biodiversity-is-life?q=ELEPHANT+POACHING