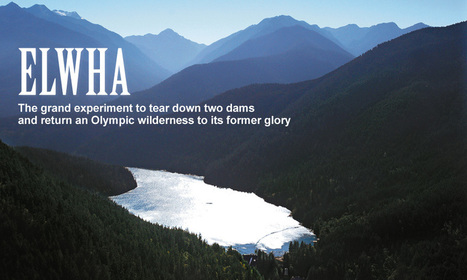 SPECIAL REPORT: THE SEATTLE TIMES
The Grand Experiment to tear down two dams and return an Olympic Wilderness to its former glory http://seattletimes.com/flatpages/specialreports/elwha/?spotlightname=elwha&spotlightquery=elwha
Guardian, International Day of Action For Rivers
CONTROVERSIAL DAM PROJECTS - IN PICTURES http://www.theguardian.com/global-development/gallery/2012/mar/14/controversial-dam-projects-in-pictures
WATCH:
+++: "SALMON : RUNNING THE GAUNTLET" - PBS NATURE - FULL EPISODE
Restoring Ecosystems and Salmon Runs by Returning Nature to Nature: Creating Dams, Blocking Natural River Flows, Destroys Ecosystems, human populations and brings more devastation while only producing hydroelectricity. Electricity power can be produced in more environmental friendly ways in this 21st Century. Dams belong in centuries past.
http://www.pbs.org/wnet/nature/episodes/salmon-running-the-gauntlet/video-full-episode/6620/
June 21, 2013 Living on Earth:
HELPING FISH RETURN TO THE ELWHA RIVER - NOT SO EASY http://www.loe.org/shows/segments.html?programID=13-P13-00025&
May 2013 - Solutions Magazine
THE RETURN OF THE SALMON: HOW ONE DAM'S REMOVAL HAS TRANSFORMED OUR APPROACH TO NATURE http://thesolutionsjournal.com/node/22131
August 22, 2013 TerraDaily
DAMS DESTABILIZE RIVER FOOD WEBS: LESSONS FROM THE GRAND CANYON http://www.terradaily.com/reports/Dams_destabilize_river_food_webs_Lessons_from_the_Grand_Canyon_999.html
Augut 22, 2013 Environment News Service
DAM REMOVALS OPEN NORTHEAST RIVERS AFTER 100 YEARS: RESTORING ECOSYSTEMS http://ens-newswire.com/2013/08/22/dam-removals-open-northeast-rivers-to-fish-recreation/
----------DESTRUCTIVE DAMS : BIG MONEY DRIVES EXTINCTION------
Indigenous Communities, EcoSystems, Forests Devastated -
CHINA PLANS OVER 300 MEGA DAM PROJECTS WORLDWIDE http://sco.lt/7BROTp
November 3, 2012 Deep Green Resistance News Service
CAMBODIA APPROVES PLAN TO BUILD PROFITABLE DAM, DISPLACING 50,000+ PEASANTS, DESTROYING RIVER ECOSYSTEMS http://dgrnewsservice.org/2012/11/03/cambodia-approves-plan-to-build-profitable-dam-displace-50000-peasants/
July 4, 2013 Science Matters | David Suzuki Foundation
WORKING WITH NATURE CAN PROTECT US FROM FLOODS http://www.davidsuzuki.org/blogs/science-matters/2013/07/working-with-nature-can-protect-us-from-floods/
--- WATCH --
GR8 VIDEO - AWHAR: RESTORING THE MESOPOTAMIAN MARSHES IN IRAQ http://sco.lt/5T7sNV
DROUGHT AND DAMS IN BIBLICAL GARDEN OF EDEN http://newswatch.nationalgeographic.com/2013/04/11/drought-and-dams-in-biblical-garden-of-eden/?utm_source=Twitter&utm_medium=Social&utm_content=link_tw20130428ngnw-drought&utm_campaign=Content
April 3, 2012 Environmental Protection
NATURAL, HEALTHY RIVER NETWORKS ARE ESSENTIAL FOR BIODIVERSITY AND ECOSYSTEMS http://eponline.com/articles/2012/04/03/natural-river-networks-are-essential-for-biodiversity.aspx
WATCH
"DAMOCRACY"
VIDEO Documentary Highlighting the battles over the Amazon's Belo Monte and Ilisu dams http://news.mongabay.com/2013/0429-hance-damocracy-video.html
July 2, 2013 Treehugger
*** COOL TIME-LAPSE VIDEO
REMOVAL OF GOLD RAY DAM, ROGUE RIVER, OREGON USA http://www.treehugger.com/infrastructure/time-lapse-video-shows-removal-dam.html
WATER IN THE ANTHROPOCENE http://sco.lt/856DXl
Guardian Environment, October 12, 2013
BRITAIN'S LOST RIVERS RESURRECTED AND FREED TO GO WITH THE FLOW http://www.theguardian.com/environment/2013/oct/13/britain-lost-rivers
28,000 RIVERS WIPED OFF THE MAP OF CHINA http://sco.lt/7paeFV
MORE THAN HALF OF U.S. RIVERS ARE TOO POLLUTED TO SUPPORT LIFE AS SHOCKING REPORT REVEALS SCALE OF WATER CONTAMINATION http://sco.lt/5Gpafx
May 23, 2013 Environment News Service
U.S. GROUND WATER CONSUMPTION ACCELERATING http://ens-newswire.com/2013/05/23/u-s-groundwater-consumption-accelerating/
THE FRESHWATER PROJECT: IMPORTANT FRESHWATER ENVIRONMENTS ACROSS THE GLOBE http://sco.lt/78onVh
GIVING THANKS TO SALMON: SUSTAINERS OF THE GREAT BEAR RAINFOREST http://ow.ly/mITrI
AMID EGYPT CRISIS, ETHOPIA PUSHES MEGA NILE DAM http://www.terradaily.com/reports/Amid_Egypt_crisis_Addis_pushes_Nile_dam_999.html
1. Cambodia approves plan to build profitable dam, displace 50,000+ peasants http://www.scoop.it/t/biodiversity-is-life/p/3197322644/cambodia-approves-plan-to-build-profitable-dam-displace-50-000-peasants
2. WATCH the Full Episode of "Salmon: Running the Gauntlet: on the PBS Nature Website | http://www.pbs.org/wnet/nature/episodes/salmon-running-the-gauntlet/video-full-episode/6620/
3. Problems With Big Dams | International Rivers http://www.internationalrivers.org/problems-with-big-dams
4. River Basin Basics | International Rivers http://www.internationalrivers.org/river-basin-basics
5. Letting the Xingu Run Freely http://www.internationalrivers.org/blogs/244/letting-the-xingu-run-freely
7. Environmental Impacts of Dams | International Rivers http://www.internationalrivers.org/environmental-impacts-of-dams
8. Brazil decree opens tribal lands to mining, dams in 'national interest' http://news.mongabay.com/2012/0726-brazil-indigenous-directive.html?utm_source=dlvr.it&utm_medium=twitter
9. Spectacular Time Lapse Video of Historic Dam Removal - National Geographic - http://news.nationalgeographic.com/news/2011/10/111028-condit-dam-removal-video/
10. WATCH "Grand Coulee Dam" - A Technocractic Decision Gone Horribly Wrong http://www.scoop.it/t/biodiversity-is-life/p/3478227734/watch-grand-coulee-dam-a-technocractic-decision-gone-horribly-wrong
11. A Global Treaty on Rivers: Key to True Water Security http://www.scoop.it/t/biodiversity-is-life/p/3403254267/a-global-treaty-on-rivers-key-to-true-water-security
ALTERNATIVE TO HYDROELECTRICITY:
SOLAR ON A ROLL : TAKES OFF WORLDWIDE http://sco.lt/4vZ7lB
RESTORING THE EARTH: THE BORN CHALLENGE http://sco.lt/4p7B3Z