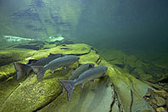 -▶ GREAT PHOTOGRAPHS OF IMPORTANT FRESHWATER ENVIRONMENTS ACROSS THE GLOBE
Michel Roggo is based in Switzerland, and this has a lot to do with his passion: He started freshwater photography in the countless crystal clear rivers and lakes of the Swiss Alps. With 25 years of experience and about 100 expeditions worldwide, he has the skills to work on a global freshwater project: Produce a photographic documentation of 30 important freshwater environments from across the globe, focusing on underwater images. This as a contribution to safeguarding the future of the world's wetland areas. The duration of the project is 4 years, starting 2011. So far, about 20 locations have been photographed. http://www.roggo.ch/thefreshwaterproject/
FastCo Exist, March 31, 2014
-▶ STUNNING PHOTOGRAPHS SHOW HOW WE'RE USING AND ABUSING THE WORLD'S WATER http://www.fastcoexist.com/3027442/stunning-photographs-show-how-were-using-and-abusing-the-worlds-water
PHOTOS
Mother Nature Network
-▶ RIVER OTTERS, THE HARDEST WORKING CLOWNS IN THE WATER. Playful, curious, rambunctious and so much fun to watch, North American river otters are an important part of a healthy riparian habitat. River otters can be found near lakes, rivers, swamps and estuaries. Click through to see more photos of these adorable animals and learn more about just how amazing they are. (Text: Jaymi Heimbuch)
http://www.mnn.com/earth-matters/animals/photos/river-otters-hardest-working-clowns-in-the-water/you-otter-know
World Wildlife Fund, March 13, 2014
-▶DEPENDING ON CLEAN WATER: FIVE FRESHWATER ANIMAL STORIES http://worldwildlife.org/stories/depending-on-clean-water-five-freshwater-animals?link=btn&
National Geographic: Pictures:
-▶ DIPPING UNDER UNSPOILED RIVERS http://news.nationalgeographic.com/news/2013/03/pictures/130322-unspoiled-rivers-freshwater/
-▶ IN PHOTOS: RIVER OTTERS MAKING A COME BACK IN CALIFORNIA'S BAY AREA . A sign not only that the local efforts put into habitat restoration are paying off, but that focusing on coexisting with wildlife in general can bring back native species to an area.
http://www.treehugger.com/natural-sciences/in-photos-river-otters-making-come-back-californias-bay-area.html
▶ WETLANDS VITAL IN SUPPORTING HUMAN LIFE AND OUR SURVIVAL ECOSYSTEMS http://sco.lt/6Nfjcn
-▶ 28,000 RIVERS WIPED OFF THE MAP OF CHINA http://sco.lt/7paeFV
-▶ MORE THAN HALF OF U.S. RIVERS ARE TOO POLLUTED TO SUPPORT LIFE. REPORT REVEALS SCALE OF WATER CONTAMINATION http://sco.lt/5Gpafx
September 10, 2013 Wired Magazine
-▶ SPRAWLING, GORGEOUS PHOTO PROJECT DIVES DEEP INTO THE LIFE AND HEAVY INDUSTRIES OF RIVERS http://www.wired.com/rawfile/2013/09/sprawling-and-gorgeous-photo-project-dives-deep-into-the-life-and-waste-of-rivers/
-▶ ELWHA RIVER DAM : FREEING A RIVER TO IT'S FORMER GLORY: A GRAND EXPERIMENT http://sco.lt/51kuO1
Guardian Environment, October 12, 2013
-▶ BRITAIN'S LOST RIVERS RESURRECTED AND FREED TO GO WITH THE FLOW http://www.theguardian.com/environment/2013/oct/13/britain-lost-rivers
-▶ RESTORING RIVERS: THE LIFEBLOOD OF BOTH HUMAN AND ECOLOGICAL COMMUNITIES http://sco.lt/5tVYLB
-▶ *** INDUSTRIAL FACILITIES CONTINUE TO DUMP MILLIONS OF POUNDS OF TOXIC CHEMICALS INTO AMERICA'S RIVERS, STREAMS, LAKES AND OCEAN WATERS http://www.environmentamerica.org/reports/ame/wasting-our-waterways-2012
WATCH:
+++: "SALMON : RUNNING THE GAUNTLET" - PBS NATURE - FULL EPISODE
Restoring Ecosystems and Salmon Runs by Returning Nature to Nature: Creating Dams, Blocking Natural River Flows, Destroys Ecosystems, human populations and brings more devastation while only producing hydroelectricity. Electricity power can be produced in more environmental friendly ways in this 21st Century. Dams belong in centuries past.
http://www.pbs.org/wnet/nature/episodes/salmon-running-the-gauntlet/video-full-episode/6620/
WATER IN THE ANTHROPOCENE
-▶ PHARMACEUTICAL POLLUTION IN OUR STREAMS, RIVERS AND DRINKING WATER http://sco.lt/6c3dcf
WATCH
PBS Nature Full Episode
MONETIZING THE COMMONS: THE DEPLETION OF NATURE
"THE MYSTERY OF THE EELS"
A Billion Dollar Industry as Population Plunges
130,000 Tons of Eeels Consumed in Japan Alone Each Year: http://www.pbs.org/wnet/nature/episodes/the-mystery-of-eels/preview/8239/
March 22, 2013 Environment America
-▶ REPORT: WASTING OUR WATERWAYS 2012