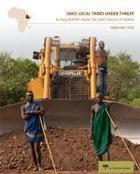 February 5, 2013 Oakland Institute
-▶ LOWER OMO LOCAL TRIBES UNDER THREAT http://www.oaklandinstitute.org/omo-local-tribes-under-threat
VIDEO:
http://www.oaklandinstitute.org/video-lower-omo-local-tribes-under-threat
Ethiopia has been the focus of aggressive foreign agricultural investment, leasing out nearly 3.6 million hectares of land for commercial farm ventures from 2008-2010. This investment has corresponded with widespread human rights violations. Most egregiously, the Ethiopian government's villagization program will displace 1.5 million people by 2013--with the five administrative regions that have the largest share of foreign investment the hardest hit. The forced relocation of hundreds of thousands of indigenous people from their lands to make room for foreign investors has destroyed livelihoods and rendered small-scale farmers and pastoralist communities fearful of their own survival, as rapes and killings involving security forces have been reported in Lower Omo and Gambella regions,,, http://www.oaklandinstitute.org/video-lower-omo-local-tribes-under-threat
International Cry, October 17, 2013
-▶ ETHIOPIA'S LAND GRABS: INTERVIEWS FROM THE HUNDRED OF THOUSANDS DISPLACED BY FOREIGN LANDGRABBING
Wealthy nations and multinational corporations are taking over lands that are home to hundreds of thousands of ethnically, linguistically, geographically and culturally distinct pastoralists and indigenous communities. Out of 740,000 hectares, 640,000 hectares of land have been leased to government-owned companies and private investors.

http://intercontinentalcry.org/?wysija-page=1&controller=email&action=view&email_id=475&wysijap=subscriptions
FULL REPORT:
http://intercontinentalcry.org/ethiopias-land-grabs-interviews-displaced/
An Image Says A Thousand Words
SMALL FARMERS vs BIG WESTERN MONCROPPING AGRICULTURE
Ethiopia Farming
April 17, 2013 - farmlandgrab.org
-▶ HUNDREDS OF THOUSANDS FACE RELOCATION IN ETHIOPIA'S LAND GRAB http://farmlandgrab.org/post/view/21952

July 17, 2013 farmlandgrab.org |
-▶ FINGERPRINTS OF INTERNATIONAL AID ON FORCED RELOCATION, REPRESSION, AND HUMAN RIGHTS ABUSE IN ETHIOPIA http://farmlandgrab.org/post/view/22318
November 20, 2012 Mongabay
-▶ THE STRUGGLE TO CONSERVE ETHIOPIA'S HIGHLANDS: WOLVES, MOLE RATS, AND NYLA http://news.mongabay.com/2012/1120-hance-bale-interview.html#zsb3zhaDbf2HOQKv.99
June 5, 2013 TerraDaily
-▶ EGYPT WARNS ' ALL OPTIONS OPEN' ON MEGA ETHOPIA DAM -
Ethiopia has begun diverting the Blue Nile 500 metres (yards) from its natural course to construct a $4.2 billion (3.2 billion euro) hydroelectric project known as Grand Renaissance Dam.
The Blue Nile joins the White Nile in Khartoum to form the Nile which flows through Sudan and Egypt before emptying into the Mediterranean.
http://www.terradaily.com/reports/Egypt_warns_all_options_open_on_Ethiopia_dam_999.html
20 December 2011 farmlandgrab.org
-▶ ETHIOPIA: GIBE III - A DAM TOO FAR http://www.farmlandgrab.org/post/view/19794
June 6, 2013 Terra Daily
-▶ EGYPT UPS THE ANTE ON NILE DISPUTE WITH ETHIOPIA MEGA DAM http://www.terradaily.com/reports/Egypt_ups_the_ante_on_Nile_dispute_with_Ethiopia_999.html
June 3, 2013 World Environment News -
-▶ MID-EAST WATER WARS: Ethiopia studies on Nile dam fall short: Diverting Water From Egypt, Sudan and Ethiopia and the impact of a $4.7 billion hydroelectric dam. http://planetark.org/wen/68819
June 24, 2013 Inter Press Service
-▶ AFRICA AT THE NEXUS OF AGROFUELS, LAND GRABS AND HUNGER - Part 2 http://www.ipsnews.net/2011/12/at-the-nexus-of-agrofuels-land-grabs-and-hunger-ndash-part-2/
June 3, 2013 Forest News
-▶ Q&A: WHO OWNS THE RIGHTS TO THE WORLD/S COMMON RESOURCES? http://blog.cifor.org/16672/qa-who-owns-the-rights-to-the-worlds-common-resources/#.Ub6-u-swOic
-▶ THE NEW CORPORATE COLONIALISM. DESTRUCTION OF LIFE -- ALL IN THE NAME OF "GROWTH" http://sco.lt/8pbb7p
----------------------------WOMEN FARMERS----------------------------
VIDEOS
UN Women
-▶ THE ROLE OF WOMEN IN RURAL DEVELOPMENT, FOOD PRODUCTION AND POVERTY ERADICATION http://www.unwomen.org/en/news/in-focus/rural-women-food-and-poverty-eradication-days
June 3, 2013 CGIAR WLE
-▶ WHEN LAND GETS GRABBED, DO WOMEN GET SIDELINED? http://wle.cgiar.org/blogs/2013/06/03/when-land-gets-grabbed-do-women-get-sidelined/
June 4, 2013 La Via Campesina
-▶ INDONESIA: WOMEN FARMERS OF THE WORLD HEAD TO THEIR IV INTERNATIONAL ASSEMBLY http://viacampesina.org/en/index.php/main-issues-mainmenu-27/women-mainmenu-39/1413-indonesia-women-farmers-of-the-world-head-to-their-iv-international-assembly
-▶ WE ARE THE SOLUTION! FAMILY FARMING IN WEST AFRICA http://sco.lt/6zfyK1
March 8, 2013 - farmlandgrab.org
--▶ SECURING RIGHTS AND LIVELIHOODS FOR RURAL WOMEN IN THE CONTEXT OF CORPORATE LAND INVESTMENTS: LEARNING FROM EXPERIENCES IN AFRICA http://farmlandgrab.org/post/view/21743
-▶ LIBERIAN WOMEN IMPACTED BY EXPANSION OF SIME DARBY'S INDUSTRIAL OIL PALM PLANTATIONS - farmlandgrab.org http://farmlandgrab.org/post/view/21726
March 8, 2013 - Deutche Welles Environment
-▶ MEXICO'S RURAL WOMEN BATTLING DROUGHT, GUN-CARRYING GANGS AND A STRUGGLING DOMESTIC AGRICULTURAL MARKET http://www.dw.de/mexicos-rural-women-fight-drought/a-16653191?maca=en-rss-en-environment-4553-rdf
-▶ AFRICAN WOMEN FARMERS SAY NO TO WESTERN-STYLE BIG AG TECHNIQUES http://www.scoop.it/t/agriculture-gmos-pesticides/p/994770640/african-women-
March 2, 2012 All Africa
-▶ AFRICA: RURAL WOMEN LEAD THE WAY ON CLIMATE http://allafrica.com/view/group/main/main/id/00015839.html
June 2, 2013 Global Post: Commentary:
-▶ WHY THE PROBLEM? WHEN IT'S ONLY ABOUT MONEY: U.S. STANDS TO BENEFIT BY INVESTING IN SUB-SAHARAN AFRICA http://www.globalpost.com/dispatches/globalpost-blogs/commentary/sub-saharan-africa-united-states-investment-AGOA
Oakland Institute:
-▶ UNDERSTANDING LAND INVESTMENT DEALS IN AFRICA: PUBLICATIONS http://www.oaklandinstitute.org/land-deals-africa-publications
-▶ PARTNERS FOR THE LAND & AGRICULTURAL NEEDS OF TRADITIONAL PEOPLES - www.plantpartners.org http://www.plantpartners.org/
-▶ DEFORESTATION OUT OF CONTROL - THE ONGOING 6TH MASS EXTINCTION http://sco.lt/60eudl
-▶ ENOUGHNESS -▶
Western Thought vs Indigenous Philosophy
WATCH
May 3, 2011 FarmlandGrab
Video
-▶ "PLANET FOR SALE" BIG AG BUYING UP WORLD'S FERTILE LAND http://farmlandgrab.org/post/view/18542

October 26, 2010 Yale Environment 360
Video
-▶ "WHEN THE WATER ENDS: AFRICA'S CLIMATE CONFLICTS" http://e360.yale.edu/feature/when_the_water_ends_africas_climate_conflicts/2331/
Oakland Institute
Video
-▶ "THE HUMAN RIGHTS IMPACT OF LAND INVESTMENTS ON INDIGENOUS COMMUNITIES IN GAMBELLA, ETHIOPIA"
http://www.oaklandinstitute.org/unheard-voices-human-rights-impact-land-investments-indigenous-communities-gambella
WATCH:
"GREEN GOLD"
The film takes you to China, Jordan, Ethiopia, Rwanda and Bolivia.
It's the story of healing landscapes at scale, and, with it, restoring life, livelihoods, security and a future. This documentary is not just a tale of hope, it's evidence of hope – it's proof that we do not need to give in to apathy and despair. Instead, we see we have the simple solutions right in front of us... http://topdocumentaryfilms.com/green-gold/
-▶ MORE ON ETHIOPIA -▶
-▶ Food Crisis and Global Land Grabs
http://www.farmlandgrab.org/post/view/19794
AND
http://www.farmlandgrab.org/search "ETHOPIA"
-▶ Daraja
http://www.scoop.it/t/daraja-net?q=ETHIOPIA