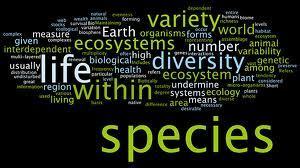 Mongabay, May 08, 2014
NEW HOLISTIC 'ONE HEALTH' CONNECTS HUMANS, ANIMALS AND ECOSYSTEMS. Recently, the dilemma of human–wildlife conflict has created great opportunity to solve some of the world's most pressing problems for both people and ecosystems. The emerging holistic "One Health" movement explicitly recognizes the inextricable connections between human, animal, and ecosystem health, and is leading not only to new scientific research but also to projects that help people rise out of poverty, improve their health, reduce conflicts with wildlife, and preserve ecosystems, such as Bwindi's tropical montane forest... http://news.mongabay.com/2014/0501-nicole-sri-ehp-one-health.html
BBC News, June 05, 2014
-▶ U.N. URGES ACTION TO PROTECT FORESTS GENETIC DIVERSITY http://www.bbc.com/news/science-environment-27715552
REPORT
PLOS ONE, February 25, 2014
-▶ INFECTIOUS DISEASES AND THEIR OUTBREAKS IN ASIA-PACIFIC: WHY BIODIVERSITY AND LOSS AND IT'S REGULATION MATTERS http://www.plosone.org/article/info%3Adoi%2F10.1371%2Fjournal.pone.0090032
Conservation Magazine, University of Washington
-▶ COULD DECLINING BIODIVERSITY BE LINKED TO THE RISING PREVALENCE OF ALLERGIES AND ECOSYSTEM VIRUSES? http://conservationmagazine.org/2012/09/biodiversity-under-our-skin-2/
Summit Voice, November 18, 2013
-▶ STUDY: ECOSYSTEM ALTERATIONS LEADING TO WIDESPREAD HUMAN HEALTH IMPACTS http://summitcountyvoice.com/2013/11/18/study-ecosystem-alterations-leading-to-widespread-human-health-impacts/
OSLO (Reuters) - May 27, 2013
DECLINE IN BIODIVERSITY OF FARMED PLANTS AND ANIMALS GATHERING PACE. A decline in the diversity of farmed plants and livestock breeds is gathering pace, threatening future food supplies for the world's growing population, the head of a new United Nations panel on biodiversity said on Monday...
Zakri said there were 30,000 edible plants but that just 30 crops accounted for 95 percent of the energy in human food that is dominated by rice, wheat, maize, millet and sorghum....
He said it was "more important than ever to have a large genetic pool to enable organisms to withstand and adapt to new conditions." That would help to ensure food for a global population set to reach 9 billion by 2050 from 7 billion now.... http://www.reuters.com/article/2013/05/27/environment-food-idUSL5N0E80Q420130527
Just Means, March 11, 2014
-▶ WORLD BANK SAY BIODIVERSITY IS CRITICAL TO ENDING GLOBAL POVERTY http://www.justmeans.com/blogs/world-bank-says-biodiversity-is-critical-to-ending-global-poverty
--- WATCH --
Dr. Vandana Shiva
WHY DOES LOSS OF BIODIVERSITY MATTER? THREAT TO ECONOMY, POLITICAL SECURITY, ENVIRONMENT AND LIFE ON EARTH
Guardian Environment, January 09, 2014
-▶ RAPID LOSS OF TOP PREDATORS 'A MAJOR ENVIRONMENTAL THREAT' - Scientists warn that removal from ecosystem of large carnivores like the dingo could be as detrimental as climate change... http://www.theguardian.com/environment/2014/jan/10/rapid-loss-of-top-predators-a-major-environmental-threat
August 14, 2012 Science Daily
-▶ STUDY DEMONSTRATES THAT ONE EXTINCTION LEADS TO ANOTHER http://www.sciencedaily.com/releases/2012/08/120814213500.htm?+Animals+News+--+Nature%29
-▶ WEB-OF-LIFE UNRAVELLING - Healthy Ecosystems Vital for All Planetary Life http://sco.lt/7Obz0L
March 03, 2013 Global Issues
-▶ LOSS OF BIODIVERSITY AND EXTINCTIONS http://www.globalissues.org/article/171/loss-of-biodiversity-and-extinctions
-▶ UNPRECEDENTED STUDY: BIOLOGICAL AND CULTURAL DIVERSITY LOSS PAINTS DIRE PICTURE FOR FUTURE OF HUMAN SPECIES http://sco.lt/4m6nZJ
▶ ELDERS OF THE FOREST DISAPPEARING WORLDWIDE - IRREPLACEABLE HABITAT FOR MANY ANIMALS http://www.scoop.it/t/biodiversity-is-life/p/3632517130/elders-of-the-forests-disappearing-worldwide-irreplaceable-habitat-for-many-animals
International Institute for Environment and Development, March 18, 2013
-▶ FOUR ACTIONS TO REDUCE THE 'FOREST FOOTPRINT' OF COMMODITIES http://www.iied.org/four-actions-reduce-forest-footprint-commodities
The Permaculture Research Institute, October 21, 2013
-▶ THINKING LIKE A FOREST - George Monbiot http://permaculturenews.org/2013/10/21/thinking-like-forest/
eTNDaily, November 24, 2013
▶ SOUTH AFRICA: BIODIVERSITY STEWARDSHIP AS A MECHANISM FOR ADAPTION TO CLIMATE CHANGE http://www.eturbonews.com/39998/biodiversity-stewardship-mechanism-adaptation-climate-change
▶ LARGE=SCALE BIODIVERSITY IS VITAL TO MAINTAIN ECOSYSTEM HEALTH http://sco.lt/666xPN
Conservation Magazine
▶ THE MUSHROOM MESSIAH. The Agarikon is the Holy Grail in his crusade to prove that fungi can be used to treat health problems ranging from high blood pressure to cancer. And his vision doesn't end there. Fungi can clean up fuel spills, provide a nontoxic (and more effective) alternative to insecticides, and be the source of a powerful new biofuel. http://conservationmagazine.org/2009/01/the-mushroom-messiah/?utm_source=Conservation+Magazine&utm_campaign=92d0bbd6c6-This_Week_s_Good_Read_Nov+30_2013_10_19_2013&utm_medium=email&utm_term=0_d0cc46f2ab-92d0bbd6c6-266527037
▶ HEALTHY ECOSYSTEMS: HOW BIODIVERSITY COULD SAVE YOUR LIFE http://sco.lt/7rCeWH
August 14, 2012 Science Daily
▶ STUDY DEMONSTRATES THAT ONE EXTINCTION LEADS TO ANOTHER http://www.sciencedaily.com/releases/2012/08/120814213500.htm?+Animals+News+--+Nature%29
▶ RESTORING THE EARTH: THE BONN CHALLENGE http://sco.lt/4p7B3Z
June 24, 2013 Focusing On Wildlife
▶ NORTH AMERICAN BIRDS DECLINING AS THREATS MOUNT http://focusingonwildlife.com/news/north-american-birds-declining-as-threats-mount/
May 10, 2013 United Nations Environmental Programme
▶ LOSS AND DEGRADATION OF NATURAL HABITAT THREATEN MIGRATORY BIRDS, PUSHING SPECIES TOWARD EXTINCTION
http://www.unep.org/NewsCentre/default.aspx?DocumentID=2716&ArticleID=9498
▶ STATE OF THE WORLD'S BIRDS REPORT INDICATES A PLANET IN PERIL http://sco.lt/4yq6z3
▶ THE HIDDEN WORLD OF SOIL UNDER OUR FEET - - SOIL AS A LIFELINE - CLIMATE CHANGE http://sco.lt/4nJvdp
▶ WHY CHOOSING NATURE WILL ONLY ADVANCE HUMAN SOCIETIES http://sco.lt/8BIJP7
▶ LIVING IN THE ANTHROPOCENE: TOWARD A NEW GLOBAL ETHOS http://sco.lt/6FzKSX
▶ WATER IN THE ANTHROPOCENE http://sco.lt/856DXl
▶ CONTEMPORARY AGRICULTURE IS BURNING UP OUR PLANET http://sco.lt/99tRI1
May 27, 2013 Science Daily
▶ EVEN FARM ANIMAL DIVERSITY IS DECLINING ACCELERATING SPECIES LOSS THREATENS HUMANITY http://www.sciencedaily.com/releases/2013/05/130527100624.htm
▶ THE NEXT GREEN REVOLUTION - HEALTHY ECOSYSTEMS WITHOUT FOSSIL FUELS, LASHINGS OF PESTICIDES AND MONOCROPS http://sco.lt/7H8QPR
▶ CLIMATE CHANGE TO HALVE HABITAT FOR OVER 10,000 COMMON SPECIES http://sco.lt/8G99Av
▶ WHAT'S WRONG WITH TREE PLANTATIONS? http://sco.lt/4iLDeL
▶ FACTORY FARMS - AND YOUR FOOD http://sco.lt/7ZewEr
A Must see VIDEO for all - Geneticist David Suzuki:
"BIOTECHNOLOGY GENETICS IS OUT OF CONTROL"
▶ TERRACIDE: THE BIGGEST CRIMINAL ENTERPRISE IN HISTORY - DESTROYING THE PLANET FOR RECORD PROFITS http://sco.lt/95LXpR
May 11, 2013 UNEP
▶ UN CONFERENCE TAKES HISTORIC STRIDES TO STRENGTHEN CHEMICAL SAFETY GLOBALLY
FAO Director-General José Graziano da Silva said that in many countries intensive crop production has depleted agriculture's natural resource base, jeopardizing future productivity. "To fight hunger and eradicate poverty, we will need to find more sustainable ways to produce 60 percent more food by 2050," he said. However, he recognized that chemical pesticides would continue to be part of farming in many parts of the world in future. ... http://www.unep.org/newscentre/default.aspx?DocumentID=2716&ArticleID=9501&l=en