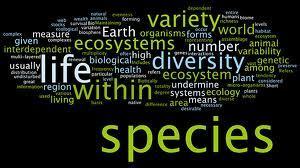 OSLO (Reuters) - May 27, 2013
DECLINE IN BIODIVERSITY OF FARMED PLANTS AND ANIMALS GATHERING PACE
A decline in the diversity of farmed plants and livestock breeds is gathering pace, threatening future food supplies for the world's growing population, the head of a new United Nations panel on biodiversity said on Monday...
Zakri said there were 30,000 edible plants but that just 30 crops accounted for 95 percent of the energy in human food that is dominated by rice, wheat, maize, millet and sorghum....
He said it was "more important than ever to have a large genetic pool to enable organisms to withstand and adapt to new conditions." That would help to ensure food for a global population set to reach 9 billion by 2050 from 7 billion now.... http://www.reuters.com/article/2013/05/27/environment-food-idUSL5N0E80Q420130527
eTNDaily, November 24, 2013
▶ SOUTH AFRICA: BIODIVERSITY STEWARDSHIP AS A MECHANISM FOR ADAPTION TO CLIMATE CHANGE http://www.eturbonews.com/39998/biodiversity-stewardship-mechanism-adaptation-climate-change
Conservation Magazine, University of Washington
COULD DECLINING BIODIVERSITY BE LINKED TO THE RISING PREVALENCE OF ALLERGIES AND ECOSYSTEM VIRUSES? http://conservationmagazine.org/2012/09/biodiversity-under-our-skin-2/
--- WATCH --
VIDEO - Dr. Vandana Shiva
********WHY DOES LOSS OF BIODIVERSITY MATTER? THREAT TO ECONOMY, POLITICAL SECURITY, ENVIRONMENT AND LIFE ON EARTH http://sco.lt/5Y5qYT
LARGE=SCALE BIODIVERSITY IS VITAL TO MAINTAIN ECOSYSTEM HEALTH http://sco.lt/666xPN
HEALTHY ECOSYSTEMS: HOW BIODIVERSITY COULD SAVE YOUR LIFE http://sco.lt/7rCeWH
March 03, 2013 Global Issues
LOSS OF BIODIVERSITY AND EXTINCTIONS http://www.globalissues.org/article/171/loss-of-biodiversity-and-extinctions
August 14, 2012 Science Daily
STUDY DEMONSTRATES THAT ONE EXTINCTION LEADS TO ANOTHER http://www.sciencedaily.com/releases/2012/08/120814213500.htm?+Animals+News+--+Nature%29
RESTORING THE EARTH: THE BONN CHALLENGE http://sco.lt/4p7B3Z
June 24, 2013 Focusing On Wildlife
NORTH AMERICAN BIRDS DECLINING AS THREATS MOUNT http://focusingonwildlife.com/news/north-american-birds-declining-as-threats-mount/
May 10, 2013 United Nations Environmental Programme
LOSS AND DEGRADATION OF NATURAL HABITAT THREATEN MIGRATORY BIRDS, PUSHING SPECIES TOWARD EXTINCTION
http://www.unep.org/NewsCentre/default.aspx?DocumentID=2716&ArticleID=9498
STATE OF THE WORLD'S BIRDS REPORT INDICATES A PLANET IN PERIL http://sco.lt/4yq6z3
THE HIDDEN WORLD OF SOIL UNDER OUR FEET - - SOIL AS A LIFELINE - CLIMATE CHANGE http://sco.lt/4nJvdp
WHY CHOOSING NATURE WILL ONLY ADVANCE HUMAN SOCIETIES http://sco.lt/8BIJP7
LIVING IN THE ANTHROPOCENE: TOWARD A NEW GLOBAL ETHOS http://sco.lt/6FzKSX
WATER IN THE ANTHROPOCENE http://sco.lt/856DXl
CONTEMPORARY AGRICULTURE IS BURNING UP OUR PLANET http://sco.lt/99tRI1
May 27, 2013 Science Daily
EVEN FARM ANIMAL DIVERSITY IS DECLINING ACCELERATING SPECIES LOSS THREATENS HUMANITY http://www.sciencedaily.com/releases/2013/05/130527100624.htm
THE NEXT GREEN REVOLUTION - HEALTHY ECOSYSTEMS WITHOUT FOSSIL FUELS, LASHINGS OF PESTICIDES AND MONOCROPS http://sco.lt/7H8QPR
CLIMATE CHANGE TO HALVE HABITAT FOR OVER 10,000 COMMON SPECIES http://sco.lt/8G99Av
WHAT'S WRONG WITH TREE PLANTATIONS? http://sco.lt/4iLDeL
FACTORY FARMS - AND YOUR FOOD http://sco.lt/7ZewEr
*********A Must see VIDEO for all.
David Suzuki:
"BIOTECHNOLOGY GENETICS IS OUT OF CONTROL" http://sco.lt/4lxOIj
TERRACIDE: THE BIGGEST CRIMINAL ENTERPRISE IN HISTORY - DESTROYING THE PLANET FOR RECORD PROFITS http://sco.lt/95LXpR
May 11, 2013 UNEP
UN CONFERENCE TAKES HISTORIC STRIDES TO STRENGTHEN CHEMICAL SAFETY GLOBALLY
FAO Director-General José Graziano da Silva said that in many countries intensive crop production has depleted agriculture's natural resource base, jeopardizing future productivity. "To fight hunger and eradicate poverty, we will need to find more sustainable ways to produce 60 percent more food by 2050," he said. However, he recognized that chemical pesticides would continue to be part of farming in many parts of the world in future. ... http://www.unep.org/newscentre/default.aspx?DocumentID=2716&ArticleID=9501&l=en