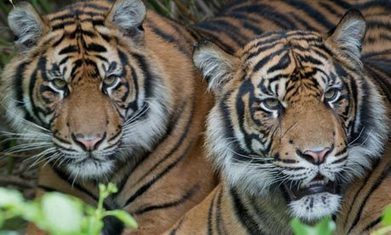 May 25, 2013 Guardian Environment - John Vidal:
No Sumatran wild animal is safe as contact with humans rises with disastrous results...
Contact between humans and wild animals is increasing disastrously in Sumatra as deforestation, mining and palm oil concessions expand, fragmenting forest habitats and driving animals out of protected areas. The exact number of tigers left in the wild is uncertain but latest estimates range from under 300 to possibly 500 in 27 locations.,,, http://www.guardian.co.uk/environment/2013/may/26/tigers-stronghold-sumatra-poachers
TIMEWorld, October 31, 2013
HOW PALM OIL IS DRIVING THE SUMATRAN TIGER TO BRINK OF EXTINCTION
It's in your mascara, your laundry detergent and even your Oreo cookies — the world is addicted to palm oil. Indonesia is the largest exporter, but production there comes at a huge cost. Oil-palm plantations have savagely encroached on the nation's diverse rainforests, and slash-and-burn clearance for new plantations recently engulfed much of Southeast Asia in acrid smog... http://world.time.com/2013/10/31/palm-oil-is-killing-the-sumatran-tiger/
WATCH - Documentary
"THE LEGENDARY SWAMP TIGERS"
Entangled, mangrove forest on the Bay of Bengal is the kingdom of a creature rarely seen by humans. One of the most efficient predators on Earth, this animal is feared as a killer and a man-eater - the legendary swamp tiger. These tigers are so elusive that all attempts to track them in these impenetrable swamps ended in failure.
More than a decade ago, cameraman Mike Herd captured the swamp tiger on film for the first time. It was an extraordinary breakthrough, the first glimpse into the secret life of the least known tiger in the world - the swamp tiger of the Bangladeshi Sundarbans. http://topdocumentaryfilms.com/swamp-tigers/
FEATURED VIDEO
August 29, 2013 Mongabay
HOW TIGERS COULD SAVE HUMAN CIVILIZATION http://news.mongabay.com/2013/0829-hance-tigers-video.html?n3ws1ttr
▶ DEADLY POISON THREAT TO LAST REMAINING TIGERS IN THAILAND AND INDIA - LOSING OUR BIG CATS http://sco.lt/4o0U9x
VIDEO
SUMATRA, INDONESIA - THE RAINFOREST'S LAST STAND http://www.guardian.co.uk/global-development/video/2013/may/24/sumatra-indonesia-rainforest-video
ECOCIDE: A PLAGUE OF DEFORESTATION SWEEPS ACROSS SOUTHEAST ASIA WITH TERRIBLE LOSS OF WILDLIFE AND BIODIVERSITY http://sco.lt/4lJ5ZR
September 11, 2013 CNN Green
WHY YOU SHOULD CARE ABOUT SUMATRA'S RAINFOREST http://www.cnn.com/2013/09/10/world/why-you-should-care-sumatra-rainforest/index.html
VIDEO
TEN NEWS AUSTRALIA INVESTIGATION: PALM OIL ECOCIDE - http://www.scoop.it/t/biodiversity-is-life/p/1561454232/palm-oil-ecocide-ten-news-australia-video
DO YOUR COOKIES AND SHAMPOO CONTAIN "DEFORESTATION"? http://sco.lt/5gTaj3
THE SIXTH MASS EXTINCTION IS UPON US http://sco.lt/5Vd02T
STOP BURNING RAIN FORESTS FOR PALM OIL AND MONOCROP AGRICULTURE http://sco.lt/9A1KVt
THE BARBARIC ILLEGAL WILDLIFE TRADE FLOURISHES AND MUST CEASE http://sco.lt/67QAMb
INDONESIA IS ENCOURAGING A NEW CORPORATE COLONIALISM: PALM OIL DEFORESTATION - ECOCIDE FOR PROFIT http://sco.lt/88hVFx
PALM OIL ECOCIDE - THE DEFORESTATION HOLOCAUST: Fast-Tracking Our Own Extinction http://www.scoop.it/t/biodiversity-is-life/p/1510545458/fast-tracking-our-own-extinction-the-deforestation-holocaust-
"SUSTAINABLE" PALM OIL SHOULD NOT DRIVE DEFORESTATION http://sco.lt/7N5vU1
WATCH
Full Episode PBS Nature
"BROKEN TAIL: A TIGER'S LAST JOURNEY"
VIDEO
HIDDEN IN PLAIN SIGHT:
CHINA'S CLANDESTINE TIGER TRADE
VIDEO
CAN UN REDD EVER BECOME GREEN?
CARBON AND FOREST ECOCIDE
TERRACIDE: THE BIGGEST CRIMINAL ENTERPRISE IN HISTORY - DESTROYING THE PLANET FOR RECORD PROFITS http://sco.lt/8vbBSb
ERADICATING ECOCIDE: WHY BUSINESS LEADERS MUST STEP UP TO THE CHALLENGE http://sco.lt/56vkOH