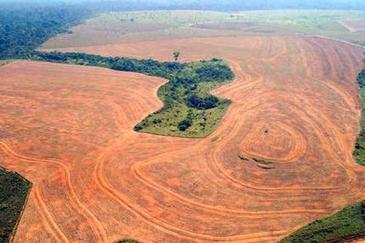 25 Jan 2013
▶ After years of gains against destruction of the Amazon rainforest, Brazil appears to be suffering from an increase in deforestation as farmers, loggers, miners and builders move into previously untouched woodland, according to data compiled by the... http://planetark.org/wen/67719
Mongabay, April 18, 2014
RAINFORESTS ON FIRE: CLIMATE CHANGE IS PUSHING THE AMAZON OVER THE EDGE http://news.mongabay.com/2014/0418-morgan-amazon-fire.html
WATCH
BURNING THE LAND
MAN-MADE FIRES IN THE AMAZON, AND BEYOND
Scientific American, January 18, 2012
▶ RAINFOREST IN TRANSITION: IS THE AMAZON TRANSFORMING BEFORE OUR EYES? COURTESY OF HUMAN IMPACTS ON REGION'S WEATHER http://www.scientificamerican.com/article/amazon-rainforest-tranformation/
Environmental Protection:
▶ BRAZIL REPEALS FOREST CODE AND DEFORESTATON ACCELERATES http://eponline.com/articles/2014/01/08/brazil-repeals-forest-code-and-deforestation-accelerates.aspx
Ecowatch, December 30, 2013
▶ AMAZON DEFORESTATION, MINING, AGRICULTURE AND HYDROPOWER THREATEN THE FUTURE OF SOUTH AMERICAN CONTINENT http://ecowatch.com/2013/12/30/amazon-deforestation-threatens-south-americas-water/
VIDEO:
Huffington Post Canada, October 1, 2013
Carnegie Airborne Observatory
▶ AMAZON GOLD MINING VIDEO REVEALS DEFORESTATION DEVASTATION BEYOND OUR UNDERSTANDING http://www.huffingtonpost.ca/2013/09/29/amazon-gold-mining-video-carnegie_n_4013594.html
▶ A MODERN GOLD RUSH IN THE RAIN FORESTS OF PERU, POISONS THE ENVIRONMENT, RIVERS AND FORESTS http://sco.lt/5ha9RJ
TerraDaily, October 28, 2013
▶ GOLD MINING IS RAVAGING PERUVIAN AMAZON http://www.terradaily.com/reports/Gold_mining_is_ravaging_Peruvian_Amazon_study_999.html
Mongabay, November 17, 2013
▶ WHY IS AMAZON DEFORESTATION CLIMBING? http://news.mongabay.com/2013/1116-nepstad-why-is-deforestation-climbing.html
July 18, 2013 The Raw Story
▶ DEFORESTATION SPIKES IN BRAZILIAN AMAZON BY 103 PERCENT http://www.rawstory.com/rs/2013/07/18/deforestation-spikes-in-brazilian-amazon-by-103-percent/
February 6, 2013 Environmental Protection
▶ THE VULNERABILITY OF AMAZON'S FRESHWATER ECOSYSTEMS http://eponline.com/articles/2013/02/01/the-vulnerability-of-amazons-freshwater-ecosystems.aspx
May 23, 2013 Terra Daily
▶ AMAZON RIVER EXHALES AS OXYGEN AND ALL CARBON TAKEN UP BY RAIN FOREST http://www.terradaily.com/reports/Amazon_River_exhales_virtually_all_carbon_taken_up_by_rain_forest_999.html
Conservation Magazine, November 12, 2013
▶ WILL AMAZON LOGGING THREATEN U.S. FOOD SUPPLY?
As deforestation of the Amazon continues, the effects could be felt as far as the western United States. According to a new study, logging could trigger changes in climate that ultimately dry out important farming regions in California.
http://conservationmagazine.org/2013/11/will-amazon-logging-threaten-us-food-supply/
May 22, 2013 WLE
▶ THE ROLE OF ECOSYSTEM SERVICES ON FOOD SECURITY AND NUTRITION IN THE AMAZON http://wle.cgiar.org/blogs/2013/05/22/the-role-of-ecosystem-services-on-food-security-and-nutrition-in-the-amazon/
Guardian Environment, December 20, 2013
▶ OIL INDUSTRY 'DEVASTATING' FOR AMAZON COMMUNITIES, WARNS UN RAPPORTEUR - James Anaya says oil companies have affected health and food sources of indigineous people in the Peruvian rainforest http://www.theguardian.com/environment/2013/dec/20/oil-industry-amazon-communities-un-rapporteur
VIDEO
THE TRUE STORY OF CHEVRON'S ECUADOR DISASTER
CHEVRON TOXICO: THE CAMPAIGN FOR JUSTICE IN ECUADOR
Climate & Capitalism, October 29, 2013
▶ CHEVRON'S SCORCHED EARTH CAMPAIGN TO BLOCK JUSTICE http://climateandcapitalism.com/2013/10/29/chevrons-scorched-earth-campaign-block-justice/
CSRWire, December 26, 2013
▶ ECUADOR: A WIN FOR THE PEOPLE vs CHEVRON http://www.csrwire.com/blog/posts/1159-ecuador-a-win-for-the-people-vs-chevron
June 17, 2013 Amazon Watch:
▶ WE WON'T STOP FIGHTING: Facing enormous setbacks to indigenous rights in Brazil, 400 Kayapo leaders and warriors met on the Xingu River to discuss strategy for upholding their rights http://amazonwatch.org/news/blog
Guardian Environment, June 29, 2014
▶ PERU NOW HAS A 'LICENSE TO KILL' ENVIRONMENTAL PROTESTERS http://www.theguardian.com/environment/andes-to-the-amazon/2014/jun/29/peru-licence-to-kill-environmental-protestors
Mongabay, May 14, 2014
▶ NEW REPORT REVEALS HUMAN RIGHTS ABUSES BY CORPORATIONS, GOVERNMENTS IN THE AMAZON. The report took over six months to complete and gives an in-depth account of the conflicts activists and indigenous peoples (IPs) are having with corporations and governmental agencies. It relays a situation that does not look good.
The report details everything from physical attacks to "systematic pressure" by corporations and governments. According to the report, conflicts over land and territories have reached a ten-year peak in Brazil. In Peru, social conflicts have tripled since 2008, with two-thirds of the reported cases defined as "socioenvironmental" conflicts. http://news.mongabay.com/2014/0514-dulaney-regnskogfondet.html
--- WATCH ---
Yale Environment 306
INTO THE HEART OF ECUADOR'S YASUNI
TerraDaily, October 28, 2013
▶ BRAZIL JUDGE ORDERS WORK ON HUGE BELO MONTE DAM HALTED http://www.terradaily.com/reports/Brazil_judge_orders_work_on_huge_Amazon_dam_halted_999.html

VIDEO
International Rivers, August 21, 2013
Río Marañon: DAMS AND ECOSYSTEMS
THE GRAND CANYON OF SOUTH AMERICA
The Marañon River is one of the most important water sources in Peru and a key Amazon tributary. The river runs through ten distinct regions of Peru which are home to almost 14% of the Peruvian population and is an area of unique biodiversity with dry forests that extend along the upper river valley and its tributaries. The Marañon River and the critical ecosystems that it supports are threatened by plans to build a series of 20 dams along the river. http://www.internationalrivers.org/resources/r%C3%ADo-mara%C3%B1on-the-grand-canyon-of-south-america-8061
▶ ECUADOR TO SELL A THIRD OF ITS AMAZON RAINFOREST TO CHINESE OIL COMPANIES http://sco.lt/8Q38K1
May 23, 2013 Yale Global
▶ BRAZIL: BIG DEMAND FOR NATURAL COSMETICS AND LOW ENFORCEMENT THREATEN BRAZIL'S CANDEIA TREE http://yaleglobal.yale.edu/content/sustainability-or-greenwashing
September 4, 2013 Mongabay
▶ DEFORESTATION SURGES AS ECUADOR KILLS AMAZON PROTECTION PLAN http://news.mongabay.com/2013/0903-ecuador-deforestation.html
Mongabay, March 14, 2012
▶ AMAZON PLANT YIELDS MIRACLE CURE FOR DENTAL PAIN http://news.mongabay.com/2012/0314-hance_acmellaoleracea.html
VIDEO
KarmaTube:
HANGING IN THE BALANCE: THE FUTURE OF A FOREST
Scientists believe that we are at a tipping point of deforestation in the Amazon Rainforest, the largest contiguous tropical forest in the world
http://www.karmatube.org/?op=nletter&id=3239
Science Daily, January 29, 2012
▶ NEW BIODIVERSITY MAP OF ANDES-AMAZON BASIN OF PERU AND BOLIVIA SHOWS SPECIES IN DIRE NEED OF PROTECTION http://www.sciencedaily.com/releases/2012/01/120126223929.htm
Science Codex, April 09, 2012
▶ 800-YEAR-OLD FARMERS COULD TEACH US HOW TO PROTECT THE AMAZON http://www.sciencecodex.com/800yearold_farmers_could_teach_us_how_to_protect_the_amazon-89438
New York Times, November 24, 2012
▶ SWALLOWING THE RAINFOREST AS BRAZILIAN CITIES SURGE IN AMAZON. The torrid expansion of rain forest cities is alarming scientists, as an array of new industrial projects transforms the Amazon into Brazil's fastest-growing region.... http://www.nytimes.com/2012/11/25/world/americas/swallowing-rain-forest-brazilian-cities-surge-in-amazon.html?_r=0
August 21, 2013 IOL SciTech
▶ DEFORESTATION 100% SURGE SPARKS CONCERN IN AMAZON http://www.iol.co.za/scitech/science/environment/deforestation-sparks-concern-in-amazon-1.1565673#.UhWlZ23b3RY
May 18, 2013 - Mongabay
▶ DEFORESTATION IN BRAZILIAN AMAZON PACING 88% HIGHER THAN LAST YEAR'S RATE http://news.mongabay.com/2013/0518-imazon-sad-update.html?utm_source=feedly
August 21, 2013 Mongabay
▶ PESTICIDE PROBLEMS IN THE AMAZON http://news.mongabay.com/2013/0821-andrus-pesticide-problems-amazon.html
--- WATCH --
FILM: "ALMA"
A journey into the soul of humanity -
Deforestation in The Amazon
A powerful statement about the global industrial economy and the terrible price we pay for deforestation and mindless consumerism http://sco.lt/60MIAz
August 31,2013 Yale Global
▶ AN AMAZONIAN BATTLE http://yaleglobal.yale.edu/content/amazonian-battle
========================
ENOUGHNESS:
WESTERN THOUGHT vs INDIGENOUS PHILOSOPHY
▶ THE NEW CORPORATE COLONIALISM. Destruction of Planetary Life In The Name Of "Growth" http://sco.lt/5nT3OT
▶ ECOCIDE AND SACRED LAW: A fundamental intrinsic value of the sacredness of all life. http://www.scoop.it/t/biodiversity-is-life/p/3444120897/ecocide-and-sacred-law-a-fundamental-intrinsic-value-of-the-sacredness-of-all-life
▶ UN TO LAUNCH STUDY ON ENVIRONMENTAL CRIME – Eradicating ECOCIDE http://eradicatingecocide.com/2012/11/un-to-launch-study-on-environmental-crime/
▶ ERADICATING ECOCIDE: WHY BUSINESS LEADERS MUST STEP UP TO THE CHALLENGE http://sco.lt/56vkOH
▶ WORLD LOSING BIODIVERSITY THOUSAND TIME FASTER THAN NATURAL EXTINCTION: UN http://www.scoop.it/t/biodiversity-is-life/p/3618052038/world-losing-biodiversity-thousand-times-higher-than-natural-extinction-un
▶ LAND GRABS http://sco.lt/96H2yv HOW FOREIGN "INVESTMENTS" ARE REDISTRIBUTING WEALTH, LAND, WATER ACROSS THE GLOBE
May 23, 2013 Common Dreams
▶ TERRACIDE: THE BIGGEST CRIMINAL ENTERPRISE IN HISTORY - Destroying Our Planet For Record Profits http://www.commondreams.org/view/2013/05/23-4
VIDEO
On UNRedd and Redd+
CAN UN REDD EVER BECOME GREEN? CARBON AND FOREST ECOCIDE http://sco.lt/6uQmif
▶ FOOD FORESTS CAN MITIGATE RISKS OF "FEAST OR FAMINE" - BIG CORPORATE AG IS NOT THE ANSWER http://sco.lt/8q2M41
May 16, 2013 Mongabay
▶ NGO: CONFLICT OF INTERESTS BEHIND PERUVIAN HIGHWAY PROPOSAL THROUGH THE AMAZON http://news.mongabay.com/2013/0516-hance-peru-highway.html
▶ MINING, FOREIGN LAND GRABS ENDANGERING ENVIRONMENT, ECOSYSTEMS AND LOCAL COMMUNITIES http://sco.lt/5M5eLp
VIDEO:
FOREIGN CORPORATIONS DESTROYING ECOSYSTEMS, INDIGENOUS LIVELIHOODS, NULLIFYING LAND RIGHT AND CREATING DEPENDENCY http://sco.lt/4l725B
▶ ECOCIDE: A PLAGUE OF DEFORESTATION SWEEPS ACROSS SOUTHEAST ASIA WITH TERRIBLE LOSS OF WILDLIFE AND BIODIVERSITY http://sco.lt/4lJ5ZR
WATCH
"HANGING IN THE BALANCE: THE FUTURE OF A FOREST"
KarmaTube
http://www.karmatube.org/?op=nletter&id=3239
▶ PALM OIL ECOCIDE - THE DEFORESTATION HOLOCAUST: Fast-Tracking Our Own Extinction http://www.scoop.it/t/biodiversity-is-life/p/1510545458/fast-tracking-our-own-extinction-the-deforestation-holocaust-
WATCH:
▶ TEN NEWS "PALM OIL ECOCIDE" TV AUSTRALIA VIDEO: http://www.scoop.it/t/biodiversity-is-life/p/1561454232/palm-oil-ecocide-ten-news-australia-video
▶ ++++++DON'T MISS THIS AWARD WINNING DOCUMENTARY
WATCH:
"REMEMBERING 'GREEN'" -
AN ORANGUTANS JOURNEY
▶ MORE ON DEFORESTATION
http://www.scoop.it/t/biodiversity-is-life?q=DEFORESTATION