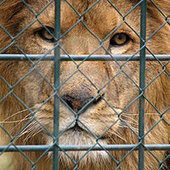 -▶VIDEO
Animal advocacy NGO focused on exposing and closing down the canned lion hunting industry in South Africa.
There are fewer than 4000 lions left in the 'wild' in South Africa, but more than 8,000 in captivity, being bred for the bullet or the arrow. Lion farming is a real threat to wild lion prides, for many reasons. ... http://www.indiegogo.com/projects/campaign-against-canned-
News24, November 18, 2013
-▶ 78,000 WANT U.S. LION HUNTER BANNED FROM SOUTH AFRICA http://www.news24.com/Green/News/78-000-want-US-lion-hunter-banned-from-SA-20131118
NY Daily News, November 16, 2013
-▶ SHOW PRESENTER, MELISSA BACHMAN SLAMMED AFTER POSTING PHOTO OF WILDLIFE SHE "KILLED" IN SOUTH AFRICA http://www.nydailynews.com/news/national/tv-presenter-slammed-photo-lion-killed-article-1.1519039?redirect=true
ITV News, November 15, 2013
-▶ TV PRESENTER'S LION TROPHY PROVOKES FEROCIOUS BACKLASH http://www.itv.com/news/2013-11-15/tv-presenters-lion-trophy-provokes-ferocious-backlash/
WATCH
June 2, 2013 Guardian Environment
VIDEO
-▶ ******* 'CANNED HUNTING' THE LIONS BRED FOR SLAUGHTER FOR TROPHY HUNTING- At anything from £5,000 to £25,000 per Lion, and it is all completely legal.
http://www.guardian.co.uk/environment/2013/jun/03/canned-hunting-lions-bred-slaughter
-▶ TROPHY HUNTING: IT'S IMPACT ON WILDLIFE AND PEOPLE http://www.scoop.it/t/trophy-hunting-in-africa-it-s-impact-on-wildlife-and-people
BBC News, November 20, 2012
-▶ BOTSWANA TO BAN WILDLIFE HUNTING: ENDING TROPHY HUNTING LICENSES FOR WEALTHY WESTERNERS
"The shooting of wild game for sport and trophies is no longer compatible with our commitment to preserve local fauna,"
http://www.bbc.co.uk/news/world-africa-20544251
Standard Digital News, September 20, 2013
-▶ KENYA: DEMAND FOR ANIMAL'S TROPHY IS DRIVING OUR HERITAGE TO EXTINCTION http://www.standardmedia.co.ke/?articleID=2000093958&story_title=demand-for-animal-s-trophy-is-driving-our-heritage-to-extinction/
August 6, 2013 Focusing On Wildlife
-▶ TROPHY HUNTING IN AFRICA - WILDLIFE SLAUGHTER IN GRAPHIC IMAGES http://focusingonwildlife.com/news/trophy-hunting-in-africa-wildlife-slaughter-in-graphic-images/
April 17, 2013 Global Post
-▶ TANZANIA TO EVICT MAASAI PEOPLE IN FAVOR OF FEE-PAYING TROPHY HUNTERS http://www.globalpost.com/dispatch/news/regions/africa/130416/tanzania-maasai-evicted-land-dubai-ortello-business
-▶ USA: TROPHY HUNTING: FOR THE LOVE OF BLOOD AND MONEY http://sco.lt/6R75BR
----------------------------------------------------------------------------
CANNED HUNTING
August 14, 2013 Focusing on Wildlife
-▶ PETITION: STOP LION CANNED HUNTING IN SOUTH AFRICA - SHOCKING VIDEO http://focusingonwildlife.com/news/petition-stop-lion-canned-hunting-in-south-africa-shocking-video/
-▶ 'CANNED HUNTING': LIONS BRED FOR PETTING AND SLAUGHTER http://sco.lt/8ddstV @Nikela_Wildlife
Original Article: http://www.thehindu.com/sci-tech/energy-and-environment/canned-hunting-lions-bred-for-slaughter/article4777813.ece
June 11, 2013 Guardian Environment
-▶ WHITE LION INBREEDING AT UK WILDLIFE PARKS LINKED TO 'CANNED HUNTING' http://www.guardian.co.uk/environment/2013/jun/11/white-lion-breeding-uk-wildlife-parks
VIDEO
July 12, 2013 Wildlife Extra News
-▶ CANNED TIGER HUNTING IN SOUTH AFRICA? HOW LOW CAN THEY GO? http://www.wildlifeextra.com/go/news/tiger-hunt.html
International Conservation Forum
VIDEO:
BRING TIGERS BACK FROM NEAR EXTINCTION:
Dr. Keith Martin Explains How http://www.icforum.info/category/tigers/
-▶ ZAMBIA FINALLY BANS THE HUNTING OF ENDANGERED LIONS AND LEOPARDS. Africa has some of the planet's most beautiful and endangered species, such as rhinos, elephants, leopards and lions. However, over the decades, poaching has severely impacted on these species seeing many of their numbers plummet to an all-time low...http://inhabitat.com/zambia-finally-bans-hunting-of-endangered-lions-and-leopards/
-▶ LIONS EXTINCT IN 25 ARICAN COUNTRIES AND REMAINING POPULATIONS IN MORE TROUBLE THAN PREVIOUSLY THOUGHT http://sco.lt/63ur8T
-▶ CHADS LAST ELEPHANTS - NUMBERS PLUNGE FROM 4,300 TO 450 http://sco.lt/8nnEJd
-▶ RHINOS IN CRISIS: GOING, GOING ... http://sco.lt/6zVwtl
June 6, 2013 Inhabitat
-▶ LION MEAT BECOMES AN APPALLING NEW CULINARY IN THE U.S. http://inhabitat.com/lion-meat-becomes-an-appalling-new-culinary-fad-in-the-us/
-▶ USA: ILLINOIS LAWMAKER WANTS TO BAN LION MEAT TO SAVE THE SPECIES Unbelievably, certain people in the United States have a taste for lion meat, and an Illinois lawmaker wants to do his part to keep this exotic trend from getting out of hand. http://inhabitat.com/illinois-lawmaker-wants-to-ban-lion-meat-to-save-the-species/
-- LOVELY WATCH ---
National Geographic
-▶ ENTER THE WORLD OF THE VUMBI PRIDE
The lions strut and grimace, bare their teeth. One drapes a paw indolently, another nuzzles... http://ngm.nationalgeographic.com/serengeti-lion/index.html#.UgSGFlPc-RQ
August 8, 2013 Treehugger
-▶ NATIONAL GEOGRAPHIC'S AMAZING PHOTOS SHOW INTIMATE LIFE OF AFRICA'S LIONS http://www.treehugger.com/natural-sciences/national-geographics-amazing-photos-show-intimate-life-africas-lions.html
-▶ FOR MORE ON HUNTING and POACHING SEE:
African wildlife Conservation http://sco.lt/7R4V5V
AND @Roni Badesso
-▶ HIDDEN IN PLAIN SIGHT: CHINA'S CLANDESTINE TIGER TRADE http://sco.lt/895ugD
-▶ MORE ON ILLEGAL WILDLIFE POACHING
http://www.scoop.it/t/biodiversity-is-life?q=POACHING
Via
Roni Badesso