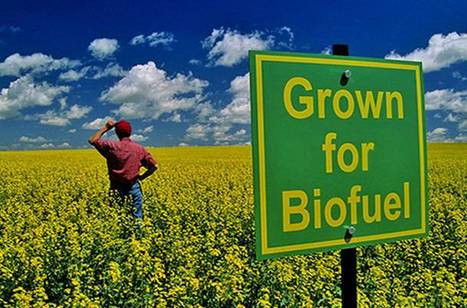 THE DARK SIDE OF BIOFUELS
Guardian Sustainable Business, April 24, 2014
http://www.theguardian.com/sustainable-business/blog/campaign-drax-biofuels-effects-replacing-fossil-fuels?CMP=new_1194
LOOKING FOR ANSWERS - DEPENDS ON HOW YOU DO IT
Yale Environmental 360, June 26, 2014
-▶ ON THE FRONT LINES OF RECYCLING, TURNING FOOD WASTE INTO BIOGAS http://e360.yale.edu/feature/on_front_lines_of_recycling_turning_food_waste_into_biogas/2779/
Telegraph, March 23, 2014
-▶ BIOFUELS DO MORE HARM THAN GOOD, UN WARNS. Growing crops to make "green" biofuel harms the environment and drives up food prices, admits the United Nations http://www.telegraph.co.uk/earth/energy/10716756/Biofuels-do-more-harm-than-good-UN-warns.html
ClickGreen, July 24, 2014
-▶ BIOENERGY CAN BE WORSE FOR THE CLIMATE THAN FOSSIL FUELS, GOVERNMENT STUDY SHOWS http://www.clickgreen.org.uk/news/national-news/124978-bioenergy-can-be-worse-for-the-climate-than-fossil-fuels%2C-government-study-shows.html
ASSOCIATED PRESS REPORT: GazetteNet, November 5, 2013
-▶ BIO-ETHANOL FUEL: THE SECRET DIRTY COST OF OBAMA'S GREEN POWER PUSH. Five million acres of land set aside for conservation — more than Yellowstone, Everglades and Yosemite National Parks combined — have vanished on Obama's watch. Landowners filled in wetlands. They plowed into pristine prairies, releasing carbon dioxide that had been locked in the soil. Sprayers pumped out billions of pounds of fertilizer, some of which seeped into drinking water, contaminated rivers and worsened the huge dead zone in the Gulf of Mexico where marine life can't survive. ... 15 million more acres of corn were planted last year than before the ethanol boom http://www.gazettenet.com/home/9190243-95/the-secret-dirty-cost-of-obamas-green-power-push
AP Investigation
THE HIDDEN COSTS OF ETHANOL
http://bigstory.ap.org/topic/ethanol
ABC News, November 12, 2013
-▶ LOBBYISTS AND INDUSTRY GO INTO HIGH PR GEAR - TAKES AIM AT AP INVESTIGATION REPORT http://abcnews.go.com/Politics/wireStory/industry-takes-aim-ap-ethanol-investigation-20858940
June 19, 2013 Corporate Europe Observatory
-▶ FOOD FOR FUELS? LAST CHANCE LOBBYING FOR THE AGROFUELS INDUSTRY - THEIR TACTICS AND FRONT GROUPS http://corporateeurope.org/news/food-fuels-last-chance-lobbying-
Guardian Environment, April 20, 2014
-▶ CORN BIOFUELS WORSE THAN GASOLINE ON GLOBAL WARMING IN SHORT TERM http://www.theguardian.com/environment/2014/apr/20/corn-biofuels-gasoline-global-warming
July 24, 2013 Brownfield Ag News For America
-▶ A POWERFUL LOBBY: ETHANOL INDUSTRY PARTNERS WITH (GMO) AG GROUPS AND AUTO INDUSTRY TO ENSURE IT'S FUTURE http://brownfieldagnews.com/2013/07/24/ethanol-industry-partners-with-ag-groups-and-auto-industry/
-▶ USA DEPT OF ENERGY AWARDS AGRIBUS GMO GIANT, MONSANTO, FREE PUBLIC LANDS TO DEVELOP ADVANCED GMO BIOFUELS http://sco.lt/8bEMYT
May 08, 2013 EurActive
-▶ FOOD OR FUEL? G8 UNDER PRESSURE TO RETHINK BIOFUEL MANDATES
*EXCLUSIVE* / Leaders of the EU and their partners in the G8 nations are
under mounting pressure to reconsider their support for biofuel targets amid concern that plant oil production competes with food output in poor countries.... http://www.euractiv.com/cap/g8-pressure-rethink-biofuel-mand-news-519583
Science Daily, September 24, 2013
-▶ TIME TO RETHINK MISGUIDED POLICIES THAT PROMOTE BIOFUELS TO PROTECT CLIMATE, EXPERTS SAY http://www.sciencedaily.com/releases/2013/09/130924122455.htm
June 17, 2013 About My Planet
-▶ CROP WARS: FOOD VERSUS BIOFUELS http://www.aboutmyplanet.com/environment/crop-wars-food-versus-biofuels/
-▶ FOOD OR FUEL: BIG OIL AND BIG AG FIGHT IT OUT OVER ETHANOL BIOFUEL http://sco.lt/4rDj1t
-▶ DOE - USDA FUND PLANT GMO FEEDSTOCKS GENOMICS FOR BIOENERGY AWARDS http://genomicscience.energy.gov/research/DOEUSDA/index.shtml
July 17, 2014 Depts of Agriculture and Energy Announce Projects
-▶ RESEARCH PROJECTS IN 10 STATES FUNDED BY OBAMA ADMINISTRATION TO BIOENGINEER (GENETICALLY ENGINEERED) FEEDSTOCKS http://content.govdelivery.com/accounts/USDAOC/bulletins/c4c617
Scientific American, April 23, 2014
-▶ U.S. BIOFUELS MANDATE IS CUT DRASTICALLY. EPA decision to sharply reduce the amount of cellulosic biofuel in the U.S. fuel supply strangely pleases oil companies and environmental groups http://www.scientificamerican.com/article/biofuels-mandate-is-cut-drastically/
▶ DISPELLING THE MYTH OF CLEAN, GREEN BIOMASS POWER DRIVEN BY THE INDUSTRY http://sco.lt/7j2i8n
May 3, 2013 Guardian Environment
-▶ THE BIOMASS INDUSTRY SHOULD COME CLEAN ABOUT ITS ENVIRONMENTAL IMPACT http://www.guardian.co.uk/environment/blog/2013/may/03/biomass-industry-environmental-impact
Click Green Research, January 09, 2014
▶ EU BIOFUEL POLICY IS DRIVING UP DEMAND FASTER THAN NATURE CAN KEEP UP - RUNNING OUT POLLINATING BEES http://www.clickgreen.org.uk/research/trends/124095-eu-biofuel-policy-is-driving-up-demand-faster-than-nature-can-keep-up.html
-▶ CONVERTING U.S. PRAIRELANDS AT DUST BOWL RATES FOR GMO BIOFUELS http://sco.lt/54TNAH
FEATURED VIDEO
Mongabay, December 12, 2013
▶ U.S. FORESTS DECIMATED FOR 'GREEN' BIO-ENERGY IN EUROPE http://news.mongabay.com/2013/1212-hance-bioenergy-video.html
The Hockey Schtick, May 2011
-▶ US TAXPAYER SUBSIDIZE ETHANOL EXPORTED TO BRAZIL - SIX BILLION IN ETHANOL SUBSIDIES PAID BY US TAXPAYERS TO ETHANOL PRODUCERS http://hockeyschtick.blogspot.com/2011/05/us-taxpayers-subsidize-ethanol-shipped.html
July 12, 2013 Slate
-▶ ETHANOL IS INSANE: THE USA CORN LOBBY'S GRIP ON OUR ENERGY POLICY http://www.slate.com/articles/news_and_politics/food/2013
March 1, 2013 Guardian Environment
-▶ THE BIOFUEL BELT KEEPS CREEPING ACROSS THE U.S. - AND IT'S WILDLIFE AND ECOSYSTEMS THAT LOSE OUT http://www.guardian.co.uk/environment/blog/2013/mar/01/biofuel-habitat-loss-usa
-▶ FARM SUBSIDIES AND CORN BIOFUEL ETHANOL: BAD FOR FARMERS, CONSUMERS AND ENVIRONMENT http://sco.lt/4knJIH
Scientific American - Archived Articles on BIOFUELS http://www.scientificamerican.com/search/?q=Biofuels+Mandate+is+Cut+Drastically+&x=9&y=7&display=search
May 13, 2013 Business Green
-▶ BIOMASS DEVELOPMENT CAP TO COME INTO EFFECT FROM SUMMER http://www.businessgreen.com/bg/news/2267660/biomass-development-cap-to-come-into-effect-from-summer
Oxfam - BIOFUELS, LAND GRABS AND HUMAN RIGHTS
-▶ THE HUMAN SIDE OF THE SUGAR RUSH IN BRAZIL http://www.oxfam.org/en/grow/content/land-and-sugar-testimonies-brazil
September 1, 2013 The Independent
-▶ BIOFUEL PROJECT FUNDED BY UK 'LEAVES AFRICANS WITHOUT FOOD' http://www.independent.co.uk/news/world/africa/biofuel-project-funded-by-uk-leaves-africans-without-food-8793617.html
The Hockey Schtick, July 1, 2013
-▶ DIRTY CORN ETHANOL INCREASES EMISSIONS, FUEL COSTS, ENGINE DAMAGE AND FOOD PRICES http://hockeyschtick.blogspot.com/search?q=ethanol
Environmental Working Group, August 19, 2013
-▶ MORE CORN ETHANOL IN 2013 MEANS ENVIRONMENT AND CONSUMERS LOSE OUT http://www.ewg.org/agmag/2013/08/more-corn-ethanol-2013-means-environment-consumers-lose-out
▶ WHAT'S WRONG WITH MAN-MADE TREE PLANTATIONS? http://sco.lt/8bQgdN
100 Reporters, November 21, 2013
▶ GLOBAL LAND GRAB: RAINFOREST VANISHING IN SHADY DEALS, REPORT SAYS. Spurred by increasing food prices and demand for biofuels in Europe and North America, one of the world's largest rainforests in Papua New Guinea is quickly disappearing under a voracious land rush that has handed 12 percent of the country's entire land area to foreign companies over the last decade, according to a new report. http://100r.org/2013/11/global-land-grab-rainforest-vanishing-in-shady-deals-report-says/
allAfrica, January 07, 2014
▶ AFRICA: OUR MODERN, WESTERN AGRICULTURAL SYSTEM IS DESTROYING THE EARTH AND OUR HEALTH.
Today our food comes from across the world. More importantly, it is often produced in highly destructive ways, at the lowest possible cost.
Consequently our food production system is responsible for accelerating the rate of destruction of the very ecosystems we are reliant upon in order to maintain our delicate global environmental equilibrium.
We cut and clear the lungs of the world, our tropical rainforests, to feed livestock or grow dishonestly named "biofuels". We bulldoze natural filtration systems and the nurseries for life like wetlands and mangrove swamps to produce luxury foods for obese populations. http://allafrica.com/stories/201401071158.html?viewall=1
INFOGRAPHIC:
FIELDS OF GOLD - RAPID RISE OF THE U.S. CORN INDUSTRY
Lashings of Pesticides Creating Biological Deserts
http://flapjackmedia.com/2013/09/04/corn/
TakePart, November 15, 2013
▶ HOW BIG CORN IS KILLING THE EARTH http://www.takepart.com/article/2013/11/15/how-big-corn-killing-earth
=======================
Science Direct
-▶ BIOFUELS, ECOSYSTEM SERVICES AND HUMAN WELL BEING: Putting biofuels in the ecosystem services narrative http://www.sciencedirect.com/science/article/pii/S0167880911001423
---- WATCH ----
July 9, 2013 The Guardian UK
THE CAMBODIAN VILLAGES DESTROYED BY THE CORPORATE BIOFUEL SUGARCANE INDUSTRY http://www.guardian.co.uk/world/video/2013/jul/09/cambodian-sugarcane-video
-▶ WHAT DOES BIOFUEL HAVE TO DO WITH THE PRICE OF TORTILLAS IN GUATEMALA? http://sco.lt/7OmWav
January 5, 2013 New York Times
-▶ AS BIOFUEL DEMAND GROWS SO DO GUATEMALA'S HUNGER PANGS http://www.nytimes.com/2013/01/06/science/earth/in-fields-and-markets-guatemalans-feel-squeeze-of-biofuel-demand.html?ref=biofuels
SLIDESHOW:
-▶ THE COST OF BIOFUELS IN GUATEMALA http://www.nytimes.com/slideshow/2013/01/06/world/americas/06guatemala.html?ref=biofuels
▶ MORE THAN HALF OF U.S. RIVERS ARE TOO POLLUTED TO SUPPORT LIFE http://sco.lt/5Gpafx
Treehugger, October 9, 2013
▶ ARE BIOFUELS CONTRIBUTING TO DEAD ZONES? http://www.treehugger.com/environmental-policy/are-biofuels-still-contributing-dead-zone.html
-▶ THE CURSE OF PETROLEUM, CHEMICAL-BASED INDUSTRIAL FARM FERTILIZERS http://sco.lt/7uzkCf
========================
July 11, 2013 Food and Water Watch
-▶ SUPERWEEDS: HOW BIOTECH CROPS BOLSTER THE PESTICIDE INDUSTRY - REPORT PDF http://www.foodandwaterwatch.org/reports/superweeds/
WATCH
Emmy Award Winning 1 hr Film - University of Minnesota
▶ "TROUBLED WATERS: A MISSISSIPPI RIVER STORY" ▶
This excellent one hour documentary examines the "unintended consequences" of farming practices on water quality, soil loss and the "dead zone" in the Gulf of Mexico. Knitting together federal energy, farm and environmental policies, the film makes a compelling case for the revamping of US agricultural policy. Through beautiful photography and inspiring narrative, the film puts deliberate emphasis on solutions and provides a hopeful blueprint for progress and positive change... http://www.rememberthispoint.com/?p=212
Environmental Working Group, November 4, 2013
-▶ BIPARTISAN COALITION WOULD LINK LAND CONSERVATION TO 2013 FARM SUBSIDIES http://www.ewg.org/agmag/2013/11/bipartisan-support-compliance
-▶ BIG MONEY AND INVESTED-INTEREST GMO BIOTECHNOLOGY CARTEL SAYS: "BIOFUELS ARE ESSENTIAL TO ENERGY SECURITY" (No Mention of environmental, biodiversity, biological deserts) http://www.caelusgreenroom.com/2013/06/24/biofuels-are-essential-to-energy-security-bio-tells-house-energy-and-commerce-committee/
-▶ BIOLOGICAL DESERTS: THE ENVIRONMENTAL IMPACTS OF THE GMO MONOCULTURE BIOFUEL AND PALM OIL INDUSTRY http://sco.lt/9AeHbN
Treehugger, September 19, 2013
-▶ WHAT HAPPENED TO BIOFUELS? DO THEY HAVE A FUTURE? http://www.treehugger.com/renewable-energy/what-happened-biofuels-future.html
September 7, 2013 The Economist
-▶ BIOFUELS PROVING MORE COSTLY AND DIFFICULT THAN EXPECTED http://www.economist.com/news/technology-quarterly/21584452-energy-technology-making-large-amounts-fuel-organic-matter-has-proved-be
-▶ AGRIBUS GMO GIANT, MONSANTO AWARDED FREE PUBLIC LANDS TO DEVELOP ADVANCED BIOFUELS BY DOE http://sco.lt/8bEMYT
February 2, 2012 EurActive
-▶ EU CLIMATE CHIEF CALLS FOR 'MUCH CARE' ON BIOFUELS http://www.euractiv.com/climate-environment/eu-climate-chief-calls-care-biof-news-510528
July 29, 2013 EarthTechling
-▶ THOUGHTS ON CORN ETHANOL IN BIOFUELS DEVELOPMENT http://www.earthtechling.com/2013/07/thoughts-on-corn-ethanol-in-biofuels-development/
August 28, 2013 Take Part
-▶ KEEP PESTICIDES AND GMO CROPS OUT OF AMERICA' WILDLIFE RESERVES http://www.takepart.com/article/2013/08/28/keep-pesticides-and-gmo-crops-out-americas-wildlife-reserves
July 25, 2013 Climate Progress
-▶ UNTANGLING THE U.S. POLITICAL AND POLICY KNOT AROUND AMERICA'S BIOFUEL MANDATE http://thinkprogress.org/climate/2013/07/26/2357181/untangling-the-political-and-policy-knot-around-americas-biofuel-mandate/
July 24, 2013 MediaGlobal News
-▶ FOOD vs. FUEL DEBATE TO AGGRAVATE HUNGER FOR WORLD'S POOREST http://www.mediaglobal.org/2013/07/24/food-vs-fuel-debate-to-aggravate-hunger-among-the-worlds-poorest/
July 19, 2013 New Scientist
-▶ THIRSTY CLEAN ENERGY MAY ADD TO WATER STRESSED WORLD http://www.newscientist.com/article/dn23897-thirsty-clean-energy-may-add-to-water-stressed-world.html#.UeyDGlPpiRQ
July 17, 2013 Ecowatch
-▶ WHY OUR ENERGY CHOICES MATTER IN A WARMING, WATER-CONSTRAINED WORLD http://ecowatch.com/2013/our-energy-choices-in-warming-water-constrained-world/
-▶ DISPELLING THE MYTH OF CLEAN, BIOMASS POWER DRIVEN BY THE BIOTECH INDUSTRY http://sco.lt/8ZX41R
March 1, 2013 The Guardian Environment
-▶ THE BIOFUEL BELT KEEPS CREEPING ACROSS THE USA -- AND IT'S WILDLIFE THAT LOSES OUT http://www.guardian.co.uk/environment/blog/2013/mar/01/biofuel-habitat-loss-usa
==============================
LAND GRABBING FOR BIOFUELS MUST STOP

-▶ TANZANIA FARMERS ACCUSE BIOFUEL INVESTORS OF LAND GRAB http://www.trust.org/item/20130718134927-q50zx/?source=tw
May 29, 2013 Inter Press Service:
-▶ LAND GRABS AND THE BITTER TASTE OF LIBERIA'S PALM OIL PLANTATIONS: http://www.ipsnews.net/2013/05/the-bitter-taste-of-liberias-palm-oil-plantations/?utm_source=dlvr.it&utm_medium=twitter
++++WATCH++++
VIDEO REPORT - The Real News Jan 18,2013
-▶ BIO-FUELS, SPECULATION, LAND GRABS = FOOD CRISIS http://therealnews.com/t2/index.php?option=com_content&task=view&id=31&Itemid=74&jumival=7818#.USSEGBnZ03Y/7LE5cv
December 6, 2012 - Inter Press Service
-▶ AT THE NEXUS OF AGROFUELS, LAND GRABS AND HUNGER -
Part 1 http://www.ipsnews.net/2011/12/at-the-nexus-of-agrofuels-land-grabs-and-hunger-ndash-part-1/
July 9, 2013 Agrarian Justice
-▶ A FORESEEABLE DISASTER - THE EUROPEAN UNION'S AGROENERGY POLICIES AND THE GLOBAL LAND AND WATER GRAB http://www.tni.org/briefing/foreseeable-disasteragrofuels-industry-0
April 30, 2013 GRAIN —
-▶ AFRICA: LEAKED "ProSAVANA" MASTER PLAN CONFIRMS WORST FOREIGN LAND GRABBING FEARS http://www.grain.org/article/entries/4703-leaked-prosavana-master-plan-confirms-worst-fears
June 22, 2013 Los Angeles Times
-▶ BIOFUEL PROJECT IN KENYA IGNITES LAND, ENVIRONMENT DISPUTES http://www.latimes.com/news/nationworld/world/la-fg-kenya-biofuel-20130622,0,7673575.stor
June 9, 2013 Mongabay
-▶ BRAZIL MAY LIFT BAN ON AMAZON ETHANOL EXPANSION DRIVING NEW DEFORESTATION http://news.mongabay.com/2013/0609-brazil-amazon-cane-ban.html
July 26, 2013 PRI's The World
-▶ BRAZIL: EFFORTS TO REINVIGORATE GMO SUGAR ETHANOL FOR CARS IN BRAZIL: SUGAR GENERATES TWICES AS MUCH ETHANOL THAN CORN http://www.theworld.org/2013/07/efforts-to-reinvigorate-sugar-ethanol-for-cars-in-brazil/
July 3, 2013 Guardian Environment
-▶ BIOFUEL CROP MIX 'NOT FAVOURABLE FOR ENVIRONMENT' - EUROPEAN ENVIRONMENT AGENCY FINDS http://www.guardian.co.uk/environment/2013/jul/03/biofuel-crop-mix-environment
Earth Techling
-▶ WHEAT EATER: GIANT UK BIOFUEL PLANT OPENS http://www.earthtechling.com/2013/07/wheat-eater-giant-uk-biofuel-plant-opens/
-▶ UK'S BIOFUEL DRIVE WILL COST MOTORISTS £13bn BY 2020, report claims http://www.clickgreen.org.uk/analysis/general-analysis/123863-uk%5Cs-biofuel-drive-will-cost-motorists-13bn-by-2020%2C-report-claims.html
March 13, 2013 -Deutsche Welle: Environment & Development »
-▶ BIOFUELS BOOM THREATENS GLOBAL BIODIVERSITY
The rush around the world to plant crops used to produce biofuel has not only sparked a global food vs. fuel debate, but it's also putting biodiversity at risk.... http://www.dw.de/biofuels-boom-threatens-to-disrupt-global-biodiversity/a-16665847
May 2, 2013 RTCC Climate Change News -
-▶ WHY BIOFUELS ARE NOT A SENSIBLE SOLUTION TO CLIMATE CHANGE http://www.rtcc.org/why-biofuels-are-not-a-sensible-solution-to-climate-change/
July 5, 2013 Grist
-▶ BIOFUEL PROGRAM COULD INVITE GIANT GRASS INVASION http://grist.org/news/biofuel-program-could-invite-giant-grass-invasion/?utm_source=syndication&utm_medium=rss&utm_campaign=feed
-▶ EU MINISTERS BLOCK EU ENVIRONMENT PROPOSAL TO LIMIT GMO BIOFUELS: FOOD OR FUEL? http://sco.lt/5Ol1o9
-▶ October 21, 2012 About My Planet
EU LIMITING FOOD CROP INCLUSION IN BIOFUEL GOAL DUE TO CONCERNS http://www.aboutmyplanet.com/environment/eu-limiting-food-crop-inclusion-in-biofuel-goal-due-to-concerns/
-▶ BIOLOGICAL DESERTS: THE ENVIRONMENTAL IMPACTS OF THE GMO MONOCULTURE BIOFUEL AND PALM OIL INDUSTRY http://sco.lt/9AeHbN
-▶ CONTEMPORARY AGRICULTURE IS BURNING UP OUR PLANET http://sco.lt/75KXLd
August 1, 2013 Huffington Post Green
▶ THE KILLING FIELDS: INDUSTRIAL AGRICULTURE, DEAD ZONE AND GENETICALLY ENGINEERED CORN http://www.huffingtonpost.com/elizabeth-kucinich/the-killing-fields-indust_b_3678515.html
-▶ -▶ -▶ WATER IN THE ANTHROPOCENE http://sco.lt/856DXl
July 6, 2013 The Guardian, John Vidal
-▶ GLOBAL THREAT TO FOOD SUPPLY AS WATER WELLS DRY UP, WARNS TOP ENVIRONMENT EXPERT http://www.guardian.co.uk/global-development/2013/jul/06/food-supply-threat-water-wells-dry-up
July 4, 2013 Renewable Energy
-▶ AVOIDING NEGATIVE IMPACTS FROM A BIOMASS ENERGY STRATEGY http://www.renewableenergyworld.com/rea/blog/post/2013/07/avoiding-negative-impacts-from-a-biomass-energy-strategy?cmpid=rss
April 17, 2013 Mongabay
-▶ CONSERVATION POLICIES THAT BOOST FARM YIELDS MAY ULTIMATELY UNDERMINE FOREST PROTECTION, Study Argues http://news.mongabay.com/2013/0417-redd-intensification.html
-▶ HOW FOREIGN 'INVESTMENTS' ARE REDISTRIBUTING WEALTH, LAND AND WATER ACROSS THE GLOBE http://sco.lt/8Ff27V
-▶ "SUSTAINABLE" PALM OIL SHOULD NOT DRIVE DEFORESTATION http://sco.lt/7N5vU1
-▶ FOOD FORESTS CAN MITIGATE RISK OF "FEAST OR FAMINE" - BIG CORPORATE AG IS NOT THE ANSWER http://sco.lt/8q2M41
-▶ FOR MORE ON FOOD CRISIS AND THE GLOBAL LAND GRAB http://www.farmlandgrab.org
WATCH
"A SILENT FOREST"
David Suzuki: Documentary
THE GROWING THREAT OF GENETICALLY ENGINEERED TREES http://www.scoop.it/t/biodiversity-is-life/p/3970510201/documentary-a-silent-forest-the-growing-threat-genetically-engineered-trees-full-movie
-▶ MONSANTO GMO TREES COULD DEVASTATE FOREST ECOSYSTEMS http://sco.lt/51ekyH
-▶ WILL SYNTHETIC BIOLOGY BENEFIT OR THREATEN WILD THINGS http://sco.lt/66LUbR
Rainforest Alliance
-▶ WHAT IS A TROPICAL FOREST? - NOT ONE ECOSYSTEM BUT MILLIONS OF ECOSYSTEMS WITHIN IT http://rainforest-alliance.org/kids/facts/tropical-forest
SEE:
Fast-Tracking Our Own Extinction
-▶ THE DEFORESTATION HOLOCAUST AND PALM OIL ECOCIDE http://www.scoop.it/t/biodiversity-is-life/p/1510545458/fast-tracking-our-own-extinction-the-deforestation-holocaust-and-palm-oil-ecocide
WATCH
REMEMBERING 'GREEN'
AN ORANGUTAN'S JOURNEY
Winner of Best Short Documentary - A 2013 MUST AGENDA http://www.scoop.it/t/biodiversity-is-life/p/3926142290/remembering-green-an-orangutan-s-journey-winner-of-best-short-documentary-a-2013-must-agenda
-▶ SOLAR ON A ROLL : TAKES OFF WORLDWIDE http://sco.lt/4vZ7lB
-▶ WORLD CAN'T WAIT UNTIL 2020 ON CLIMATE CHANGE, SAYS NEW HIGHLY-DISTURBING INTERNATIONAL ENERGY AGENCY REPORT http://sco.lt/82bCM5
▶ THE GREAT AMERICAN CORPORATE GIVEAWAY: OUR PUBLIC WILDLIFE PRESERVES: BIOFUELS, GMO CROPS, PESTICIDES, CHEMICALS http://sco.lt/99bwx7
BATTLE FOR THE BEES
Dying Bees Raise Alarm For Humans - Europe Bans Pesticide
===============================
AN URGENT MEMO TO THE WORLD
The Natural Eye Project
http://thenaturaleye.wordpress.com/2012/07/12/an-urgent-memo-to-the-world/
-▶ THE SIXTH MASS EXTINCTION IS UPON US. CAN HUMANS SURVIVE? http://sco.lt/630INt
WATCH:
"HOME"
An Exquisite Dedication To the Stewards of Our Planet
http://thenaturaleye.wordpress.com/2011/03/26/home-an-exquisite-story-of-our-world/