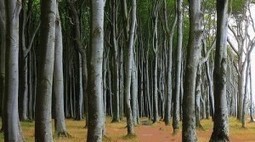 "Some trees are being genetically engineered to contain the Bt toxin," notes Anne Peterman of Stop GE Trees. "This could be a tremendous threat to forest ecosystem soils, in which beneficial fungi are a key component of the forest ecosystem." Living On Earth August 31, 2012
GMO Trees http://www.loe.org/shows/segments.html?programID=12-P13-00035&segmentID=1
MORE, BIGGER, FASTER
Renewable Energy World, December 25, 2013
RESEARCHERS WORK TO CLONE STRONG, HIGH QUALITY FOREST TREES http://www.renewableenergyworld.com/rea/news/article/2013/12/researchers-work-to-clone-strong-high-quality-forest-trees
WATCH
"A SILENT FOREST"
THE GROWING THREAT OF GENETICALLY ENGINEERED TREES"
Documentary David Suzuki
Full Movie https://www.youtube.com/watch?v=w437uQf_A7c
▶ GENETICALLY ENGINEERED TREE BAN URGED AT UN CONVENTION ON BIODIVERSITY http://www.treehugger.com/environmental-policy/genetically-modified-tree-ban-called-for.html
April 30, 2013 Global Justice Ecology Project:
▶ NEXT GMO ONSLAUGHT: STERILIZING OUR FORESTS FOR FAST-GROWING GMO TREES DESTROYING ECOSYSTEMS AND ALL LIFE WITHIN THEM http://globaljusticeecology.org/stopgetrees.php
▶ UK DAWN CHORUS IS DYING OUT AS BIRD NUMBERS DECREASE AT AN ALARMING RATE http://sco.lt/5Xi3QP
WATCH
Video
▶ USA FORESTS BEING POISONED AND SUPPRESSED FOR A $13 BILLION GMO TREE ANNUAL BUSINESS http://sco.lt/52TLAf
OSU Research, December 17, 2013
▶ SIGNIFICANT ADVANCE REPORTED WITH GENETICALLY MODIFIED POPLAR TREES FOR OUR FORESTS http://oregonstate.edu/ua/ncs/archives/2013/dec/significant-advance-reported-genetically-modified-poplar-trees
▶ BIO RE-ENGINEERING NATURE: PEACH GENOME AND POPLARS, WILLOW TREES FOR PATENTED BIO FUEL CROPS http://sco.lt/6YSHqr

Center for Food Safety, November 4, 2013
▶ REPORT: GENETICALLY ENGINEERED TREES: THE NEW FRONTIER OF BIOTECHNOLOGY http://www.centerforfoodsafety.org/issues/310/ge-trees
WATCH
Video
-▶A SCIENTIFIC PERSPECTIVE ON GENETICALLY ENGINEERING OUR FORESTS, ENVIRONMENT AND FOOD http://www.youtube.com/watch?feature=player_embedded&v=9hjy-CJlzbM
Organic Connections, November 5, 2013
▶ FACTORY FORESTS? USDA CONSIDERS APPROVAL OF GENETICALLY ENGINEERED TREES http://organicconnectmag.com/factory-forests-usda-considers-approval-genetically-engineered-trees/#.Uo2vhY3piRR
June 4, 2013 Biosafety Information Centre
-▶ USDA (US DEPT. OF AGRICULTURE) URGED TO REJECT GENETICALLY ENGINEERED TREES http://www.biosafety-info.net/article.php?aid=976
Global Justice Ecology Project:
-▶ STAND UP FOR NATIVE TREES, NOT BIOTECHNOLOGY FORESTS http://globaljusticeecology.org/stopgetrees.php?ID=638&tabs=2
July 5, 2013 Living Maxwell
▶ THE FRIGHTENING REALITY OF GENETICALLY-ENGINEERED TREES http://livingmaxwell.com/genetically-engineered-trees-risks
May 20, 2013 Truthout
▶ HUNDREDS PROTEST GENETICALLY ENGINEERED EUCALYPTUS TREES IN NORTH CAROLINA http://truth-out.org/news/item/16663-hundreds-protest-genetically-engineered-eucalyptus-trees-in-north-carolina
WATCH
Video
-▶ KILLING OUR FORESTS AND SOILS WITH CHEMICALS FOR GMO FORESTS: Poisoning USA Majestic Forests in Oregon http://www.scoop.it/t/biodiversity-is-life/p/3570818841/video-killing-our-forests-and-soils-with-chemicals-poisoning-usa-majestic-forests-in-oregon
▶ BIOTECH IS RE-ENGINEERING, RE-PROGRAMMING AND PATENTING LIFE ITSELF - THE ETHICS AND LEGALITIES http://sco.lt/7Lr2aP
▶ THE HIDDEN WORLD OF SOIL UNDER OUR FEET : SOIL AS A LIFELINE http://sco.lt/6MYz0j
▶ AGRIBUS GMO GIANT - MONSANTO - GETS FREE PUBLIC LANDS TO DEVELOP GMO BIOFUELS http://sco.lt/5jzwp7
▶ PESTICIDES ARE KILLING OUR PLANET: DECIMATING POLLINATORS, DRAGONFLIES AND OTHER AQUATIC INSECTS - And YOU http://sco.lt/5XzNlx
▶ LAW SUIT AGAINST USA GOVERNMENT-SPONSORED PLANTING OF MONSANTO'S GMOs in WILDLIFE REFUGES http://www.occupymonsanto360.org/2012/03/28/lawsuit-against-government-sponsored-planting-of-monsantos-gmos-in-wildlife-refuges/
September 4, 2013 Grist
▶ WHY ARE THERE PESTICIDES AND GMOs IN OUR NATIONAL WILDLIFE REFUGES? http://grist.org/news/why-are-there-pesticides-and-gmos-in-our-national-wildlife-refuges/
May 29, 2013 Forest News
▶ THE INVISIBLE EXTINCTION OF FOREST GENETIC RESOURCES: CAN TREES SURVIVE? http://blog.cifor.org/16587/the-invisible-extinction-of-forest-genetic-resources-can-trees-survive/#.Ub7D4uswOic
▶ WILL SYNTHETIC BIOLOGY BENEFIT OR THREATEN WILD THINGS? http://sco.lt/66LUbR
▶ STOP TREE MONOCULTURES AND GE TREES: Global Justice Ecology Project: http://globaljusticeecology.org/stopgetrees.php
▶ FACT SHEET ON GENETICALLY ENGINEERED TREES: Global Justice Ecology Project: http://www.globaljusticeecology.org/stopgetrees.php?tabs=3&ID=634
▶ A BRIEF HISTORY OF GENETICALLY ENGINEERED TREES http://www.scoop.it/t/biodiversity-is-life/p/1474627620/a-brief-history-of-genetically-engineered-trees
May 4, 2013 The Economist
▶ GENETICALLY MODIFIED TREES: INTO THE WILDWOOD http://www.economist.com/news/science-and-technology/21577033-gm-species-may-soon-be-liberated-deliberately-wildwood
Once again, no mention of how this would impact the regional ecosystem or biodiversity, or how the resulting chestnuts would affect the squirrels. Never enough disclosure or peer reviewed independent studies before forcing these genetically modified organisms on nature. Always the heart-tugging aspect of "saving the planet", not restoring it's original health.
August 31, 2012 Living on Earth:
▶ GMO TREES: DESTROYING REAL FORESTS TO PLANT MONOCULTURE BIOENGINEERED TREES DESTROYING NATURAL ECO SYSTEMS http://www.loe.org/shows/segments.html?programID=12-P13-00035&segmentID=1
▶ BIOLOGICAL DESERTS: THE ENVIRONMENTAL IMPACTS OF THE GMO MONOCULTURE BIOFUEL AND PALM OIL INDUSTRY
The mass clearing of trees for farmland disturbs the ecosystem of the rainforest by decimating rare and exotic flora and fauna. With the planting of a single crop plantation, the natural biodiversity of the rainforest is lost. The mono-crop culture that has long-plagued environmentalists in the west displaces or destroys most of the species in a single sitting, as they are unable to adapt to living within vast acres of a single crop. The environment, habitats and species that are destroyed have lived together since the dawn of the rainforest, and the damage caused by palm oil farming is irreversible http://sco.lt/9AeHbN
▶ NATURAL MIXED FORESTS MORE PRODUCTIVE THAN MEGA INDUSTRIAL MONOCULTURES http://sco.lt/8p51lZ
▶ TREE HEALTH, FOREST HEALTH LINKED WITH HUMAN HEALTH - OUR INTERCONNECTED LIVES http://sco.lt/85WZ2v
▶ ELDERS OF THE FORESTS DISAPPEARING WORLDWIDE - IRREPLACEABLE HABITAT FOR MANY ANIMALS http://sco.lt/5xvxI1
WATCH
"BIOTECHNOLOGY GENETICS IS OUT OF CONTROL"
DAVID SUZUKI:
GMO CROPS USE LASHINGS OF PESTICIDES TO DESTROY ECOSYSTEMS;
▶ PESTICIDE/INSECTICIDE REGULATION OVERHAUL NEEDED TO PROTECT WILDLIFE, ECOSYSTEMS AND FOOD CHAIN http://sco.lt/8NIKcT
WATCH
URBAN TREES ACT AS BIOLOGICAL FILTERS
http://www.scoop.it/t/biodiversity-is-life/p/1791835636/urban-trees-act-as-biological-filters
WATCH
Short Video
HOW MOTHER TREES CONNECT THE FOREST
http://www.scoop.it/t/biodiversity-is-life/p/1236958267/how-mother-trees-connect-the-forest-short-video
▶ THE GREAT AMERICAN CORPORATE GIVEAWAY : PUBLIC WILDLIFE PRESERVES: Pesticides, Chemicals, GMO Crops, Oil and Gas Drilling http://sco.lt/5YvsXZ
▶ PESTICIDE/CHEMICAL REGULATION OVERHAUL NEEDED TO PROTECT WILDLIFE, ECOSYSTEMS AND FOOD CHAIN http://sco.lt/5oplFx
▶ ERADICATING ECOCIDE: WHY BUSINESS LEADERS MUST STEP UP TO THE CHALLENGE http://sco.lt/56vkOH
Common Dreams
▶ LOOTING THE VERY FOUNDATIONS OF LIFE: CORPORATE FINANCIALIZATION OF NATURE A RECIPE FOR DISASTER http://sco.lt/4mAnuD
▶ ERADICATING ECOCIDE: WHY BUSINESS LEADERS MUST STEP UP TO THE CHALLENGE http://sco.lt/56vkOH
▶ GENE GIANTS STOCKPILING PATENTS ON LIFE
Nagoya, Japan -- Under the guise of developing "climate-ready" crops, the world's largest seed and agrochemical corporations are filing hundreds of sweeping, multi-genome patents in a bid to control the world's plant biomass, according to a report released by ETC Group http://www.etcgroup.org/fr/node/5220
▶ THE NEXT BIOTECH WAVE: EXTREME SYNTHETIC GENETICS. THE IMPLICATIONS AND ETHICS http://sco.lt/6wiNhx
▶ PATENTING LIFE ITSELF - OUR 21ST CENTURY FACTORY OF LIFE: RE-ENGINEERING, PROGRAMMING - IS BIOTECH OUT OF CONTROL? http://sco.lt/7mNce1
▶ DO WE NEED A GENETIC BILL OF RIGHTS? http://sco.lt/6jmb1l
JUST BECAUSE WE CAN, DOESN'T MEAN WE SHOULD
May 7, 2013 New York Times
▶ GLOWING TREES ASSAILED FOR GENE-TINKERING (What happens when pollen escapes into natural trees and pollinating insects such as bees and birds ingest the pollen? http://www.nytimes.com/2013/05/08/business/energy-environment/a-dream-of-glowing-trees-is-assailed-for-gene-tinkering.html?emc=tnt&tntemail1=y&_r=0
LiveScience, December 31, 2013
▶ SCIENTISTS MAKE "GLOW IN THE DARK" PIGLETS FOR YOU TO EAT
Scientists say they've created ten genetically engineered piglets this year that glow green under a black light... http://www.livescience.com/42258-piglets-glow-in-dark-video.html
▶ PATENT FOR A PIG: Biotech Scientists Push to Patent, "improve" transgenic GMO 'Enviropigs' http://sco.lt/6nOLuz
▶ GENETIC ENGINEERING AND THE GMO INDUSTRY: CORPORATE HIJACKING OF FOOD AND AGRICULTURE http://www.scoop.it/t/agriculture-gmos-pesticides/p/3994750421/corporate-hijacking-of-food-and-agriculture-genetic-engineering-and-the-gmo-industry
▶ PROTECTING CARBON TO DESTROY FORESTS: LAND ENCLOSURE AND REDD+ http://sco.lt/7DYN17
May 3, 2013 Guardian Environment
▶ THE BIOMASS INDUSTRY SHOULD COME CLEAN ABOUT ITS ENVIRONMENTAL IMPACT http://www.guardian.co.uk/environment/blog/2013/may/03/biomass-industry-environmental-impact
▶ THE GLOBAL CHEMICAL BIOTECH CARTEL - AN UNPRECEDENTED POWER OVER WORLD FOOD SUPPLY http://www.scoop.it/t/agriculture-gmos-pesticides/p/1716244040/the-global-chemical-biotech-cartel-an-unprecedented-power-over-world-agriculture-and-human-health
WATCH
THE WORLD ACCORDING TO MONSANTO (FULL LENGTH)
THE LEADER OF THE GLOBAL BIOTECH CARTEL
SEE: Fast-Tracking Our Own Extinction
▶ THE DEFORESTATION HOLOCAUST AND PALM OIL ECOCIDE http://www.scoop.it/t/biodiversity-is-life/p/1510545458/fast-tracking-our-own-extinction-the-deforestation-holocaust-and-palm-oil-ecocide
▶ "SUSTAINABLE" PALM OIL SHOULD NOT DRIVE DEFORESTATION http://sco.lt/7N5vU1
▶ CAN UN-REDD EVER BECOME GREEN"? Carbon and Forest Ecocide http://sco.lt/6uQmif
▶ GRAIN — LAND GRABBING FOR BIOFUELS MUST STOP http://sco.lt/7LE5cv
▶ HOW FOREIGN 'INVESTMENTS' ARE REDISTRIBUTING WEALTH, LAND AND WATER ACROSS THE GLOBE http://sco.lt/8Ff27V
▶ OBAMA QUIETLY DE-REGULATES GMO/ GENETIC BIOTECH INDUSTRY : Fast-tracking approvals, waiving regulations ... http://sco.lt/5uCx8b
▶ MONSANTO BUYS OBAMA, THE US SENATE AND THE GLOBAL FARM http://sco.lt/8xdkYb
May 6, 2013 Guardian Environment
▶ GUADELOUPE AND MARTINIQUE THREATENED AS PESTICIDES CONTAMINATE FOOD CHAIN
Chemical once used on banana crops threatening livelihoods and public health by polluting soil and sea.... http://www.guardian.co.uk/environment/2013/may/07/guadeloupe-economy-theatened-pesticides-pollution
▶ FOLLOW "FORESTS" On ScoopIt http://www.scoop.it/t/forests-without-borders
Via
pdjmoo