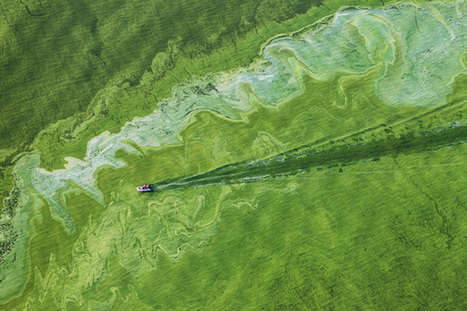 MAY 2013 National Geographic
▶ OUR FERTILIZED WORLD
If we don't watch out, agriculture could destroy our planet. Here's how to grow all the food we need with fewer chemicals.
N. Nitrogen. Atomic number seven. Unnoticed, untasted, it nevertheless fills our stomachs. It is the engine of agriculture, the key to plenty in our crowded, hungry world.
Enter modern chemistry. Giant factories capture inert nitrogen gas from the vast stores in our atmosphere and force it into a chemical union with the hydrogen in natural gas, creating the reactive compounds that plants crave. That nitrogen fertilizer—more than a hundred million tons applied worldwide every year—fuels bountiful harvests.
Yet this modern miracle exacts a price. Runaway nitrogen is suffocating wildlife in lakes and estuaries, contaminating groundwater, and even warming the globe's climate. As a hungry world looks ahead to billions more mouths needing nitrogen-rich protein, how much clean water and air will survive our demand for fertile fields?... http://ngm.nationalgeographic.com/2013/05/fertilized-world/charles-text
Mongabay, July 14, 2014
▶ TOO MUCH OF A GOOD THING: INDUSTRIAL FERTILIZER 'ONE OF THE THREE MAJOR DRIVERS OF BIODIVERSITY LOSS THIS CENTURY' http://news.mongabay.com/2014/0714-sutherland-fertilizer-grasslands.html
August 1, 2013 Huffington Post Green
▶ THE KILLING FIELDS: INDUSTRIAL AGRICULTURE, DEAD ZONE AND GENETICALLY ENGINEERED CORN http://www.huffingtonpost.com/elizabeth-kucinich/the-killing-fields-indust_b_3678515.html
February 18, 2013 Common Dream
▶ INDUSTRIAL CORPORATE AG TRIGGERS DEVASTATING 'WEB' OF POLLUTION - NEW UNDP REPORT https://www.commondreams.org/headline/2013/02/18-2
August 1, 2013 Huffington Post Green
▶ THE KILLING FIELDS: INDUSTRIAL AGRICULTURE, DEAD ZONE AND GENETICALLY ENGINEERED CORN http://www.huffingtonpost.com/elizabeth-kucinich/the-killing-fields-indust_b_3678515.html
Earth Policy Institute, January 08, 2014
▶ MANY COUNTRIES REACHING DIMINISHING RETURNS IN INDUSTRIAL FERTILIZER USE. Despite this U.S. advantage in fertilizer use efficiency over China, over-application poses serious pollution problems in both countries. Fertilizer runoff from the U.S. Corn Belt, for example, contributes heavily to an annual oxygen-starved "dead zone" in the Gulf of Mexico—an area where sea life cannot exist, which in some years grows to the size of New Jersey... http://www.earthpolicy.org/data_highlights/2014/highlights43
VIDEO
MSNBC INVESTIGATIVE REPORT (22:36)
July 07, 2014
-▶ KOCH-BACKED AG HIDES TRUTH OF CHEMICAL FERTILIZER PLANT DANGERS - AG-GAG LAWS http://www.msnbc.com/rachel-maddow-show/watch/koch-backed-ag-helps-hide-chemical-dangers-298973251858
August 21, 2013 Environment News Service
▶ FLORIDA WATERS ALIVE WITH TOXIC ALGAE, TOXIC POLITICS
Sickening people and killing dolphins, manatees, birds and fish http://ens-newswire.com/2013/08/21/florida-waters-alive-with-toxic-algae-toxic-politics/
June 24, 2013 National Geographic
▶ BIGGEST DEAD ZONE EVER FORECAST IN GULF OF MEXICO http://news.nationalgeographic.com/news/2013/06/130621-dead-zone-biggest-gulf-of-mexico-science-environment/
June 23, 2013 Climate & Capitalism
▶ UNIVERSITY OF MICHIGAN - BIGGEST DEAD ZONE EVER COMING TO THE GULF OF MEXICO http://climateandcapitalism.com/2013/06/24/biggest-dead-zone-ever-coming-to-the-gulf-of-mexico/
The Guardian Science, November 2, 2013
▶ FROM FERTILIZER TO ZYKLONB: 100 YEARS OF SCIENTIFIC DISCOVERY THAT BROUGHT LIFE AND DEATH http://www.theguardian.com/science/2013/nov/03/fritz-haber-fertiliser-ammonia-centenary
Terra Daily, October 16, 2013
▶ UNREGULATED, AGRICULTURAL AMMONIA THREATENS 38 U.S. NATIONAL PARKS' ECOLOGY http://www.seeddaily.com/reports/Unregulated_agricultural_ammonia_threatens_national_parks_ecology_999.html
Voice of America, May 22, 2014
▶ STUDY: MISSISSIPPI RIVER OVERWHELMED BY AGRICULTURAL CHEMICALS : A RIVER OF DEAD FISH http://www.voanews.com/content/study-mississippi-river-overwhelmed-by-agricultural-chemicals/1920682.html
WATCH
Emmy Award Winning 1 hr Film - University of Minnesota
▶ "TROUBLED WATERS: A MISSISSIPPI RIVER STORY" ▶
This excellent one hour documentary examines the "unintended consequences" of farming practices on water quality, soil loss and the "dead zone" in the Gulf of Mexico. Knitting together federal energy, farm and environmental policies, the film makes a compelling case for the revamping of US agricultural policy. Through beautiful photography and inspiring narrative, the film puts deliberate emphasis on solutions and provides a hopeful blueprint for progress and positive change... http://www.rememberthispoint.com/?p=212
On Earth Magazine, July 09, 2014
-▶ IS IT TIME TO LET THE MIGHTY MISSISSIPPI BE MIGHTY AGAIN? . We've spent billions of dollars on dikes, locks, and levees in a vain attempt to subdue what Mark Twain called 'that lawless stream.' Is it time to let the river have its way? http://www.onearth.org/articles/2014/06/should-we-let-the-mighty-mississippi-be-mighty-again
▶ WHY ARE MILLIONS OF FISH SUDDENLY DYING IN MASS DEATH? http://banoosh.com/blog/2013/08/12/why-are-millions-of-fish-suddenly-dying-in-mass-death-events-all-over-the-planet/
Terra Daily, October 16, 2013
▶ UNREGULATED, AGRICULTURAL AMMONIA THREATENS 38 U.S. NATIONAL PARKS' ECOLOGY http://www.seeddaily.com/reports/Unregulated_agricultural_ammonia_threatens_national_parks_ecology_999.html
July 5,2013 NPR
▶ WHAT IS FARM RUNOFF DOING TO THE WATER? http://www.kccu.org/post/what-farm-runoff-doing-water-scientists-wade
University of Nebraska-Lincoln
▶ WORLDWIDE STUDY FINDS THAT FERTILIZER DESTABILIZES GRASSLANDS http://news.unl.edu/newsrooms/unltoday/article/worldwide-study-finds-that-fertilizer-destabilizes-grasslands/
VIDEO
July 4, 2013 Guardian Environment
▶ CHINA'S LARGEST ALGAE BLOOM TURNS THE YELLOW SEA GREEN http://www.guardian.co.uk/environment/2013/jul/04/china-algal-bloom-yellow-sea-green
June 29, 2013 Shanghai Daily
▶ THE DAY THAT THE RIVER TURNED BLACK http://www.shanghaidaily.com/nsp/National/2013/06/29/The%2Bday%2Bthat%2Bthe%2Briver%2Bturned%2Bblack/
April 2, 2013 Science Daily
▶ INDUSTRIAL CHEMICAL-BASED FERTILIZER USE RESPONSIBLE FOR INCREASE IN NITROUS OXIDE IN ATMOSPHERE http://www.sciencedaily.com/releases/2012/04/120402144930.htm
Terra Daily, October 28, 2013
▶ INCREASING TOXICITY OF ALGAL BLOOMS TIED TO NUTRIENT ENRICHMENT AND CLIMATE CHANGE http://www.terradaily.com/reports/Increasing_toxicity_of_algal_blooms_tied_to_nutrient_enrichment_and_climate_change_999.html
NJToday.Net, November 24, 2013
▶ NEW JERSEY, USA: NO-FERTILIZER LAW GOES 'GREENER' FOR WINTER LAWNS http://njtoday.net/2013/11/24/the-state-were-in-new-fertilizer-law-goes-greener/
▶ U.S. OHIO SENATE BILL SEEKS TO CURB SYNTHETIC FERTILIZER RUN OFF http://www.beyondpesticides.org/dailynewsblog/
BBC News, February 16, 2014
▶ KILLER STARFISH THREATEN GREAT BARRIER REEF: AND AGRICULTURAL FERTILIZER RUNOFF IS TO BLAME http://www.bbc.co.uk/news/science-environment-26183209
▶ HUMAN ACTIVITY IS LINKED TO MASS DOLPHIN DEATHS. "The immune systems of many marine mammals, especially coastal species like bottlenose dolphins, can be negatively affected by factors such as agricultural runoff, persistent organic pollutants (e.g., PCBs, DDT) and other contaminants," http://www.digitaljournal.com/article/359799
===========================
-▶ MORE THAN HALF OF U.S. RIVERS ARE TOO POLLUTED TO SUPPORT LIFE http://sco.lt/5Gpafx
===========================
▶ DUTCH GOVERNMENT INTRODUCES NITROGEN-REDUCTION BILL FOR NATURE AREAS http://www.seeddaily.com/reports/Dutch_government_introduces_nitrogen-reduction_bill_for_nature_areas_999.html
August 8, 2013 QUESTScience
▶ FARMERS FIGHT BACK AGAINST TOXIC ALGAL BLOOMS FROM FERTILIZER RUNOFF http://science.kqed.org/quest/audio/farmers-fight-back-against-toxic-algal-blooms/
VIDEO
The Vancouver Sun, June 09, 2014
▶ THREAT TO CRITICAL WATERWAYS REVEALS A U.S.-CANADA DIVIDE. They are the invisible waterways. Laced with farm manure, choked with invasive grasses and often seasonally dry, their subtle meanderings go unnoticed and unappreciated. There are hundreds of them in the Fraser Valley, providing critical habitat for endangered fish and frogs against a tide of government neglect, poor farming practices and public ignorance. http://www.vancouversun.com/Threat+critical+waterways+reveals+Canada+divide/9919381/story.html
Huffington Post Green, September 24, 2013
- ▶ NEARLY ONE IN 10 U.S. WATERSHEDS IS "STRESSED; DEMAND FOR WATER OUTPACING SUPPLY http://www.huffingtonpost.com/2013/09/24/watersheds-stressed-study-supply-water_n_3983176.html
StarNews Online, October 8, 2013
▶ MASSIVE FISH KILL CONTINUES ON NEUSE RIVER, CAROLINA http://www.starnewsonline.com/article/20131008/ARTICLES/131009718?p=2&tc=pg
==========================
- ▶ WETLANDS VITAL IN SUPPORTING HUMAN LIFE AND BIODIVERSITY http://sco.lt/6Nfjcn
===========================
Treehugger, October 9, 2013
▶ ARE BIOFUELS CONTRIBUTING TO DEAD ZONES? http://www.treehugger.com/environmental-policy/are-biofuels-still-contributing-dead-zone.html
THE DARK SIDE OF BIOFUELS.
RESEARCH SUGGESTS BIOFUEL WILL COST THE EARTH
allAfrica, January 07, 2014
▶ AFRICA: OUR MODERN, WESTERN AGRICULTURAL SYSTEM IS DESTROYING THE EARTH AND OUR HEALTH.
Today our food comes from across the world. More importantly, it is often produced in highly destructive ways, at the lowest possible cost.
Consequently our food production system is responsible for accelerating the rate of destruction of the very ecosystems we are reliant upon in order to maintain our delicate global environmental equilibrium.
We cut and clear the lungs of the world, our tropical rainforests, to feed livestock or grow dishonestly named "biofuels". We bulldoze natural filtration systems and the nurseries for life like wetlands and mangrove swamps to produce luxury foods for obese populations. http://allafrica.com/stories/201401071158.html?viewall=1
WATCH
"A RIVER OF WASTE"
The Massive Pollution and History of Factory Farms - CAFOs
▶ CONTEMPORARY INDUSTRIAL AGRICULTURE IS BURNING UP OUR PLANET http://sco.lt/99tRI1
Scientific American, May 12, 2014
▶ DRUGS, CHEMICALS SEEP DEEP INTO SOIL FROM SEWAGE SLUDGE FERTILIZER. he researchers looked for 57 "emerging" contaminants that are increasingly showing up in the environment. Ten were detected in the soil at depths between 7 and 50 inches 18 months after the treated sludge was applied. None was in the field's soil beforehand. http://www.scientificamerican.com/article/drugs-chemicals-seep-deep-into-soil-from-sewage-sludge/
SOIL AS A LIFELINE:
THE HIDDEN WORLD OF SOIL UNDER OUR FEET
The Green Political Foundation, May 22, 2013
▶ A SOILED REPUTATION: ADVERSE IMPACTS OF MINERAL FERTILIZERS IN TROPICAL AGRICULTURE (PDF DOWNLOAD) http://www.boell.de/en/content/soiled-reputation-adverse-impacts-mineral-fertilizers-tropical-agriculture
PR Watch, January 15, 2014
▶ BIOSOLIDS: UNDER PRESSURE, WHOLE FOODS AGREES TO STOP SELLING PRODUCE GROWN IN SEWAGE SLUDGE... Industrial and hospital waste and human excrement http://www.prwatch.org/news/2014/01/12359/whole-foods-agrees-stop-selling-produce-grown-sewage-sludge
Transition Network
▶ HOW DIFFERENT THE WORLD WOULD BE IF WE PAID THE TRUE COST OF FOOD AND FARMING? http://www.transitionnetwork.org/blogs/rob-hopkins/2013-12/how-different-would-world-be-if-we-paid-true-cost-food-and-farming
The Ecologist, December 12, 2013
-▶ WHAT PRICE NATURE? : If the world is to feed a growing population against a backdrop of climate change and biodiversity loss, argues Charles Windsor, we must calculate in the cost of the damage we are causing to soils, water, climate and ecosystems... http://www.theecologist.org/blogs_and_comments/commentators/2194757/we_must_put_a_price_on_nature.html
▶ UN: THE ERA OF EVER-LASTING PRODUCTION BASED ON MAXIMIZING PROFITS HAS REACHED ITS LIMITS http://sco.lt/6C3RoH
Environmental Working Group, November 4, 2013
▶ BIPARTISAN COALITION WOULD LINK LAND CONSERVATION TO 2013 FARM SUBSIDIES http://www.ewg.org/agmag/2013/11/bipartisan-support-compliance
▶ FROM 'FERTILIZER TO FORK': INDUSTRIAL FOOD ACCOUNTS FOR A QUARTER OF THE WORLD'S GREENHOUSE GAS EMISSIONS http://sco.lt/5kCdfd
ROUNDUP - THE ULTIMATE KILLING MACHINE
New Charges Against Monsanto's "Pesticide" Roundup
- ▶ IT'S TIME THE PESTICIDE/CHEMICAL INDUSTRY OWNED UP: THE WORLD'S MOST POPULAR PESTICIDES ARE CAUSING AN ECOLOGICAL CATASTROPHE http://sco.lt/7qvjPt
▶ PESTICIDE/CHEMICAL REGULATION OVERHAUL NEEDED TO PROTECT WILDLIFE, ECOSYSTEMS AND FOOD CHAIN http://sco.lt/5oplFx
▶ THE NEXT GREEN REVOLUTION - THIS TIME WITHOUT FOSSIL FUELS AND LASHINGS OF PESTICIDES http://sco.lt/7yl1s1
July 16, 2013 Guardian Sustainable Business
▶ THE SCIENTIST AND STARTUPS CONVERTING WASTE WATER INTO CLEAN ENERGY http://www.guardian.co.uk/sustainable-business/waste-water-convert-clean-energy
▶ PHARMACEUTICAL, ANTIBIOTICS, PESTICIDES, CHEMICAL POLLUTION IN OUR FOOD, STREAMS, RIVERS AND DRINKING WATER http://sco.lt/8qNmoz
▶ +++THE HUNGER GAMES: HOW UK AND USA GOVERNMENTS SUPPORT FOR BIG AGRIBUSINESS IS FUELING POVERTY http://sco.lt/6UGd17
▶ +++ HOW NOT TO "FEED THE WORLD" http://sco.lt/6fKNnN
Feb 6, 2012 = YES Magazine
▶ GOING BEYOND ORGANIC, A NEW GENERATION OF FARMERS IS NURTURING NATURE AS WELL AS CROPS http://sco.lt/7uZHJR