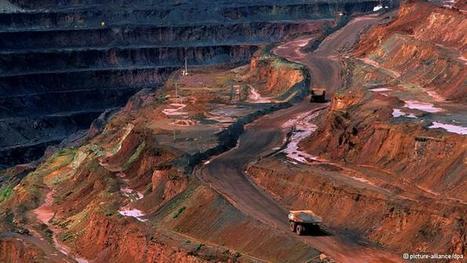 --------------------------------------------------
THE TERRIBLE PRICE OF GOLD
Guardian Global Development, March 17, 2014
▶ NIGERIAN GOLD MINING: FARMERS CHOOSE DEATH BY LEAD POISONING OVER POVERTY Unregulated mining in rural northern Nigeria is causing blindness and paralysis among children and making adults infertile http://www.theguardian.com/global-development/2014/mar/17/nigeria-gold-mining-farmers-lead-poisoning-poverty
Al Jazeera America
▶ INTERACTIVE: CHINA'S AFRICAN SPENDING SPREE - Take a tour of the dams, stadums, mines and super-highways fnanced, sometimes controversially, by Beijing http://www.aljazeera.com/indepth/interactive/2014/03/interactive-china-african-spending-spree-2014320121349799136.html
NY Daily News, February 11, 2014
▶ HELD AS SLAVES, CHILDREN IN PERU FORCED TO WORK IN MINES THAT PRODUCE MUCH OF WORLD'S GOLD http://www.nydailynews.com/news/world/child-labor-sex-slaves-peru-gold-mines-article-1.1610110
-- WATCH --
September 2, 2014 Newshour PBS REPORT
▶ CHILD LABOR IN BURKINA FASO TOXIC, DANGEROUS SMALL ARTISANAL GOLD MINES http://www.pbs.org/newshour/bb/world/july-dec13/burkinafaso_09-02.html
VIDEO
July 10, 2013 PBS Newshour
▶ THE TERRIBLE HUMAN PRICE WE PAY FOR GOLD: ONE MILLION CHILDREN LABOR IN AFRICA'S GOLDMINES http://www.pbs.org/newshour/updates/world/july-dec13/burkinafaso_07-10.html
▶ A MODERN GOLD RUSH IN THE RAIN FORESTS OF PERU, POISONS THE ENVIRONMENT, RIVERS AND FORESTS http://sco.lt/5ha9RJ
TerraDaily, October 28, 2013
▶ GOLD MINING IS RAVAGING PERUVIAN AMAZON http://www.terradaily.com/reports/Gold_mining_is_ravaging_Peruvian_Amazon_study_999.html
WATCH
"WE CAN'T EAT GOLD':
An Alaskan Documentary on Pebble Mine
http://www.theguardian.com/world/2013/oct/21/alaska-bristol-bay-gold-mine-pebble
-- WATCH --
AMAZON GOLD MINING DEVASTATION GOES VIRAL IN PERU
http://news.mongabay.com/2013/0926-gold-mining-video.html
The New Environmentalist
▶ A DEADLY SHADE OF GOLD - TRANSYLVANIAN GOLD http://www.newenvironmentalist.co.uk/?page_id=905
VIDEO:
Huffington Post Canada, October 1, 2013
Carnegie Airborne Observatory
▶ AMAZON GOLD MINING VIDEO REVEALS DEFORESTATION DEVASTATION BEYOND OUR UNDERSTANDING http://www.huffingtonpost.ca/2013/09/29/amazon-gold-mining-video-carnegie_n_4013594.html
Yahoo Finance, November 1, 2013
▶ HOW GOLD IS DESTROYING PERU'S RAINFORESTS http://finance.yahoo.com/news/gold-mining-destroying-peruvian-amazon-143833428.html
September 9, 2013 Guardian Environment
▶ ILLEGAL GOLD MINING EXPOSING PERU'S INDIGENOUS TRIBES TO MERCURY POISONING. Toxic Levels of merucury dumped in Amazon rivers gets into food chain, posing serious health risk to children, study finds http://www.theguardian.com/environment/2013/sep/09/peru-amazon-indigenous-tribe-gold-mining
June 6, 2013 Al Jazeera
▶ LOCAL GOLD PROSPECTORS LEFT OUT BY MULTI-NATIONAL GOLD RUSH http://www.aljazeera.com/indepth/features/2013/05/2013515161130258616.html
TerraDaily, October 28, 2013
▶ GOLD MINING IS RAVAGING PERUVIAN AMAZON http://www.terradaily.com/reports/Gold_mining_is_ravaging_Peruvian_Amazon_study_999.html
===========================
VIDEO REPORT
Democracy Now, March 17, 2014
A SLOW GENOCIDE OF THE PEOPLE:
U.S. GRAND CANYON URANIUM MINING LEAVES TOXIC NUCLEAR LEGACY ON INDIGENOUS LAND http://www.democracynow.org/2014/3/14/a_slow_genocide_of_the_people
Mongabay, February 05, 2014
▶ GAS COMPANY TO DRILL IN MANU NATIONAL PARK BUFFER ZONE, IMPERILING INDIGENOUS PEOPLE AND ECOSYSTEMS http://news.mongabay.com/2014/0204-hill-gas-manu.html?n3ws1ttr
July 9, 2013 Alternet
▶ MINING THE WORLD TO DEATH http://www.alternet.org/books/mining-world-death-end-extractiveindustrial-model
▶ MYANMAR FARMERS PROTEST FOREIGN LAND SEIZURES FOR COPPER MINE, POISONING LAND AND PEOPLE http://sco.lt/6maOP3
-- A MUST WATCH --
September 15, 2013 The Real News
VIDEO REPORT
▶ PHILIPPINE ACTIVISTS FIGHT BACK AGAINST CORPORATE AND MILITARY FORCES DESTROYING THEIR LAND, FORESTS AND LIVELIHOODS
"It is better to die from bullets than from hunger"
Corporate agri-businesses like U.S.-based Dole, Del Monte, Monsanto, along with international and Philippine mines, are polluting waterways and destroying the surrounding farms. Chinese, European, Canadian, and Filipino mines are stripping away the mountains to get at what some estimate to be the largest iron deposit in the world. There also some of the most significant gold, nickel, and copper reserves in Asia.
http://therealnews.com/t2/index.php?option=com_content&task=view&id=31&Itemid=74&jumival=10725
Guardian Sustainable Business, February 28, 2014
▶ MONGOLIA'S WATER SCARCITY COULD THREATEN ITS ECONOMIC BOOM. The resource-rich country is riding high economically for international investors, but a battle is brewing for water between people, mining and agriculture. http://www.theguardian.com/sustainable-business/mongolia-water-scarcity-threaten-economic-boom-mining?CMP=new_1194
Economy Watch, January 02, 2014
-▶ WHY SOUTH AFRICA (AND OTHER DEVELOPING NATIONS) IS CANCELLING FOREIGN INVESTMENT DEALS http://www.economywatch.com/features/south-africa-cancelling-foreign-investment.02-01.html
Reuters, October 19, 2013
▶ THOUSANDS PROTEST IN ROMANIA AGAINST SHALE GAS, GOLD MINE http://www.reuters.com/article/2013/10/19/us-romania-shale-protest-idUSBRE99I09M20131019
*** WATCH: ***
Video Winner of Goldman Prize
ALASKA: THE KILLING IMPACT OF OIL AND MINING
▶ Ulaanbaatar, Mongolia, Nov 30 2012 (IPS)
MAKE YOUR MONEY AND RUN :- FOREIGN MINING SAPS A THIRSTY GOBI DESERT - The Oyu Tolgoi largest copper-gold mine in the world operating in the southern Gobi desert in Mongolia has become a symbol of a looming crisis: a limited water supply that could be exhausted within a decade, seriously threatening the lives and livelihoods of the local population. Inter Press Service http://www.ipsnews.net/2012/11/mining-saps-a-thirsty-desert/
Guardian, John Vidal
▶ SWALLOWED BY COAL: UK PROFITS FROM INDONESIA'S RAPE AND PILLAGE OF ENVIRONMENT BY HARMFUL COAL INDUSTRY http://www.theguardian.com/global-development/2013/oct/30/coal-mining-uk-profits-indonesia
April 15, 2013 - Deutsche Welle: Environment & Development »
▶ THE RUN ON LATIN AMERICA'S RESOURCES Once neglected, now courted: Latin America is becoming increasingly important as a supplier of raw materials for German industry. China, Canada and the US are competitors in the race for natural resources.... http://www.dw.de/the-run-on-latin-americas-resources/a-16745677?maca=en-rss-en-environment-4553-rdf
Ecowatch, December 30, 2013
▶ AMAZON DEFORESTATION, MINING, AGRICULTURE AND HYDROPOWER THREATEN THE FUTURE OF SOUTH AMERICAN CONTINENT http://ecowatch.com/2013/12/30/amazon-deforestation-threatens-south-americas-water/
▶ REBUILDING A CHEMICAL WASTELAND - ONE OF THE MOST POISONED PLACES ON EARTH - A $2 BILLION CLEAN UP PROGRAM http://sco.lt/7ZWTRp
WATCH (56:27)
STEALING AFRICA: WHY POVERTY?
HOW MUCH PROFIT IS FAIR?
https://www.youtube.com/watch?v=WNYemuiAOfU
PHOTO EXPOSE AND VIDEO
▶ SIERRA MAGAZINE PRESENTS: THE COST OF COAL
April 19, 2013 REDD-Monitor
▶ CANADIAN MINING CORPORATION, EAST ASIA MINERALS IS DESTROY ACEH'S FORESTS FOR LOGGING, MINING AND PALM OIL http://ow.ly/lNdtB
▶ CANADIAN MINING COMPANY TO STRIP INDONESIAN FOREST OF PROTECTED STATUS http://sco.lt/6ZfKnh
June 6, 2013 Global Possibilities
▶ AN INSIDE LOOK INTO WHAT A COAL TERMINAL'S REALLY LIKE: This is required reading — and viewing — for anyone worried about how export terminals handle coal... http://www.globalpossibilities.org/an-inside-look-into-what-a-coal-terminals-really-like/
▶ COAL BURNING EXACTS A LETHAL PRICE http://sco.lt/8wLmKX
▶ STOP BURNING RAIN FORESTS FOR PALM OIL AND MONOCROP AGRICULTURE http://sco.lt/5Ylp7h
OBAMA'S ARCTIC STRATEGY SETS OFF A CLIMATE TIME BOMB http://sco.lt/9MK5eT
PHOTOS: 10 MOST INCREDIBLE EARTH SCARS
http://www.environmentalgraffiti.com/featured/most-incredible-earth-scars/16808?utm_source=scribol.com&utm_medium=referral&utm_campaign=scribol.com
May 25, 2013 SF Gate
▶ CHILE'S INDIANS TAKE ON WORLD'S LARGEST GOLD MINER http://www.sfgate.com/news/science/article/Chile-s-Indians-take-on-world-s-largest-gold-miner-4548096.php
VIDEO
▶ ***** FOREIGN CORPORATIONS DESTROYING ECOSYSTEMS, INDIGENOUS LIVELIHOODS, NULLIFYING LAND RIGHTS -- CREATING POVERTY, DEPENDENCE ON A GLOBAL SCALE http://sco.lt/5vdZgH
▶ ENOUGHNESS: WESTERN THOUGHT vs INDIGENOUS PHILOSOPHY http://sco.lt/6EFbPt
August 23, 2013 Intercontinental Cry Magazine
▶ TIBETAN PROTESTORS, DESTRUCTIVE MINING, AND GOVERNMENT CRACKDOWN http://intercontinentalcry.org/tibetan-protestors-destructive-mining-and-government-crackdown-20042/
April 12, 2013 New York Times
▶ TIBET: DEADLY TIBETAN LANDSLIDE DRAWS ATTENTION TO CHINESE MINING
The deaths have thrown a spotlight on the Gyama mine, one of the largest and most contentious in Tibet. Hailed by the central government in Beijing as a flagship project, the copper, gold and molybdenum mining operation is hated by many Tibetans, who are furious at the environmental degradation it and other mines have caused on the Tibetan plateau.
http://www.nytimes.com/2013/04/03/world/asia/deadly-tibetan-landslide-draws-attention-to-mining.html?partner=rssnyt&emc=rss&_r=0
VIDEO REPORT
July 10, 2013 PBS Newshour
-▶ THE TERRIBLE HUMAN PRICE WE PAY FOR GOLD: ONE MILLION CHILDREN LABOR IN AFRICA'S GOLDMINES http://www.pbs.org/newshour/updates/world/july-dec13/burkinafaso_07-10.html
July 26, 2013 Quartz
▶ A TINY TRIBE IN INDIA STANDS IN THE WAY OF A $1.7 BILLION PROJECT AND A MOUNTAIN OF ALUMINIUM QUARTZ http://qz.com/108066/a-small-tribe-in-india-stands-between-1-7-billion-and-a-mountain-full-of-aluminum-ore/
June 5, 2013 Al Jazeera
▶ MONGOLIAN MEGA-MINE SET TO TRANSFORM COUNTRY - FOR BETTER OR WORSE http://www.aljazeera.com/indepth/features/2013/06/201364111940133777.html
Ulaanbaatar, Mongolia, Nov 30 2012 (IPS) -
▶ FOREIGN MINING SAPS A THIRSTY GOBI DESERT - | The Oyu Tolgoi largest copper-gold mine in the world operating in the southern Gobi desert in Mongolia has become a symbol of a looming crisis: a limited water supply that could be exhausted within a decade, seriously threatening the lives and livelihoods of the local population. Inter Press Service http://www.ipsnews.net/2012/11/mining-saps-a-thirsty-desert/
▶ WEST PAPUA DEVASTATING MINING EXPLOITATION OF WEST PAPUA
http://ow.ly/lNe6http://www.cs.utexas.edu/~cline/papua/mines.htm
▶ IN THE RAINFORESTS OF PERU, A MODERN GOLD RUSH POISONS THE ENVIRONMENT http://sco.lt/8m0TwH
▶ DEFORESTATION, MINING RISES AGAIN IN BRAZIL'S AMAZON http://sco.lt/5GBjJh
June 6, 2013 Global Possibilities
PHOTOS
▶ BY MAN OR NATURE, PLACES THAT WILL NEVER BE THE SAME http://www.globalpossibilities.org/by-man-or-nature-places-that-will-never-be-the-same/
▶ MINING CORPORATIONS DEVASTATE PRISTINE WISCONIN FOR FRAC-SAND - LEAVING A MINING, CHEMICAL WASTELAND http://sco.lt/6gL1ov
July 16, 2013 Mother Jones
PHOTOS
▶ U.S. MINING COMPANY DEPLOYS MORE MASKED MILITIAMEN AGAINST "ECO-TERRORISTS" IN WISCONSIN - Debate over a proposed open-pit iron ore mine in northern Wisconsin went from heated to outright bizarre when masked guards brandishing assault rifles showed up at the site in the remote and scenic wilderness of Penokee Hills... http://www.motherjones.com/environment/2013/07/walker-backed-mine-hires-militiamen-intimidate-protesters
The Institute for Southern Studies
PHOTOS
▶ UN HUMAN RIGHTS GROUP CALLS FOR INVESTIGATION OF MOUNTAINTOP REMOVAL MINING IN APPALACHIA http://www.southernstudies.org/2013/05/un-human-rights-group-calls-for-investigation-of-m.html
June 6, 2013 Global Possibilities
PHOTOS ▶
COAL MINING ON NAVAJO NATION IN ARIZONA TAKES HEAVY TOLL (PHOTOS) | http://www.globalpossibilities.org/coal-mining-on-navajo-nation-in-arizona-takes-heavy-toll-photos-2/
▶ LAND GRABS: HOW FOREIGN "INVESTMENTS" ARE REDISTRIBUTING WEALTH, LAND AND WATER ACROSS THE GLOBE http://sco.lt/96H2yv
November 02 2012 Spiegel Online International
▶ FINLAND MINING BOOM UNDERWAY IN SEARCH FOR MINERAL DEPOSITS http://www.spiegel.de/international/business/mining-boom-underway-in-finland-in-the-search-for-mineral-deposits-a-864561.html
▶ TERRACIDE: The Biggest Criminal Enterprise in History - Destroying the Planet for Record Profits http://sco.lt/95LXpR
▶ HOLDING CORPORATIONS RESPONSIBLE: Mining Companies Devastate Pristine Wisconsin for Frac-Sand - Leaving a... | @scoopit http://sco.lt/6gL1ov
▶ PALM OIL ECOCIDE: ORANGUTANS CLING ON TO LAST REMAINING TREE AS CORPORATE BULLDOZERS DECIMATE FORESTS http://sco.lt/6aimJ7
▶ ERADICATING ECOCIDE: WHY BUSINESS LEADERS MUST STEP UP TO THE CHALLENGE http://sco.lt/56vkOH
▶ AN URGENT MEMO TO THE WORLD « The Natural Eye Project http://thenaturaleye.wordpress.com/2012/07/12/an-urgent-memo-to-the-world/