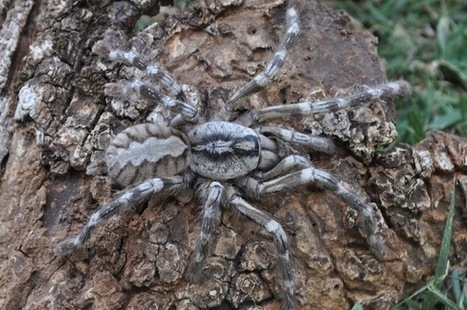 April 7, 2013 Planet Save
A new type of Indian Tiger Spider has been discovered in northern Sri Lanka, and it's about the size of your face. The new, venomous, face-sized, and rather fast, species of tarantula measures about 8 inches across...
"They are quite rare," Nanayakkara said. "They prefer well-established old trees, but due to deforestation the number have dwindled and due to lack of suitable habitat they enter old buildings."
Not surprising, deforestation has an enormous and negative impact on biodiversity, being largely responsible for the extinction of many incredible animals in recent times.
Recent deforestation has caused the extinction of 12 foot tall birds, eagles twice the size of any living today, gorilla sized lemurs, and many of the other megafauna animals that once inhabited the world. (Deforestation in prehistory was largely as a result of intentional fire-setting, while in modern times it's resource harvesting and transition to agriculture.)
Read more at http://planetsave.com/2013/04/07/tiger-spider-new-species-of-tarantula-the-size-of-a-face-found-in-sri-lanka/#e7dIa35qyaDJSbrP.99
MORE ON DEFORESTATION http://www.scoop.it/t/biodiversity-is-life?q=DEFORESTATION