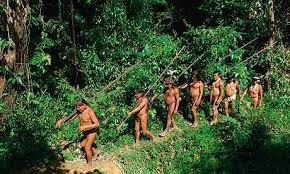 YALE ENVIRONMENT 360 - VIDEO
WATCH: http://e360.yale.edu/feature/video_into_heart_of_ecuador_yasuni_killackey/2628/
Few places on earth harbor as much biodiversity as the Yasuni Biosphere Reserve, a 6,500-square-mile territory in eastern Ecuador where the Amazon basin ascends into the Andes Mountains. But Yasuni also sits atop vast reserves of oil, and this rainforest wilderness, home to the indigenous Waorani people, faces intense development pressure.
In this Yale Environment 360 video, filmmaker Ryan Killackey travels into the heart of Yasuni with seven scientists and chronicles their work as they inventory the reserve's remarkable birds, fish, animals, and plants. Through their work, the researchers hope to bolster international initiatives to preserve a large swath of this threatened land...
Mongabay, October 3, 2013
OVER 100 SCIENTISTS WARN ECUADORIAN CONGRESS AGAINST OIL DEVELOPMENT IN YASUNI http://news.mongabay.com/2013/1003-hance-yasuni-scientists.html
Guardian Environment, September 3, 2012
YASUNI'S MOST UNUSUAL SPECIES - IN PICTURES http://www.theguardian.com/environment/gallery/2012/sep/03/yasuni-unusual-species-in-pictures#/?picture=395574576&index=0
VIDEO
Climate & Capitalism, October 29, 2013
CHEVRON'S SCORCHED EARTH CAMPAIGN TO BLOCK JUSTICE http://climateandcapitalism.com/2013/10/29/chevrons-scorched-earth-campaign-block-justice/
Gristmill, John Upton, September 23, 2013
CHEVRON SCORES LEGAL AND PR VICTORIES IN ECUADOR POLLUTION CASE
Between 1964 and 1990, Texaco drilled for oil in the Ecuadorian Amazon and left an outrageous mess, dumping 18.5 billion gallons of toxic sludge and wastewater into local waterways. Chevron, which acquired Texaco in 2001, was ordered by an Ecuadorian judge in 2011 to pay $19 billion for the damage. Chevron said, to paraphrase, "Eff you," and has been fighting the judgment ever since.
It's little wonder, then, that Ecuador's president is calling for a boycott of Chevron. In launching the "Chevron's Dirty Hand" campaign last week
http://grist.org/news/chevron-scores-legal-and-pr-victories-in-ecuador-pollution-case/
WATCH
THE TRUE STORY OF CHEVRON'S ECUADOR ENVIRONMENTAL DISASTER http://sco.lt/7pCbOj
September 13, 2013 DW English
CHINA PARTIALLY TO BLAME OVER ECUADOR'S YASUNI NATION PARK'S OIL DRILLING http://www.dw.de/china-to-blame-over-yasuni-say-critics/a-17085405?maca=en-rss-en-environment-4553-rdf
August 28, 2013 Living on Earth:
OIL OR TREES: Yasuni National Park in Ecuador is home to more species of plants and animals than all of the US and Canada combined. Below the park are billions of gallons of oil. In 2007 President Correa offered to keep the oil in the ground if the international community compensated Ecuador for some of the loss of money it could have made from oil concessions. BUT ... http://www.loe.org/shows/segments.html?programID=13-P13-00035&segmentID=4
September 6, 2013 International Cry
ECUADOR: THE RIGHTS OF NATURE THREATENED IN YASUNI NATIONAL PARK http://intercontinentalcry.org/ecuador-rights-nature-threatened-yasuni-national-park/
August 18 2013 Yale Environment 360:
ECUADOR ABANDONS MORATORIUM ON OIL DRILLING IN BIODIVERSE YASUNI PARK http://e360.yale.edu/digest/ecuador_abandons_moratorium_on_oil_drilling_in_biodiverse_yasuni_park/3922/
--- WATCH --
August 16, 2013 PBS Newshour
VIDEO - OIL CORPORATION PLUNDER
*** ECUADOR EXPOSES YASUNI RAINFOREST AND IT' INHABITANTS TO MASSIVE OIL EXTRACTION
Thousands of species of plant and wildlife call Ecuador's Yasuni National Park home, but it is believed that beneath the lush floor lies $7.2 billion of oil. Drilling could threaten the rain forest's biodiversity and indigenous populations. Some scientists argue a balance could be found. http://www.pbs.org/newshour/bb/environment/july-dec13/ecuador_08-16.html
August 23, 2013 Environment News Service
ECUADOR'S YASUNI-ITT INITIATIVE FAILED, WHAT'S NEXT? CAN THE YASUNI NATIONAL PARK BE SAVED? http://ens-newswire.com/2013/08/23/ecuadors-yasuni-itt-initiative-failed-whats-next/
August 24, 2013 Inter Press Service
QUITO: EQUADOR CIVIL SOCIETY CALLS FOR VOTE/REFERENDUM ON DRILLING IN YASUNI PARK http://www.ipsnews.net/2013/08/civil-society-calls-for-vote-on-drilling-in-ecuadors-yasuni-park/
August 16, 2012 Environment New Service
ECUADOR TO ALLOW OIL DRILLING IN YASUNI NATIONAL PARK http://ens-newswire.com/2013/08/16/ecuador-allows-oil-drilling-in-yasuni-national-park/
August 5, 2013
INFOGRAPH:
RAINFOREST FOR RANSOM: YASUNI NATIONAL PARKhttp://www.pbs.org/newshour/multimedia/yasuni/
SLIDESHOW -
WHAT WE'RE LOSING
ECUADORIAN RAIN FOREST WONDERS http://www.pbs.org/newshour/multimedia/yasuni_08-05/
August 5, 2013 PBS Newshour
HOW THE WORLD'S MOST BIODIVERSE PLACE COULD BE RANSOMED FOR OIL MONEY http://www.pbs.org/newshour/rundown/2013/08/how-the-worlds-most-biodiverse-place-could-be-ransomed-for-oil-money.html
DEFORESTATION RISES AGAIN IN BRAZIL'S AMAZON http://sco.lt/86G4dV
FOREIGN CORPORATIONS DESTROYING ECOSYSTEMS, INDIGENOUS LIVELIHOODS, NULLIFYING LAND RIGHTS, CREATING DEPENDENCE AND POVERTY ON A GLOBAL SCALE http://sco.lt/9KW9wn
ENOUGHNESS: WESTERN THOUGHT vs INDIGENOUS PHILOSOPHY http://sco.lt/6EFbPt
December 8, 2012 - Mongabay
DAMS ARE RAPIDLY DAMNING THE AMAZON http://news.mongabay.com/2012/1208-raisg-amazon-dams.html#z4PLhoBPx4vBhZD0.02
ECOCIDE AND SACRED LAW: A fundamental intrinsic value of the sacredness of all life. http://www.scoop.it/t/biodiversity-is-life/p/3444120897/ecocide-and-sacred-law-a-fundamental-intrinsic-value-of-the-sacredness-of-all-life
UN TO LAUNCH STUDY ON ENVIRONMENTAL CRIME – Eradicating ECOCIDE http://eradicatingecocide.com/2012/11/un-to-launch-study-on-environmental-crime/
ELDERS OF THE FOREST DISAPPEARING WORLDWIDE - IRREPLACEABLE HABITAT FOR MANY ANIMALS http://www.scoop.it/t/biodiversity-is-life/p/3632517130/elders-of-the-forests-disappearing-worldwide-irreplaceable-habitat-for-many-animals
THE NEW CORPORATE COLONIALISM. DESTRUCTION OF LIFE, ECOCIDE AND GENOCIDE -- ALL IN THE NAME OF 'GROWTH' http://sco.lt/8pbb7p
LAND GRABS: HOW FOREIGN 'INVESTMENTS' ARE REDISTRIBUTING WEALTH, LAND AND WATER ACROSS THE GLOBE http://sco.lt/96H2yv
ERADICATING ECOCIDE: WHY BUSINESS LEADERS MUST STEP UP TO THE CHALLENGE http://sco.lt/56vkOH
SURVIVAL INTERNATIONAL: THE MOVEMENT FOR TRIBAL PEOPLES http://www.survivalinternational.org/