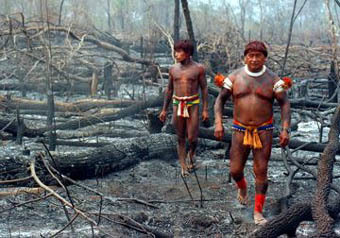 March 20, 2013 - Mongabay
VIDEO:
Tax evasion, kick-backs, bribery, and corruption all make appearances in a shocking new undercover video by Global Witness that shows how top individuals in the Sarawak government may be robbing the state of revenue for their own personal gain.... http://news.mongabay.com/2013/0320-hance-sarawak-video.html
WorldWire November 18, 2013
SWISS TECHNOLOGY GROUP URGED TO WITHDRAW FROM CONTROVERSIAL MALAYSIAN MEGA-DAM PROJECTS
The planned dam programme would displace tens of thousands of natives and submerge over 1600km2 of rainforest and farmland. ABB's business partner Sarawak Energy, the Malaysian dam developer, has systematically violated the rights of the affected indigenous people.
http://worldwire.presscentre.com/content/detail.aspx?ReleaseID=165&NewsAreaId=2
September 27, 2013
ANTI-SARAWAK DAM RALLIES IN AUSTRALIA, MALAYSIA TO STOP CONTRUCTION OF 12 MEGA-DAMS UNDERWAY IN SARAWAK http://asiancorrespondent.com/113836/anti-dam-rallies-held-in-australia-malaysia/
International Energy, September 24, 2013
SARAWAK ENERGY FLOODS VILLAGES IN RETALIATION FOR RENEWED INDIGENOUS BLOCKAGE OF MURUM DAM http://www.internationalrivers.org/blogs/258/sarawak-energy-floods-villages-after-penan-renew-blockade-of-murum-dam
PETITION | Respect the Rights of Penan of Murum and Stop Murum Dam! | Change.org http://www.change.org/en-GB/petitions/respect-the-rights-of-penan-of-murum-and-stop-murum-dam
May 22, 2013 Mongabay
MALAYSIA: INDIGENOUS GROUPS PROTEST INT'L HYDROPOWER CONGRESS: A dozen mega-dams in the state threaten to flood traditional lands, force villages to move, and upend lives in the state. The Sarawak hydropower plans are some of the most controversial in the world— http://news.mongabay.com/2013/0522-hance-iha-congress-protests.html
May 23, 2013 YES Magazine
MEET THE RAINFOREST-DWELLING MALAYSIAN FARMERS FIGHTING TO KEEP THEIR LAND ABOVE WATER The dams would cost $105 BILLION, flood an area twice the size of LA, and force the relocation of tens of thousands of indigenous people. Against all the odds, the local forest-dwelling people are coming together and organizing in a way that's unheard of in this part of the world... http://www.yesmagazine.org/peace-justice/meet-malaysias-rainforest-dwelling-farmers-fighting-to-keep-their-land-above-water
Feb 22, 2012 World Wire
MALAYSIA: FIRST PICTURES FROM SEALED-OFF BAKUN DAM ZONE REVEAL SOCIAL AND ENVIRONMENTAL DISASTER http://world-wire.com/2012/02/22/exclusive-first-pictures-from-sealed-off-bakun-dam-zone-reveal-social-and-environmental-disaster/
DESTRUCTIVE DAMS :INDIGENOUS COMMUNITIES, ECOSYSTEMS, FORESTS DEVASTATED - BIG MONEY DRIVES EXTINCTIONI http://sco.lt/6zxQWX
---------------------------------------------------------------------------------
DEFORESTATION
July 17, 2013 Mongabay
80% OF RAINFORESTS IN MALAYIAN BORNEO LOGGED - ALONG WITH ALL LIFE WITHIN IT http://news.mongabay.com/2013/0717-borneo-rainforest-logging.html
VIDEO
WATCH THE WORLD'S FORESTS DISAPPEAR ON GOOGLE EARTH
Science Report's Time Lapse Maps of Deforestation http://www.newrepublic.com/article/115610/science-reports-time-lapse-maps-deforestation
FEATURED VIDEO
Mongabay
INDIGENOUS COMMUNITY WITNESSES END OF FOREST FOR PALM OIL http://news.mongabay.com/2012/0326-muaratae-video.html
AN IMAGE SAY A THOUSAND WORDS
Google Image Search "Deforestation"
TRADING PEOPLE FOR LAND AND FOREIGN INVESTMENT
July 17, 2013 PBS Newshour
VIDEO REPORT:
*******IN RACE TO DEVELOP MYANMAR (BURMA), GOVERNMENT GRABS PEASANT FARMLAND FOR FOREIGN INVESTMENT, LEAVING A TRAGEDY IF DISPLACED PERSONS IN IT'S WAKE http://www.pbs.org/newshour/bb/world/july-dec13/myanmar_07-17.html
STOP BURNING RAIN FORESTS FOR PALM OIL AND MONOCROP AGRICULTURE http://sco.lt/9A1KVt
June 17, 2013 Guardian Global Development - John Vidal
LA VIA CAMPESINA, WORLD'S LARGEST POLITICAL MOVEMENT, TO CHALLENGE MULTI-NATIONALS ON POVERTY AND INEQUALITY, LAND GRABS AND DEFORESTATION
'"We have no choice but to change the system"
http://www.guardian.co.uk/global-development/2013/jun/17/la-via-campesina-henry-saragih?CMP=EMCGBLEML1625
ECOCIDE: A PLAGUE OF DEFORESTATION SWEEPS ACROSS SOUTH EAST ASIA WITH TERRIBLE LOSS OF WILDLIFE AND BIODIVERSITY http://sco.lt/4lJ5ZR
PALM OIL ECOCIDE - THE DEFORESTATION HOLOCAUST: Fast-Tracking Our Own Extinction http://www.scoop.it/t/biodiversity-is-life/p/1510545458/fast-tracking-our-own-extinction-the-deforestation-holocaust-
LAND GRABS: How Foreign "Investments" Are Redistributing Wealth, Land and Water across the globe http://sco.lt/96H2yv
ENOUGHNESS: WESTERN THOUGHT vs INDIGENOUS PHILOOPHY http://sco.lt/6EFbPt
MORE ON DEFORESTATION http://www.scoop.it/t/biodiversity-is-life?q=DEFORESTATION
Dec., 11 2012: MALAYSIAN CUSTOMS SEIZE RECORD 24 TONS OF IVORY -- HOW MANY ELEPHANTS IS THAT? http://www.terradaily.com/reports/Malaysian_customs_seize_record_24_tonnes_of_ivory_999.html