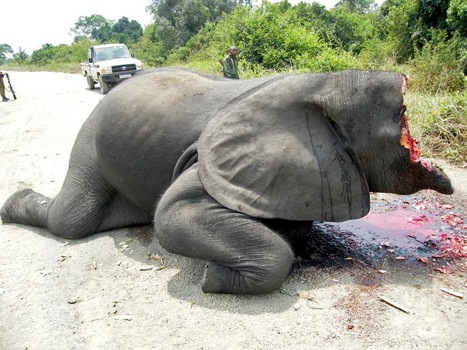 PARAMILITARY-STYLE TACTICS PROTECTS CHADS LAST ELEPHANTS - NUMBERS PLUNGE FROM 4,300 TO 450 http://ow.ly/kvOaE
Standard Digital News, March 1, 2014
KENYA'S ELEPHANT POPULATION APPEARS TO BE STABILIZING AS TANZANIA POACHERS BUTCHER 30 A DAY http://www.standardmedia.co.ke/?articleID=2000105769&story_title=Kenya-kenya-elephant-population-stabilises-as-tanzania-poachers-butcher-30-a-day
WATCH
CNN: VIDEO REPORT:
WHAT WE CAN DO ABOUT THE POACHING CRISIS
August 13, 2013 Guardian Environment
THE WILDLIFE POACHING EPIDEMIC:
EXPERTS ESTIMATE THAT A MIND-BOGGLING 25,000 TO 40,000 ELEPHANTS ARE SLAUGHTERED ANNUALLY ACROSS THE AFRICAN CONTINENT. RHINO POACHING UP IN 2013 http://www.theguardian.com/environment/2013/aug/13/war-african-poaching-militarisation-fail
INSIDE THE $19 BILLION GLOBAL ENTERPRISE THAT'S SLAUGHTERING WILDLIFE: A CRIMINAL HORROR http://sco.lt/6iXuS1
62% OF ALL AFRICA'S FOREST ELEPHANTS SLAUGHTERED IN 10 YEARS (warning: graphic images) http://sco.lt/528gJF
August 8, 2013 African Geographic
RESPONSIBLE FOR THE SLAUGHTER OF 10,000 ELEPHANTS...FACING ONE YEAR IN JAIL? http://blog.africageographic.com/africa-geographic-blog/news/responsible-for-the-slaughter-of-10-000-elephants-facing-one-year-in-jail/
Huffington Post Green, September 30, 2013
ELEPHANT SAYS GOODBYE TO AN OLD FRIEND (PHOTO) http://www.huffingtonpost.com/2013/09/30/elephant-says-goodbye_n_4004429.html?utm_hp_ref=mostpopular
VIDEO:
THE ELEPHANTS KNEW
WILD ELEPHANTS GATHER INEXPLICABLY, MOURN DEATH OF "ELEPHANT WHISPERER"
http://delightmakers.com/news/wild-elephants-gather-inexplicably-mourn-death-of-elephant-whisperer/
Guardian Environment, October 14, 2013
THE AMAZING INTELLIGENCE OF ELEPHANTS http://www.theguardian.com/commentisfree/2013/oct/14/elephants-intelligence-pointing-hunted
>>ELEPHANTS -
THE MOST CLOSELY-KNIT SOCIETIES OF ANY ANIMAL - GOING, GOING http://sco.lt/5uhjUn
A LOVELY WATCH
: "ECHO: AN UNFORGETTABLE ELEPHANT" (BBC)
June 18, 2013 Africa Geographic
ELEPHANTS FACE EXTINCTION IF BEIJING DOES NOT BAN IVORY TRADE, NOW http://blog.africageographic.com/africa-geographic-blog/news/elephants-face-extinction-if-beijing-does-not-ban-ivory-trade/
July 9, 2013 Guardian Environment, Paula Kahumbu
GUNS WILL NOT WIN THE WAR AGAINST ELEPHANT POACHERS http://www.guardian.co.uk/environment/africa-wild/2013/jul/09/guns-war-elephant-poachers?CMP=EMCENVEML1631
WATCH
The Ecologist
"LIQUID IVORY: HOW PALM OIL IS KILLING INDONESIA'S ELEPHANTS" http://www.youtube.com/watch?feature=player_embedded&v=vwI-N5KSUjQ
May 9, 2013 Huffington Post Green
MASSIVE ELEPHANT SLAUGHTER STRIKES SANCTUARY (GRAPHIC PHOTOS) http://www.huffingtonpost.com/2013/05/10/central-african-republic-elephants-dzanga-ndoki_n_3255935.html?utm_hp_ref=green
16 March 2013 - New York Times
TENS OF THOUSANDS OF FOREST ELEPHANTS HAVE BEEN BUTCHERED IN THE PAST DECADE
http://www.nytimes.com/2013/03/17/opinion/sunday/slaughter-of-the-african-elephants.html?_r=0
WATCH
National Geographic 4-Part Series
BATTLE FOR THE ELEPHANTS'
Global Ivory Trade, Poaching And Extinction
SOME GOOD NEWS....
28 March, 2013 - Africam
CENTRAL AFRICA IS FORMING AN ARMY OF 1000 SOLDIERS TO PROTECT ITS ELEPHANTS http://www.africam.com/wildlife/central_africa_forming_army_1000_soldiers_protect_its_elephants
19 March 2013 - Africa Geographic
>>> KILLING SPREE SLAUGHTERS 86 ELEPHANTS IN CHAD, INCLUDING 33 PREGNANT FEMALES, IN LESS THAN A WEEK http://blog.africageographic.com/africa-geographic-blog/news/killing-spree-slaughters-86-elephants-in-chad/
19 March 2013 - Mongabay
>>> In what is being called the worst elephant massacre in Africa this year, poachers have recently killed as many as 89 elephants in Chad.... http://newsongreen.org/poachers-slaughter-89-elephants-in-chad-including-over-30-pregnant-mothers/
TreeHugger:
86 ELEPHANTS, 33 PREGNANT, SLAUGHTERED IN ONE NIGHT http://www.treehugger.com/endangered-species/86-elephants-33-pregnant-slaughtered-one-night.html
20 March 2013 Al Jazeera:
POACHERS IN CHAD SLAUGHTER 89 ELEPHANTS http://www.aljazeera.com/news/africa/2013/03/201332085244135472.html
International Conservation Forum
IS MY IVORY WORTH IT? VIDEOS
HELP SAVE ENDANGERED ELEPHANTS
http://www.icforum.info/category/elephants/
11 March, 2013 - Mongabay
SEEING THE FORESTS THROUGH THE ELEPHANTS: SLAUGHTERED ELEPHANTS TAKING RAINFOREST TREES WITH THEM
http://news.mongabay.com/2013/0311-hance-forest-elephants-dispersal.html#PXU2DbqQ2LBlx3xi.02
MASSIVE PALM OIL PLANTATION WILL "CUT THE HEART OUT" OF CAMEROON'S RAINFOREST, DESTROYING INDIGENOUS COMMUNITIES AND WILDLIFE HABITAT http://sco.lt/8lmMBF
April 26, 2013 Environmental News Service
ELEPHANTS POACHED AMIDST CHAOS IN CENTRAL AFRICAN REPUBLIC - CONGO, CAMEROON http://ens-newswire.com/2013/04/26/elephants-slaughtered-amidst-chaos-in-central-african-republic/
7 March, 2013 Mongabay
WHAT HAPPENED TO THE ELEPHANTS OF BOUBA NDJIDA?What happened to the elephants of Bouba Ndjida? [warning: graphic photos] http://news.mongabay.com/2013/0307-russo-elephants-bouba-njida.html
6 March 2013 - International Union for Conservation of Nature
AN UNCERTAIN FUTURE FOR AFRICAN ELEPHANTS http://ecowatch.com/2013/poaching-african-elephants/
19 February 2013 Terra Daily
2012 ANOTHER DEADLY YEAR FOR ELEPHANTS IN AFRICA: CITES http://www.terradaily.com/reports/2012_another_deadly_year_for_elephants_in_Africa_CITES_999.html
FOUR ACTIVIST STOPPING THE IVORY TRADE IN CHINA - JULIETTESPEAKS http://juliettespeaks.org/four-activists-stopping-the-ivory-trade-in-china/
AND IT'S JUST NOT ELEPHANTS
RHINOS IN CRISIS TOO: POACHING AND ILLEGAL TRADE REACH HIGHEST LEVELS IN 20 YEARS http://sco.lt/6zVwtl
GIRAFFE KILLING SPREE is Hunting for ALL the Family http://sco.lt/98qGVF
March 6, 2013 Time Magazine
HALF OF AFRICA'S LIONS MAY GO EXTINCT IN 40 YEARS - Yahoo! News http://news.yahoo.com/half-africas-lions-may-extinct-40-years-160131003.html
5 March, 2013 - TIME MAGAZINE
SURVIVAL OF SPECIES: WHY IT'S TIME TO GET SERIOUS ABOUT THE BLOODY ILLEGAL WILDLIFE TRADE http://science.time.com/2013/03/05/traffic-why-its-time-to-get-serious-about-the-bloody-illegal-wildlife-trade/#ixzz2MnadVlS2WildlifeTrade
ECOCIDE PROFITS : Does CITES offer any hope? http://sco.lt/8oKSJ7
MORE ON THE ELEPHANTS
http://www.scoop.it/t/biodiversity-is-life?q=ELEPHANTS
MORE ON ILLEGAL WILDLIFE POACHING
http://www.scoop.it/t/biodiversity-is-life?q=POACHING