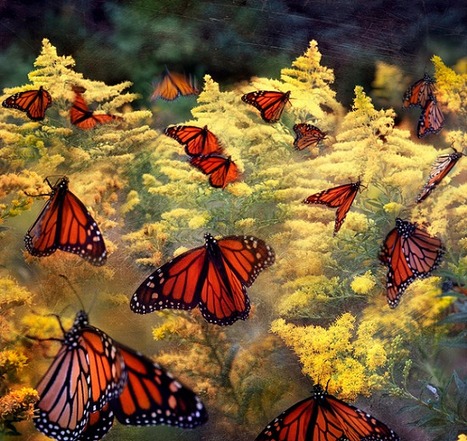 March 13, 2013 - New York Times
▶ MONARCH MIGRATION PLUNGES TO LOWEST LEVEL IN DECADES
The monarch migration population to their winter home in a Mexican forest sank this year to a 59 percent decline ince December 2011 due to extreme weather and a lack of the milkweed that the butterflies feed on, experts say.
But an equally alarming source of the decline is the explosive increase in American farmland planted in soybean and corn genetically modified to tolerate herbicides.
The American Midwest's corn belt is a critical feeding ground for monarchs, which once found a ready source of milkweed growing between the rows of millions of acres of soybean and corn. But the ubiquitous use of herbicide-tolerant crops has enabled farmers to wipe out the milkweed, and with it much of the butterflies' food supply.
"That habitat is virtually gone. We've lost well over 120 million acres, and probably closer to 150 million acres," Mr. Taylor said.
A rapid expansion of farmland — more than 25 million new acres in the United States since 2007 — has eaten away grasslands and conservation reserves that supplied the monarchs with milkweed" ... http://www.nytimes.com/2013/03/14/science/earth/monarch-migration-plunges-to-lowest-level-in-decades.html?smid=tw-nytnational&seid=auto
New York Times, November 22, 2013
THE YEAR THE MONARCH BUTTERFLY DIDN'T APPEAR http://www.nytimes.com/2013/11/24/sunday-review/the-year-the-monarch-didnt-appear.html?_r=0
Nature Blows My Mind!
▶ THE AMAZING MULTI-GENERATION, 2,500 MILE MONARCH BUTTERFLY MIGRATION
Monarch butterflies are the only insect to travel thousands of miles from the cooler north to the warmth of southern regions to spend the winter. What may be most amazing about this migration is not just the distance, but the fact that it takes four generations of monarch butterflies to make the trip and that the butterflies -- four generations apart -- use the exact same trees to winter each year. ... http://www.treehugger.com/slideshows/natural-sciences/nature-blows-my-mind-multi-generation-tk-mile-monarch-butterfly-migration/#slide-top
New York Times, October 12, 2013
▶ MONARCHS FIGHT FOR THEIR LIVES: WHAT FARMERS CALL A "WEED" MONARCHS DEPEND UPON FOR SURVIVAL http://www.nytimes.com/2013/10
Yale Environment 360
▶ TRACKING THE CAUSES OF SHARP DECLINE OF THE MONARCH BUTTERFLY http://e360.yale.edu/feature/tracking_the_causes_of_sharp__decline_of_the_monarch_butterfly/2634/
October 3, 2013
▶ WHY THE MONARCH BUTTERFLY POPULATION IS SHRINKING http://www.momscleanairforce.org/2013/10/03/monarch-butterflies-climate-change/
July 28, 2013 The Washington Post
▶ MONARCH BUTTERFLIES DISAPPEARING: THE INSECT FOOD WEB IS UNRAVELING http://www.washingtonpost.com/local/monarch-butterfly-campaign-takes-wing/2013/07/26/fa6e8ad8-f56d-11e2-aa2e-4088616498b4_story.html
June 2, 2013 TruthOut
▶ MONARCHS OF OUR LIFE http://www.truth-out.org/opinion/item/16683-monarchs-of-life
April 26, 2013 Miami Herald
▶ BUTTERFLIES ARE PART OF A COMPLEX FOOD WEBS, RANK NEXT TO BEE AS KEY POLLINATORS, IN MAJOR DECLINE http://www.miamiherald.com/2013/04/26/v-fullstory/3366251/butterflies-in-decline-in-south.html
July 15, 2013 Mongabay
▶ LOSING OUR MONARCHS: ICONIC MONARCH BUTTERFLY DOWN TO LOWERS NUMBERS http://news.mongabay.com/2013/0715-avery-losing-monarchs.html
▶ 20 INCREDIBLE MIGRATING MONARCH BUTTERFLY PICTURES - Environmental Graffiti - http://www.environmentalgraffiti.com/incredible-images-monarch-butterflies-swarming?image=0
July 23, 2013 Scientific American
▶ LOSS OF JUST ONE POLLINATOR SPECIES HARMS PLANTS http://www.scientificamerican.com/article.cfm?id=loss-of-a-just-one-pollinator-species-harms-plants
JULY 23, 2013 EurActiv
▶ EU REPORT: 'DRAMATIC' EU BUTTERFLY DECLINE (50%) IMPACTS OTHER SPECIES, HEALTHY ECOSYSTEMS http://www.euractiv.com/sustainability/dramatic-eu-butterfly-decline-wa-news-529524
April 30, 2013 World Environment News
▶ NO TRACE LEFT OF THREE TYPES OF BUTTERFLIES NATIVE TO SOUTH FLORIDA http://planetark.org/wen/68533
▶ COULD DISAPPEARING WILD INSECTS TRIGGER A GLOBAL CROP CRISIS? BENEFICIAL POLLINATORS, BEES AND PESTICIDES http://sco.lt/9Id8RV
▶ MASSIVE MONARCH BUTTERFLY DECLINE: TRACKING THE CAUSES: GMOs, PESTICIDE, HABITAT LOSS http://sco.lt/9E784H
March 14, 2013 - The Guardian Environment
▶ MEXICAN MONARCH BUTTERFLY NUMBERS DROP 59% TO RECORD LOWS - SIXTH DECLINE IN SEVEN YEARS Mexican monarch butterfly numbers at record low, scientists say http://www.guardian.co.uk/environment/2013/mar/14/mexican-monarch-butterfly-numbers
March 15, 2013 New York Times
▶ THE DYING OF THE MONARCH BUTTERFLIES
http://www.nytimes.com/2013/03/16/opinion/the-dying-of-the-monarch-butterflies.html?emc=tnt&tntemail1=y
July 23, 2013 EurActiv
European Union Report:
▶ DRAMATIC EU 50% BUTTERFULY DECLINE IMPACTING HEALTHY ECOSYSTEMS, BIODIVERSITY AND OTHER SPECIES
Hans Bruyninckx, the EEA's executive director, said: "This dramatic decline in grassland butterflies should ring alarm bells – in general Europe's grassland habitats are shrinking. If we fail to maintain these habitats we could lose many of these species forever. We must recognise the importance of butterflies and other insects – the pollination they carry out is essential for both natural ecosystems and agriculture."
The report flags the over-intensification of agriculture in Western Europe as major cause of the decline.
A statement accompanying the report blames agricultural intensification for creating vast sterile, uniform grasslands which do not provide the habitat needed for many indigenous species to survive. Butterflies, and other species, are also vulnerable to the over-use of chemical pesticides, a major component of intensive farming....
Separately, the EU has stepped up efforts to restrict insecticides in a bid to stave off the decline in bee populations.... http://www.euractiv.com/sustainability/dramatic-eu-butterfly-decline-wa-news-529524
--------------------------------------------------------------------
PESTICIDES, GMOs
Mother Jones, March 21, 2012
▶ RESEARCHERS: GM CROPS ARE KILLING MONARCH BUTTERFLIES, AFTER ALL http://www.motherjones.com/tom-philpott/2012/03/researchers-gm-crops-are-killing-monarch-butterflies-after-all
March 14, 2012 - Triple Pundit
▶ MONSANTO'S ROUND-UP READY CROPS TIED TO BUTTERFLY DECLINE http://www.triplepundit.com/2012/03/monsantos-roundup-ready-crops-tied-butterfly-decline/
▶ COMMONLY USED HERBICIDES SEEN AS THREAT TO ENDANGERED BUTTERFLIES AND OTHER POLLINATORS http://www.seeddaily.com/reports/Commonly_used_herbicides_seen_as_threat_to_endangered_butterflies_999.html
March 14, 2012 - Triple Pundit
▶ MONSANTO'S ROUND-UP READY CROPS TIED TO BUTTERFLY DECLINE http://www.triplepundit.com/2012/03/monsantos-roundup-ready-crops-tied-butterfly-decline/
THE ULTIMATE KILLING MACHINE
NEW CHARGES AGAINST MONSANTO'S ROUND-UP
▶ COMMONLY USED HERBICIDES SEEN AS THREAT TO ENDANGERED BUTTERFLIES AND OTHER POLLINATORS http://www.seeddaily.com/reports/Commonly_used_herbicides_seen_as_threat_to_endangered_butterflies_999.html
▶ PESTICIDES ARE KILLING OUR PLANET: DECIMATING POLLINATORS, DRAGONFLIES AND OTHER AQUATIC INSECTS http://sco.lt/5XzNlx
April 11, 2013 Corporate Europe Observatory
▶ PRIVATE LETTERS REVEAL SYNGENTA AND BAYER'S FURIOUS LOBBYING AGAINST BEE PESTICIDE BAN http://corporateeurope.org/publications/pesticides-against-pollinators
April 8, 2013 Earth First
▶ PESTICIDES HAVE KILLED OFF SO MANY BEES, NOW ROBOTIC BEES TO POLLINATE MONSANTO CROPS http://earthfirstnews.wordpress.com/2013/04/08/robotic-bees-to-pollinate-monsanto-crops/
March 16, 2013 Star Tribune
▶ STUDY TIES GMO CORN, SOYBEANS TO BUTTERFLY LOSS http://www.startribune.com/local/143017765.html?refer=y
March 15, 2013 - Guardian Environment
▶ AS FOR BEES, SO FOR BUTTERFLIES; PESTICIDES THAT KILL:
WHAT IS THE VALUE OF BEES? Insecticides are harming bees, argue environmentalists, who believe pollinators are greatly undervalued. Leo Hickman, with your help, investigates... http://www.guardian.co.uk/environment/blog/2013/mar/15/bees-value-pollination-farming-neonicotinoids
April 18, 2013 - Guardian Environment
▶ TRACKING THE CAUSES OF MONARCH BUTTERFLY DECLINE - GMOs and PESTICIDES http://www.guardian.co.uk/environment/2013/apr/18/tracking-causes-monarch-butterfly-decline?CMP=twt_fd
▶ HOW BIOTECH CORPORATIONS AND GMO CROPS ARE THREATENING THE ENVIRONMENT AND HUMANKIND ALIKE http://sco.lt/7OmezB
▶ PESTICIDES ARE KILLING OFF AMERICA'S BIRDS TOO http://sco.lt/6B7NZ3
March 18, 2013 - USA Today
▶ CALLS FOR HALT TO WIDELY APPLIED INSECTICIDE TO REDUCE IMPACT ON BIRDS AND WILDLIFE http://www.usatoday.com/story/news/nation/2013/03/18/birdsinsecticides/1996271/
-- WATCH --
VIDEO
▶ ****POLLINATION: A LOVE STORY THAT FEEDS THE EARTH http://sco.lt/4uCikD
▶ "PROMISCUOUS" BEES AND VANISHING INSECTS MEAN LESS FOR FOR US http://sco.lt/73OL2n
▶ AGRICHEMICAL GIANT SYNGENTA FAULTS EU PEER-REVIEWED STUDY TO CURB THEIR KILLER PESTICIDES NEONICOTINOIDS http://sco.lt/8fqLQ1
▶ BAYER RAKED IN $1 BILLION IN 2012 WITH BEE-KILLING PESTICIDES http://www.scoop.it/t/agriculture-gmos-pesticides/p/990749270/bayer-raked-in-1-billion-in-2010-with-bee-killing-pesticides
▶ DOMESTICATED AND WILD BEES ARE BOTH IN TROUBLE - PESTICIDE INDUSTRY IN DENIAL http://sco.lt/95yplJ
▶ WE NEED OUR BEES & POLLINATORS HEALTHY - Study: Bees could hold the key to preventing HIV transmission http://sco.lt/5wdlfV
▶ WHY WE NEED INSECTS: EVEN PESKY ONES - PESTICIDE REDUCTION ESSENTIAL http://sco.lt/94UwhF
▶ TRACKING THE CAUSES OF MASSIVE MONARCH BUTTERFLY DECLINE - GMOs, PESTICIDES, HABITAT LOSS - THE PERFECT STORM http://sco.lt/8iXChl
▶ MONSANTO RIDER" IN FARM BILL EXEMPTS AGRIBUSINESS FROM LIABILITY FOR BIOCROPS, PESTICIDES, CHEMICALS AND ELIMINATES GOVERNMENT POWER TO REGULATE THEM ... http://grist.org/article/frankenfoods-hitch-a-ride-through-congress-but-you-can-help-stop-them/
▶ THE POWER OF THE PESTICIDE INDUSTRY: BRITAIN HELP PREVENT BAN ON PESTICIDES LINKED TO BEE DECLINE http://www.independent.co.uk/environment/nature/britain-helps-prevent-ban-on-pesticides-linked-to-bee-decline-8536994.html
▶ THE GLOBAL CHEMICAL BIOTECH CARTEL - AN UNPRECEDENTED POWER OVER WORLD FOOD SUPPLY http://www.scoop.it/t/agriculture-gmos-pesticides/p/1716244040/the-global-chemical-biotech-cartel-an-unprecedented-power-over-world-agriculture-and-human-health
March 29, 2013 EWG Environmental Working Group
▶ A LOOPHOLE FOR PESTICIDES PUTS PUBLIC'S HEALTH AT RISK - the U.S. Environmental Protection Agency has approved roughly 11,000 pesticides intended for use in agriculture, inside homes, on lawns, in hand soaps, on clothing and other consumer goods with little or no safety tests, according to a multi-year investigation by the Natural Resources Defense Council. http://www.ewg.org/enviroblog/2013/03/loophole-pesticides-risks-public-health
▶ MONSANTO RIDER" IN FARM BILL EXEMPTS AGRIBUSINESS FROM LIABILITY FOR BIOCROPS, PESTICIDES, CHEMICALS AND ELIMINATES GOVERNMENT POWER TO REGULATE THEM ... http://grist.org/article/frankenfoods-hitch-a-ride-through-congress-but-you-can-help-stop-them/
October 29, 2012 - Planet Earth OnLine
▶ BEETLE DECLINES INCREASE CONCERNS ABOUT WIDER INSECT TROUBLE http://planetearth.nerc.ac.uk/news/story.aspx?id=1310&cookieConsent=A
SEE:
August 14, 2012 Science Daily
▶ STUDY DEMONSTRATES THAT ONE EXTINCTION LEADS TO ANOTHER http://www.sciencedaily.com/releases/2012/08/120814213500.htm?+Animals+News+--+Nature%29
▶ BEE-KILLING CHEMICAL LURKS INSIDE YOUR FOOD: AGROCHEMICALS THREAT TO WILD BEES AND INSECTS, FOOD SECURITY AND BIODIVERSITY http://sco.lt/651bMX
▶ BATTLE FOR THE BEES: Dying Bees Raise Alarm For Humans - Europe Bans Pesticide http://sco.lt/8QOFgv
▶ THE SIXTH MASS EXTINCTION IS UPON US http://sco.lt/4ywB3h
▶ *****AN URGENT MEMO TO THE WORLD http://thenaturaleye.wordpress.com/2012/07/12/an-urgent-memo-to-the-world/
▶ MORE ON PESTICIDES AND BEES http://www.scoop.it/t/agriculture-gmos-pesticides?q=BEES+PESTICIDES
MORE ON PESTICIDES AND BEES http://www.scoop.it/t/agriculture-gmos-pesticides?q=BEES