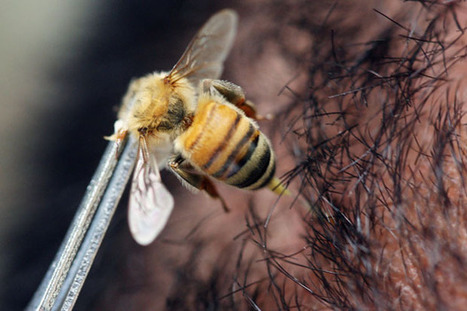 Discovery could lead to topical gel to prevent HIV transmission.
March 8, 2013 - USA TODAY
Bees could hold the key to preventing HIV transmission. Researchers have discovered that bee venom kills the virus while leaving body cells unharmed, which could lead to an anti-HIV vaginal gel and other treatments.
Scientists at the Washington University School of Medicine in St. Louis found that melittin, a toxin found in bee venom, physically destroys the HIV virus, a breakthrough that could potentially lead to drugs that are immune to HIV resistance. The study was published in the journal Antiviral Therapy... http://www.usnews.com/news/articles/2013/03/08/study-bee-venom-kills-hiv
MORE ON THE DISAPPEARING BEES, CCD AND PESTICIDES
http://www.scoop.it/t/biodiversity-is-life?q=BEES