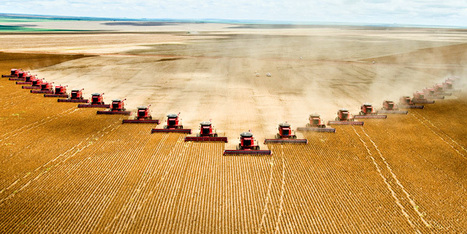 A growing number of organic consumers, natural health advocates and climate hawks are taking a more comprehensive look at the fundamental causes of global warming. And its led them to this sobering conclusion: Modern, industrial, monocrop farming are burning up our planet.
How did they reach this conclusion? http://www.nationofchange.org/how-factory-farming-contributes-global-warming-1358786945
TripleCrisis, January 14, 2014
▶ THE DANGER OF TRUSTING CORPORATIONS TO LEAD THE FIGHT AGAINST WORLD HUNGER http://triplecrisis.com/the-danger-of-entrusting-corporations-to-lead-the-fight-against-world-hunger/
Truthout, April 14, 2014
▶ THE TRANSFORMATIVE POTENTIAL OF THE RIGHT TO FOOD. Transitioning from an industrial model of agriculture to a system benefiting small-scale producers - a step governments must support - will not only alleviate worldwide hunger and poverty, but will reduce carbon emissions, the UN's Special Rapporteur on the Right to Food concludes in a new report. http://truth-out.org/news/item/23086-the-transformative-potential-of-the-right-to-food
Common Dreams, February 18, 2013
INDUSTRIAL AG TRIGGERS DEVASTATING 'WEB' OF POLLUTION http://www.commondreams.org/headline/2013/02/18-2
April 18, 2014, The Two-Way
▶ CHINA ADMITS THAT ONE-FIFTH OF IT'S FARMLAND IS CONTAMINATED - Unbridled industrialization with almost no environmental regulation has resulted in the toxic contamination of one-fifth of China's farmland, the Communist Party has acknowledged for the first time. http://listen.sdpb.org/post/china-admits-one-fifth-its-farmland-contaminated
OnEarth, January 6, 2014
▶AQUIFER ALERT: Stretching across eight U,S states, the Ogallala aquifer is the lifeblood of agriculture on the Great Plains. But can it survive a future of drought, pollution, and pipelines? ... Underlying almost 175,000 square miles in eight states, the aquifer sustains nearly one-fifth of all wheat, corn, cotton, and cattle production in the United States. But several years of drought and decades of intensive crop irrigation have left it seriously depleted http://www.onearth.org/articles/2014/01/so-what-exactly-is-an-aquifer-we-explain
ETC GROUP: September 23, 2013
YET ANOTHER UN REPORT CALLS FOR SUPPORT FOR PEASANT FARMING AND AGROECOLOGY http://hosted.verticalresponse.com/1371403/3dcf9f8e43/546730523/69eaf81be4/

UNCTAD's 2013 Trade and Environment Report ("Wake up before it is too late: make agriculture truly sustainable now for food security in a changing climate") states that monoculture and industrial farming methods are not providing sufficient affordable food where it is needed, while causing mounting and unsustainable environmental damage. ...The report was written with contributions from over 60 experts, and finds that "urgent and far-reaching action" is needed to address the "collective crisis" of "rural poverty, persistent hunger around the world, growing populations, and mounting environmental concerns." http://unctad.org/en/pages/PublicationWebflyer.aspx?publicationid=666
However, the call from the UN Conference on Trade and Development (UNCTAD) flies in the face of the goals laid out by trade deals now being negotiated including the secretive Trans Pacific Partnership....
THE DANGEROUS NEW SECRETIVE GLOBAL TRADE PACTS WILL IMPACT US ALL. THREATENS SOVEREIGNTY AND PUBLIC OWNERSHIP http://sco.lt/74uPth
Common Dreams, September 23, 2013
U.N. - ECOLOGICAL WAKE-UP CALL THAT COUNTERS CORPORATE-FRIENDLY 'FREE' TRADE AND OUR INDUSTRIAL FOOD PRODUCTION
http://www.commondreams.org/headline/2013/09/23-5
Biosafety Information Center, September 27, 2013
RE: MAKING AGRICULTURE TRULY SUSTAINABLE FOR FOOD SECURITY IN A CHANGING CLIMATE http://www.biosafety-info.net/article.php?aid=1002
February 18, 2013 Common Dreams
INDUSTRIAL AG TRIGGERS DEVASTATING 'WEB' OF POLLUTION http://www.commondreams.org/headline/2013/02/18-2
MORE THAN HALF OF U.S. RIVERS ARE TOO POLLUTED TO SUPPORT LIFE http://sco.lt/5Gpafx
PESTICIDES FOR BIG AG ARE KILLING OUR PLANET: DECIMATING POLLINATORS, DRAGONFLIES AND OTHER AQUATIC INSECTS -- AND YOU http://sco.lt/5XzNlx
August 30, 2013 Sustainable Pulse:
THE NEVER-ENDING TREADMILL OF MORE AND STRONGER PESTICIDE:-----BIOTECH INDUSTRY STARTS NEW ERA OF PETICIDE-PROMOTING AGRICULTURE http://sustainablepulse.com/2013/08/30/biotech-industry-starts-new-era-of-pesticide-promoting-agriculture/#.UigyP7zc-RQ
July 30, 2013 Environmental Working Group
REPORT: 7.2 MILLION ACRES OF WETLANDS AND FRAGILE LAND GO UNDER THE PLOW http://www.ewg.org/release/72-million-acres-wetlands-and-fragile-land-go-under-plow
May 27, 2013 Science Daily
EVEN FARM ANIMAL DIVERSITY IS DECLINING ACCELERATING SPECIES LOSS THREATENS HUMANITY http://www.sciencedaily.com/releases/2013/05/130527100624.htm
11 September 2013, Rome
FOOD WASTAGE FOOTPRINT: IMPACT ON NATURAL RESOURCES - FAO REPORT - The waste of a staggering 1.3 billion tonnes of food per year is not only causing major economic losses but also wreaking significant harm on the natural resources that humanity relies upon to feed itself, says a new FAO report.
http://reliefweb.int/report/world/food-wastage-footprint-impacts-natural-resources
AGRICULTURE CAUSES 80% OF TROPICAL DEFORESTATION - THE TERRIBLE PRICE WE PAY http://sco.lt/8DCl1d
FUTURENOMICS: DITCHING OUR OUTMODED AND FOSSILISED ECONOMIC PARADIGM http://sco.lt/5hpBar
THE NEXT GREEN REVOLUTION - HEALTHY ECOSYSTEMS WITHOUT FOSSIL FUELS, LASHINGS OF PESTICIDES AND MONOCROPS http://sco.lt/7H8QPR
----------------------------
September 3, 2013 -Sci Dev Net
FARMING AND KNOWLEDGE MONOCULTURES ARE MISCONCEIVED
Food needs can be met with a new vision for agriculture and science
In mainstream policy and corporate thinking, scientific knowledge and global markets are considered key for food security. This has resulted in the industrialisation and laboratory research-led intensification of agricultural systems, inputs and food-supply chains.
But intensified systems do not meet global food needs — they mostly suit export markets and corporate interests.... an industrial monoculture model of production — of both food and knowledge — avoids its ecological and social costs, while suppressing more effective sustainable alternatives, and underexploits science's potential versatility.... http://www.scidev.net/global/agriculture/opinion/farming-and-knowledge-monocultures-are-misconceived.html
NEW REPORT: United Nations Conference on Trade and Development (UNCTAD)
TAKE "MOSIAC" APPROACH TO AGRICULTURE, BOOST SUPPORT FOR SMALL FARMERS http://unctad.org/en/pages/newsdetails.aspx?OriginalVersionID=605
Guardian, September 18, 2013
FOOD CRISIS FEARS PROMPT UN WAKE-UP CALL TO WORLD LEADERS AND BIG AGRIBUSINESS
UNCTAD, the UN trade and development body's 2013 Trade and Environment Review, calls on governments to "wake up before it is too late" and shift rapidly towards farming models that promote a greater variety of crops, reduced fertiliser use and stronger links between small farms and local consumers to achieve global food security and tackle climate change http://www.theguardian.com/global-development/2013/sep/18/food-crisis-un-governments
AMERICANS EAT THE CHEAPEST FOOD IN THE WORLD, BUT WHAT IS IT REALLY COSTING US? OBESITY PLUS http://sco.lt/6nvbQf
September 13, 2013 Treehugger
WHY KANSAS IS RUNNING OUT OF WATER. If you eat corn or wheat in the United States, there's a good chance it was grown with the help of paleowater left over from the last ice age when glaciers covered the Great Plains.And as neat and healthy as that sounds -- paleowater! -- this is not good news.
The Ogallal Aquifer is one of the largest aquifers in the world, running beneath parts of eight states in the central US. And it is this giant, ancient aquifer that is being sucked dry faster than rain can keep up. Put another way, we've nearly used up a million-year-old source of water in the 100 or so years we've been tapping into it for irrigation.
http://www.treehugger.com/sustainable-agriculture/why-kansas-running-out-water-ogallala-aquifer.html
August 12, 2013 AlJazeera America
CONTAMINATION CASES RENEW FEAR OVER GLOBALIZED FOOD SUPPLY http://america.aljazeera.com/articles/2013/8/12/contamination-casesrenewfearsoverfoodsafety.html
Earth Policy Institute
RISING TEMPERATURES, RISING FOOD PRICES: FULL PLANET, EMPTY PLATES - THE NEW GEOPOLITICS OF FOOD SCARCITY http://www.earth-policy.org/books/fpep/fpepch8
FOOD AID FOR THE 21st CENTURY: MEETING THE OBJECTIVE, OR FEEDING THE BIG AG BIOTECH CHEMICAL CARTEL GRAVY TRAIN? http://sco.lt/6ksGS9
July 6, 2013 The Guardian, John Vidal
GLOBAL THREAT TO FOOD SUPPLY AS WATER WELLS DRY UP, WARNS TOP ENVIRONMENT EXPERT http://www.guardian.co.uk/global-development/2013/jul/06/food-supply-threat-water-wells-dry-up
BRAZIL: GENETICALLY ENGINEERED MONOCROPS, PESTICIDES AND SOIL DESTRUCTION http://sco.lt/6SHwH3
========================
-- THE US FARM SUBSIDY RACKET --
June 17, 2013 Somewhat Reasonable
CROP INSURANCE FOR BIG CORPORATE AGRICULTURE EXPANDED IN U.S. SENATE 2013 FARM BILL COSTING TAXPAYERS $955 BILLION IN SUBSIDIES http://blog.heartland.org/2013/06/crop-insurance-expanded-in-senate-farm-bill/
US TAXPAYERS NOW GUARANTEEING CORPORATE PROFITS - HISTORY OF THE CROP INSURANCE PROGRAM http://www.rma.usda.gov/aboutrma/what/history.html
August 29, 2013 Global Possibilities
THE GUARANTEED INCOME RACKET FOR USA BIG AGRICULTURE: U.S. GOVERNMENT PAID OUT $17 BILLION FOR "OVER-PLANTED WEATHER-WITHERED CROPS" LAST YEAR — Desiccated corn and sun-scorched soybeans have been in high supply lately — and we're paying through the nose for them http://www.globalpossibilities.org/u-s-government-paid-17-billion-for-weather-withered-crops-last-year/
September 4, 2013 NPR
THERE WILL BE NO COMPETITION: HOW BIG AGRICULTURE AND USDA IS EASING OUT SMALL FARMERS WITH NEW FOOD SAFETY RULES http://www.npr.org/blogs/thesalt/2013/09/04/218642746/small-farmers-in-new-england-fear-new-food-safety-rules
======================
--- THE NEW APPROACH TO FOOD PRODUCTION --
July 25, 2013 REALfarnacy
URBAN HOMESTEADERS PRODUCE 6,000 POUNDS OF FOOD ON 1/10 ACRE http://www.realfarmacy.com/urban-homesteaders-produce-6000-pounds-of-food-on-110-acre/
August 26, 2013 Guardian Professionals: Farming and Food Security Hub
NEW IDEAS PUT AGRICULTURE CO-OPERATIVES AT THE HEART OF RURAL DEVELOPMENT http://www.theguardian.com/global-development-professionals-network/2013/aug/26/agriculture-co-operatives-markets-credit
January 13, 2012 Grist
LEXICON OF SUSTAINABILITY: BIODIVERSITY vs MONOCULTURE http://grist.org/sustainable-food/2012-01-13-lexicon-of-sustainability-biodiviersity-vs-monoculture/
FOOD FORESTS CAN MITIGATE RISKS OF 'FEAST OR FAMINE". BIG CORPORATE AG IS NOT THE ANSWER http://sco.lt/8q2M41
August 1, 2013 Science Daily
EXISTING CROPLAND COULD FEED FOUR BILLION MORE BY DROPPING BIOFUELS AND ANIMAL FEED http://www.sciencedaily.com/releases/2013/08/130801125704.htm
THE NEXT GREEN REVOLUTION - HEALTHY ECOSYSTEMS WITHOUT FOSSIL FUELS, LASHINGS OF PESTICIDES AND MONOCROPS http://sco.lt/7H8QPR
September 9, 2013 Mother Jones
ONE WEIRD TRICK TO FIX FARMS FOREVER: PEAK SOIL http://www.motherjones.com/environment/2013/09/cover-crops-no-till-david-brandt-farms
THE HIDDEN WORLD OF SOIL UNDER OUR FEET - - SOIL AS A LIFELINE - CLIMATE CHANGE http://sco.lt/4nJvdp
August 6, 2013 Resilience
FIXING FOOD AND FARMING WITH A TRUE-COST ECONOMY
A paradigm shift is underway in our nation's approach to food and agriculture. Movements are gaining steam that support organic food, local food, farmers markets, local food security, and food safety. On the food safety front, outrage is growing over the inability to inspect more than two percent of imported food, especially in the wake of food scandals abroad (e.g., melamine in pet food, pork treated with chemicals to taste like beef, deaths of children from school lunches prepared in used pesticide containers)... http://www.resilience.org/stories/2013-08-06/fixing-food-and-farming-with-a-true-cost-economy
November 1, 2012 Mongabay
FROM 'FERTILIZER TO FORK': FOOD ACCOUNTS FOR A QUARTER OF THE WORLD'S GREENHOUSE GAS EMISSIONS http://news.mongabay.com/2012/1101-hance-agriculture-greenhouse-gases.html
BIOFUELS: FOOD OR FUEL? RESEARCH SUGGESTS BIOFUELS WILL COST THE EARTH http://sco.lt/8ezJ2X
SO YOU WANT TO EAT MEAT? FEEDLOTS vs PASTURES http://sco.lt/78Q26r
SCIENTIFIC PAPER ARGUES AGAINST FACTORY FARM "FEEDING THE WORLD" - MASSIVE POLLUTION OF OUR WATERWAYS http://www.scoop.it/t/agriculture-gmos-pesticides/p/3995263792/scientific-paper-argues-against-factory-farms-feeding-the-world
FastCo Exist
THESE HORRIFYING PHOTOS SHOW A DESTROYED AMERICAN LANDSCAPE THE AGRICULTURE GIANTS DON'T WANT YOU TO SEE http://www.fastcoexist.com/3016003/these-horrifying-photos-show-a-destroyed-american-landscape-that-agriculture-giants-dont-wan
DECLINE IN BIODIVERSITY OF FARMED PLANTS AND ANIMALS GATHERING PACE http://sco.lt/7o99MH
PESTICIDE/CHEMICAL REGULATION OVERHAUL NEEDED TO PROTECT WILDLIFE, ECOSYSTEMS AND FOOD CHAIN http://sco.lt/6VkkXB
August 21, 2013 Mongabay
PESTICIDE PROBLEMS IN THE AMAZON http://news.mongabay.com/2013/0821-andrus-pesticide-problems-amazon.html
WHY CHOOSING NATURE WILL ONLY ADVANCE HUMAN SOCIETIES http://sco.lt/8BIJP7
WATER IN THE ANTHROPOCENE http://sco.lt/856DXl
THE HUNGER GAMES - HOW UK, USA SUPPORT FOR BIG AGRIBUSINESS IS FUELING POVERTY http://sco.lt/8ked9N
DAMS, ECOCIDE AND WATER RIGHTS: INDIGENOUS COMMUNITIES, ECOSYSTEM, FORESTS DEVASTATED - BIG MONEY DRIVES EXTINCTION http://sco.lt/79BRmT
LAND GRABS: HOW FOREIGN "INVESTMENTS" ARE REDISTRIBUTING WEALTH, LAND AND WATER ACROSS THE GLOBE http://sco.lt/96H2yv
THE NEW CORPORATE COLONIALISM. DESTRUCTION OF PLANETARY LIFE, INDIGENOUS LAND AND LIVELIHOODS IN THE NAME OF "GROWTH" http://sco.lt/5nT3OT
"SUSTAINABLE" PALM OIL SHOULD NOT DRIVE DEFORESTATION http://sco.lt/7N5vU1
LIVING IN THE ANTHROPOCENE: TOWARD A NEW GLOBAL ETHOS http://sco.lt/6FzKSX
--- WATCH ---
VIDEO:
THE WORLD ACCORDING TO MONSANTO - FULL LENGTH The Leader of the Biotech Ag Cartel http://sco.lt/7CoHSb