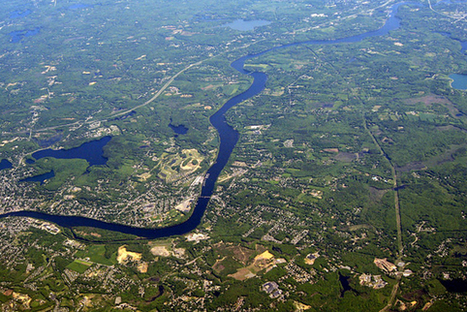 Jan 7, 2013 MONGABAY Dams create a largely impenetrable barrier for fish even when the dams were installed with specially-built passages, according to a new study in Conservation Letters...
The result has been a decimation of U.S. fisheries, food production, and wildlife across the river systems.

"Once these rivers supported tens of millions of pounds of biomass of these species and provided valuable protein to a growing nation," noted another co-author, Karin Limburg, with the SUNY College of Environmental Science and Forestry.
Read more at http://news.mongabay.com/2013/0117-hance-dams-fish-us.html#cLspG8OkUMHk9Ol6.99
VIDEO (3:42)
NOAA FISHERIES, February 17, 2014
RESTORING FISHERIES THROUGH HABITAT RESTORATION
http://www.nmfs.noaa.gov/stories/2014/04/04_17_14restoring_fisheries_hab_restoration.html
RESTORING RIVERS:
THE LIFEBLOOD OF BOTH HUMAN AND ECOLOGICAL COMMUNITIES
RESTORING NATURE TO NATURE AFTER MAN HAS HAD HIS WAY
WATCH
"SALMON - RUNNING THE GAUNTLET"
Full Episode - PBS Nature
http://www.pbs.org/wnet/nature/episodes/salmon-running-the-gauntlet/video-full-episode/6620/
GIVING THANKS TO SALMON: SUSTAINERS OF THE GREAT BEAR RAINFOREST http://ow.ly/mITrI
May 2013 - Solutions Magazine
THE RETURN OF THE SALMON: HOW ONE DAM'S REMOVAL HAS TRANSFORMED OUR APPROACH TO NATURE http://thesolutionsjournal.com/node/22131
June 21, 2013 Living on Earth:
HELPING FISH RETURN TO THE ELWHA RIVER - NOT SO EASY http://www.loe.org/shows/segments.html?programID=13-P13-00025&

August 22, 2013 TerraDaily
DAMS DESTABILIZE RIVER FOOD WEBS: LESSONS FROM THE GRAND CANYON http://www.terradaily.com/reports/Dams_destabilize_river_food_webs_Lessons_from_the_Grand_Canyon_999.html
-▶ CALIFORNIA DROUGHT THREATENS COHO SALMON WITH EXTINCTION http://www.sfgate.com/science/article/California-drought-threatens-coho-salmon-with-5175736.php
Alternet, January 20, 2014
-▶ ALASKAN COPPER MINE COULD DESTROY THE WORLD'S LARGEST WILD SALMON RUN, SAYS EPA http://www.alternet.org/news-amp-politics/copper-mine-could-destroy-worlds-largest-wild-salmon-run?akid=11427.237541.SV5Uzp&rd=1&src=newsletter950229&t=14
Living on Earth, December 13, 2013
-▶ THE ICONIC SALMON http://www.loe.org/shows/segments.html?programID=13-P13-00050&segmentID=6
ELWHA RIVER DAM
FREEING A RIVER TO IT'S FORMER GLORY: A GRAND EXPERIMENT http://sco.lt/51kuO1
Guardian Environment, October 12, 2013
▶ BRITAIN'S LOST RIVERS RESURRECTED AND FREED TO GO WITH THE FLOW http://www.theguardian.com/environment/2013/oct/13/britain-lost-rivers
DAMS, ECOCIDE AND WATER RIGHTS:
BIG MONEY DRIVES EXTINCTION
Indigenous Communities, EcoSystems, Forests Devastated