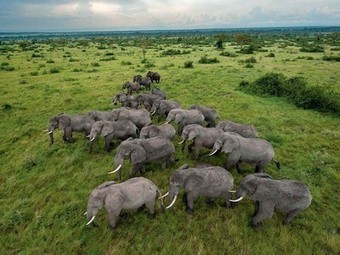 May 7, 2013 Huffington Post - Slideshow
DAKAR, Senegal -- The WWF said in a statement that suspected poachers belonging to the Seleka rebel group have entered one of Africa's most unique elephant habitats in the Central African Republic, and park guards saw them shooting in the direction... http://www.huffingtonpost.com/2013/05/07/seleka-rebels-poaching-elephants_n_3231093.html?ref=topbar#slide=1878054 
Mongabay, December 02, 2013
- ▶ 22,000 ELEPHANTS SLAUGHTERED FOR THEIR IVORY IN 2012 http://news.mongabay.com/2013/1202-hance-elephant-poaching-2012.html
The Independent, December 10, 2013
- ▶ FIVE UNBELIEVABLE HABITS OF ELEPHANTS http://www.independent.co.uk/voices/comment/five-unbelievable-habits-of-elephants-8995583.html
- ▶ CHADS LAST ELEPHANTS - NUMBERS PLUNGE FROM 4,300 TO 450 http://sco.lt/8nnEJd
THE WILDLIFE POACHING EPIDEMIC
August 13, 2013 Guardian Environment
- ▶ A MIND-BOGGLING 25,000 TO 40,000 ELEPHANTS ARE SLAUGHTERED ANNUALLY ACROSS THE AFRICAN CONTINENT. RHINO POACHING UP IN 2013 http://www.theguardian.com/environment/2013/aug/13/war-african-poaching-militarisation-fail
March 5, 2013 BBC Nature -
- ▶ EXTINCTION AHEAD: TWO-THIRDS OF FOREST ELEPHANTS SLAUGHTERED BY POACHERS IN PAST DECADE http://www.bbc.co.uk/nature/21655613
- ▶ TENS OF THOUSANDS OF ELEPHANTS ARE POACHED (SLAUGHTERED) EVERY YEAR IN AFRICA - JUST FOR THEIR TUSKS http://www.wildaid.org/elephants
Mongabay, December 2, 2013
- ▶ ANTI-POACHING STORY GOES VIRAL IN CHINA - A newspaper story about the impact of the ivory trade has gone viral in China, raising awareness among millions of Chinese, reports the Wildlife Conservation Society (WCS)... http://news.mongabay.com/2013/1220-china-viral-elephant-story.html
-▶ IGNORING NATURE NO MORE: STATE OF THE ANIMALS 2013 - THE ANIMAL-HUMAN RELATIONSHIP http://sco.lt/88qOMD
June 17, 2012 - CNN REPORT
- ▶ WILL ELEPHANTS STILL ROAM EARTH IN 20 YEARS? -- At the start of the 1980s there were more than a million elephants in Africa. During that decade, 600,000 were destroyed for ivory products. Today perhaps no more than 400,000 remain across the continent, according to Samuel Wasser of the University of Washington, who is widely recognized as an authority on the subject. It is a tragedy beyond reckoning and humanity needs to pay attention to the plight of the elephants before it is too late.
http://edition.cnn.com/2012/06/15/world/africa/elephants-extinction-africa/index.html
Guardian Environment, October 14, 2013
- ▶ THE AMAZING INTELLIGENCE OF ELEPHANTS http://www.theguardian.com/commentisfree/2013/oct/14/elephants-intelligence-pointing-hunted
VIDEO:
THE ELEPHANTS KNEW
- ▶ WILD ELEPHANTS GATHER INEXPLICABLY, MOURN DEATH OF "ELEPHANT WHISPERER"
http://delightmakers.com/news/wild-elephants-gather-inexplicably-mourn-death-of-elephant-whisperer/
Huffington Post Green, September 30, 2013
- ▶ ELEPHANT SAYS GOODBYE TO AN OLD FRIEND (PHOTO) http://www.huffingtonpost.com/2013/09/30/elephant-says-goodbye_n_4004429.html?utm_hp_ref=mostpopular
>>ELEPHANTS -
- ▶ THE MOST CLOSELY-KNIT SOCIETIES OF ANY ANIMAL - GOING, GOING
May 7, 2013 Mongabay
- ▶ A TALE OF TWO ELEPHANTS: CELEBRATING THE LIVES AND MOURNING THE DEATHS OF CIRROCUMULUS AND NGAMPIT http://news.mongabay.com/2013/0507-isaacs-elephants-commentary.html
Jan 15, 2013 Caue2 Causes
- ▶ ENTIRE ELEPHANT FAMILY KILLED FOR IVORY IN AFRICA http://www.care2.com/causes/entire-elephant-family-killed-for-their-ivory.html
May 10, 2013 Mongabay
- ▶ DOZEN OF ELEPHANTS MASSACRED FOR IVORY IN CENTRAL AFRICAN REPUBLIC http://news.mongabay.com/2013/0510-elephant-massacre-car.html
Huffington Post Green, December 2, 2013
ELEPHANT POACHING COULD WIPE OUT 30 PERCENT OF AFRICAN POPULATION IN NEXT DECADE, REPORT SHOWS http://www.huffingtonpost.com/2013/12/02/africas-elephants-threat_n_4371108.html?ir=Green&utm_campaign=120213&utm_medium=email&utm_source=Alert-green&utm_content=Title
August 8, 2013 African Geographic
- ▶ RESPONSIBLE FOR THE SLAUGHTER OF 10,000 ELEPHANTS...FACING ONE YEAR IN JAIL? http://blog.africageographic.com/africa-geographic-blog/news/responsible-for-the-slaughter-of-10-000-elephants-facing-one-year-in-jail/
---- WATCH ----
4-PART VIDEO SERIES:
- ▶ 'BATTLE FOR THE ELEPHANTS' - - ▶
NATIONAL GEOGRAPHIC VIDEO -
Global Ivory Trade, Poaching And Extinction http://sco.lt/8TXlw1
Feb 28, 2013 - Mongabay
- ▶ ELEPHANT MASSACRE IN CONGO - 75 PERCENT LOSS OF ITS ELEPHANTS IN 15 YEARS DUE TO POACHING FOR IVORY - Mongabay - Read more at http://news.mongabay.com/2013/0228-congo-elephant-massacre.html#H3mZ7QFCCJmqRABO.99
June 18, 2013 Africa Geographic
- ▶ ELEPHANTS FACE EXTINCTION IF BEIJING DOES NOT BAN IVORY TRADE, NOW http://blog.africageographic.com/africa-geographic-blog/news/elephants-face-extinction-if-beijing-does-not-ban-ivory-trade/
July 19, 2013 BBC News -
VIDEO REPORT
- ▶ **** HUGE IVORY HAUL FROM BABY ELEPHANTS AT HONG KONG'S PORT OF KWAI CHUNG http://www.bbc.co.uk/news/world-asia-23379038
- ▶ HORRIFIC SENSELESS SLAYING: AUTHORITIES CONFISCATE 600 DEAD ELEPHANTS' WORTH OF IVORY IN HONG KONG http://www.scoop.it/t/biodiversity-is-life/p/3099786901/authorities-confiscate-600-dead-elephants-worth-of-ivory-in-hong-kong-horrific-senseless-slaying
- ▶ THE ECONOMICS OF THE ILLEGAL WILDLIFE POACHING TRADE - ONE OF THE MOST LUCRATIVE BLACK MARKETS IN THE WORLD http://sco.lt/4q4CB7
- ▶ JANE GOODALL: IVORY SALES MUST STOP OR AFRICA'S ELEPHANT COULD SOON BE EXTINCT http://www.guardian.co.uk/science/2012/dec/16/jane-goodall-ivory-poaching-elephant
- ▶ RHINOS IN CRISIS: POACHING AND ILLEGAL TRADE REACH HIGHEST LEVELS IN 20 YEARS http://www.scoop.it/t/biodiversity-is-life/p/3995102006/rhinos-in-crisis-poaching-and-illegal-trade-reach-highest-levels-in-20-years
March 1, 2013 Guardian Environment
- ▶ TACKLING THE ILLEGAL TRADE IN WILD ANIMALS IS A MATTER OF GLOBAL URGENCY http://www.guardian.co.uk/environment/blog/2013/mar/01/cites-animals-illegal-trade
- ▶ WHY IT'S TIME TO BAN THE IVORY TRADE FOR GOOD [Graphic images: viewer discretion advised http://www.scoop.it/t/biodiversity-is-life/p/3731951859/why-it-s-time-to-ban-the-ivory-trade-for-good-graphic-images-viewer-discretion-advised
- ▶ WILDLIFE LAW ENFORCEMENT GATHERS GLOBAL STRENGTH AS POACHING ESCALUATES http://sco.lt/7qZH4D
- ▶ SUMATRAN ELEPHANTS COULD BE EXTINCT WITHIN 30 YEARS http://www.scoop.it/t/biodiversity-is-life/p/1050209887/sumatran-elephants-could-be-extinct-within-30-years
June 18, 2013 Africa Geographic
- ▶ ELEPHANTS FACE EXTINCTION IF BEIJING DOES NOT BAN IVORY TRADE, NOW http://blog.africageographic.com/africa-geographic-blog/news/elephants-face-extinction-if-beijing-does-not-ban-ivory-trade/
*****LEST WE FORGET *****
A FAMILY FALLS
- ▶ AFRICA'S IVORY-PROFIT DRIVEN ELEPHANT MASS SLAUGHTER CONTINUES
http://www.scoop.it/t/biodiversity-is-life/p/3292956185/lest-we-forget-africa-s-ivory-profit-driven-elephant-mass-slaughter-continues-a-family-falls
- ▶ ELEPHANTS: GOING, GOING ...... http://www.wildaid.org/elephants
- ▶ SHINING A BRIGHT LIGHT ON AFRICA'S ELEPHANT SLAUGHTER http://www.scoop.it/t/biodiversity-is-life/p/3134499916/shining-a-bright-light-on-africa-s-elephant-slaughter
- ▶ POVERTY, AS WELL AS GREED, KILLING AFRICA'S ELEPHANTS http://www.scoop.it/t/biodiversity-is-life/p/3893395511/poverty-as-well-as-greed-killing-africa-s-elephants-10-000-massacred-in-gabon-alone
- ▶ A GLOBAL URGENCY: TACKING THE ILLEGAL TRADE IN WILD ANIMALS http://sco.lt/5Dbzu5
- ▶ OUTGUNNED: ILLICIT TRADE IN WILDLIFE HAS EXPLODED INTO A $19 BILLION CRIMINAL ENTERPRISE VIDEO http://www.scoop.it/t/biodiversity-is-life/p/3700199111/outgunned-illicit-trade-in-wildlife-has-exploded-into-a-19bn-criminal-enterprise-video
July 10, 2012 Guardian Environment
- ▶ GUNS WILL NOT WIN THE WAR AGAINST ELEPHANT POACHERS http://www.guardian.co.uk/environment/africa-wild/2013/jul/09/guns-war-elephant-poachers?CMP=EMCENVEML1631
- ▶ GABON BANS LARGE-CALIBRE ARMS TO STEM ELEPHANT POACHING NOW AT 20,000 + IN PAST DECADE http://sco.lt/7OfQaP
- ▶ IN A TANZANIAN VILLAGE, ELEPHANT POACHERS THRIVE : NPR http://www.scoop.it/t/biodiversity-is-life/p/3096898697/in-a-tanzanian-village-elephant-poachers-thrive-a-world-without-elephants-npr
May 7, 2013 Mongabay
- ▶ 17 POACHERS ENTER ELEPHANT STRONGHOLD IN CONGO, CONSERVATIONS FEAR MASSACRE http://news.mongabay.com/2013/0507-hance-elephants-car.html
- ▶ IN A TANZANIAN VILLAGE ELEPHANT POACHERS THRIVE - NPR
http://www.npr.org/2012/10/25/163629043/in-a-tanzanian-village-elephant-poachers-thrive
WATCH
- ▶ "ECHO: AN UNFORGETTABLE ELEPHANT" (BBC) - ▶
- ▶ 14 PYGMY ELEPHANT DIES MYSTERIOUSLY IN BORNEO - CLEARING FORESTS - ELEPHANTS BECOME "PESTS" http://sco.lt/7J03HN
Jan 17, 2013 - TreeHugger
- ▶ POACHING IS ON THE RISE IN KENYA, IN WHAT SHOULD BE ONE OF FEW SAFE(ISH) PLACES FOR ELEPHANTS IN AFRICA.... http://www.treehugger.com/endangered-species/are-elephants-doomed.html
- ▶ LEARNING TO LIVE WITH ELEPHANTS - Mongabay Read more at http://news.mongabay.com/2012/0918-hance-elephants-camposarceiz.html#4dHR31CQ6Ih18SPW.99
May 30, 2013 The Telegraph
- ▶ INDIAN VILLAGERS ABANDON HOME TO MAKE WAY FOR AN ELEPHANT HIGHWAY http://www.telegraph.co.uk/news/worldnews/asia/india/10089246/Villagers-abandon-homes-for-Elephant-highway.html
- ▶ DRONES COULD SOON BE HELPING PROTECT RHINOS, TIGERS AND ELEPHANTS IN AFRICA AND ASIA - THANKS TO CASH FROM GOOGLE http://www.scoop.it/t/biodiversity-is-life/p/3645438876/drones-could-soon-be-helping-protect-rhinos-tigers-and-elephants-in-africa-and-asia
Guardian Environment
- ▶ KENYA TRIALS TEXT MESSAGE ALERTS IN BID TO CURB POACHING AS ENTIRE ELEPHANT FAMILY WIPED OUT http://www.guardian.co.uk/environment/2013/jan/11/kenya-text-message-alert-poaching
March 1, 2013 - The Guardian Environment
- ▶ PEOPLE AND ANIMALS AT IMMEDIATE RISK FROM WILDLIFE CRIME, CITES CHIEF WARNS http://www.guardian.co.uk/environment/2013/mar/01/people-animals-wildlife-crime
August 2, 2013 Global Possibilities
- ▶ RANGER, WARRIOR, MOTHER - Sidonie Asseme risks her life to save endangered wildlife from poachers in southeastern Cameroon—all while raising five little future rangers ... http://www.globalpossibilities.org/ranger-warrior-mother/
EXTINGUISHING OUR WILDLIFE:
- ▶ RHINOS IN CRISIS: POACHING AND ILLEGAL TRADE REACH HIGHEST LEVELS IN 20 YEARS http://www.scoop.it/t/biodiversity-is-life/p/3995102006/rhinos-in-crisis-poaching-and-illegal-trade-reach-highest-levels-in-20-years
- ▶ THE ANIMAL NOBODY WANTS TO KEEP The animal nobody wants to keep http://www.scoop.it/t/biodiversity-is-life/p/3285098855/the-animal-nobody-wants-to-keep http://www.scoop.it/t/biodiversity-is-life/p/3285098855/the-animal-nobody-wants-to-keep
- ▶ TROPHY HUNTING FOR THE LOVE OF BLOOD AND MONEY http://www.scoop.it/t/biodiversity-is-life/p/3983008721/trophy-hunting-for-the-love-of-blood-and-money
14 March 2013 - Deutche Welles
- ▶ SANCTUARY SAVES ANTEATERS MAIMED BY POACHERS http://www.dw.de/sanctuary-saves-anteaters-maimed-by-poachers/a-16627049?maca=en-rss-en-environment-4553-rdf
- ▶ LIONS EXTINCT IN 25 AFRICAN COUNTRIES. POPULATIONS IN MORE TROUBLE THAN WE THOUGHT http://www.scoop.it/t/biodiversity-is-life/p/3994950184/lions-extinct-in-25-african-countries-populations-in-more-trouble-than-previously-thought
- ▶ INDONESIA PALM OIL PLANTATIONS: FIRST THEY ERADICATE THE ORANGUTANS, NOW THEY'RE POISONING THE ELEPHANTS http://www.scoop.it/t/biodiversity-is-life/p/1824145798/indonesia-palm-oil-plantations-first-they-eradicate-the-orangutans-now-they-re-poisoning-the-elephants
WATCH
The Ecologist
- ▶ ****"LIQUID IVORY: HOW PALM OIL IS KILLING INDONESIA'S ELEPHANTS" http://www.youtube.com/watch?feature=player_embedded&v=vwI-N5KSUjQ
- ▶ PALM OIL ECOCIDE - THE DEFORESTATION HOLOCAUST: Fast-Tracking Our Own Extinction http://www.scoop.it/t/biodiversity-is-life/p/1510545458/fast-tracking-our-own-extinction-the-deforestation-holocaust-
- ▶ MORE ON ELEPHANTS: http://www.scoop.it/t/biodiversity-is-life?q=THE+MOST+CLOSELY-KNIT+SOCIETIES+OF+ANY+ANIMAL+-+GOING%2C+GOING
- ▶ MORE ON POACHING http://www.scoop.it/t/biodiversity-is-life?q=RHINOS
- ▶ ALL ABOUT ELEPHANTS http://www.scoop.it/t/biodiversity-is-life/p/3997183560/all-about-elephants
WATCH:
"FUN IN THE FOREST
Elephants on Candid Camera
http://www.earthintransition.org/2013/04/elephants-on-candid-camera/
- ▶ MORE ON THE HORRIFIC WILDLIFE POACHING
http://www.scoop.it/t/biodiversity-is-life?q=RHINO+POACHING
- ▶ FOLLOW WILDLIFE MARGRIT FOR ALL ABOUT POACHING AND ANNIHILATION OF OUR TREASURED WILDLIFE: