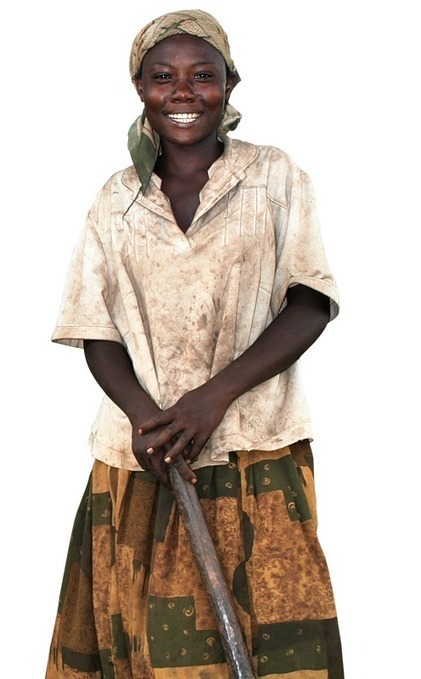 ▶ THE FEMALE FACE OF FARMING: AWARD-WINNING INFOGRAPH
Farmers. Workers. Entrepreneurs. Care-givers. Bread-winners. Bread-makers. Mothers. Wives.
Women are the backbone of the rural economy, especially in the developing world. Yet they receive only a fraction of the land, credit, inputs (such as improved seeds and fertilizers), agricultural training and information compared to men.
Empowering and investing in rural women has been shown to significantly increase productivity, reduce hunger and malnutrition and improve rural livelihoods. And not only for women, but for everyone. Let's take a closer look at the story of women and agriculture... http://www.farmingfirst.org/women/
Transform Nutrition, December 2013
WOMEN'S EMPOWERMENT IN AGRICULTURE, PRODUCTION DIVERSITY AND NUTRITION http://www.transformnutrition.org/2013/12/02/womens-empowerment-in-agriculture-production-diversity-and-nutrition-evidence-from-nepal/
VIDEOS
UN Women
▶ THE ROLE OF WOMEN IN RURAL DEVELOPMENT, FOOD PRODUCTION AND POVERTY ERADICATION http://www.unwomen.org/en/news/in-focus/rural-women-food-and-poverty-eradication-days
Thomson Reuters Foundation, October 13, 2013
▶ WHY DEVELOPMENT MUST TACKLE GENDER-BASED VIOLENCE http://www.trust.org/item/20131013183644-bikt2/?source=hpblogs
IFAD social reporting blog, October 7, 2013
▶ RURAL WOMEN– UN PARTNERS SEEK DONOR SUPPORT FOR A JOINT EFFORT TO EMPOWER RURAL WOMEN http://ifad-un.blogspot.com/2013/10/ruralwomen-un-partners-seek-donor.html
September 4, 2013 All Africa
▶ AFRICA LOSES AS WOMEN FARMERS ARE MARGINALISED http://allafrica.com/stories/201309040276.html
UN WOMEN, February 9, 2012
▶ WOMEN FARMERS YIELDING PROFITS AND BETTER FUTURES IN RURAL RWANDA http://www.unwomen.org/en/news/stories/2012/2/women-farmers-yielding-profits-and-better-futures-in-rural-rwanda
Guardian Global Development, October 9, 2013
▶ WORLD HUNGER WILL NEVER BE SOLVED UNTIL UNDERLYING 'STRUCTURAL VIOLENCE' AND DISCRIMINATION AGAINST WOMEN IS ADDRESSED
Efforts to tackle global hunger and poor nutrition will not succeed unless the underlying "structural violence" and discrimination that prevents women from realising their human rights is addressed, according to a report from civil society groups.
The Alternatives and resistance to policies that generate hunger report, published on Tuesday, argues that particular attention must be paid to the social and political structures that constrain women's choices and limit their ability to participate in decision-making. These include discriminatory land laws and traditional gender roles... http://www.theguardian.com/global-development/2013/oct/09/women-world-hunger-food-rights
Guardian, September 25, 2013
▶ IMPROVING ACCESS TO SERVICES FOR WOMEN IN AGRICULTURE http://www.theguardian.com/global-development-professionals-network/2013/sep/25/women-agriculture-access-india

Inter Press Service, June 26, 2013
▶ WHY JAPAN IS CULTIVATING A GENERATION OF FEMALE FARMERS
http://www.ipsnews.net/2013/06/agriculture-leans-on-japanese-women/
----------------------------WOMEN FARMERS----------------------------
June 3, 2013 CGIAR WLE
▶ WHEN LAND GETS GRABBED, DO WOMEN GET SIDELINED? http://wle.cgiar.org/blogs/2013/06/03/when-land-gets-grabbed-do-women-get-sidelined/
June 4, 2013 La Via Campesina
▶ INDONESIA: WOMEN FARMERS OF THE WORLD HEAD TO THEIR IV INTERNATIONAL ASSEMBLY http://viacampesina.org/en/index.php/main-issues-mainmenu-27/women-mainmenu-39/1413-indonesia-women-farmers-of-the-world-head-to-their-iv-international-assembly
▶ WE ARE THE SOLUTION! FAMILY FARMING IN WEST AFRICA http://sco.lt/6zfyK1
March 8, 2013 - farmlandgrab.org
▶ SECURING RIGHTS AND LIVELIHOODS FOR RURAL WOMEN IN THE CONTEXT OF CORPORATE LAND INVESTMENTS: LEARNING FROM EXPERIENCES IN AFRICA http://farmlandgrab.org/post/view/21743
▶ LIBERIAN WOMEN IMPACTED BY EXPANSION OF SIME DARBY'S INDUSTRIAL OIL PALM PLANTATIONS - farmlandgrab.org http://farmlandgrab.org/post/view/21726
March 8, 2013 - Deutche Welles Environment
▶ MEXICO'S RURAL WOMEN BATTLING DROUGHT, GUN-CARRYING GANGS AND A STRUGGLING DOMESTIC AGRICULTURAL MARKET http://www.dw.de/mexicos-rural-women-fight-drought/a-16653191?maca=en-rss-en-environment-4553-rdf
▶ AFRICAN WOMEN FARMERS SAY NO TO WESTERN-STYLE BIG AG TECHNIQUES http://www.scoop.it/t/agriculture-gmos-pesticides/p/994770640/african-women-
March 2, 2012 All Africa
▶ AFRICA: RURAL WOMEN LEAD THE WAY ON CLIMATE http://allafrica.com/view/group/main/main/id/00015839.html
▶ ▶ ▶ SEE MORE:
THE FEMALE FACE OF FARMING : No Longer a 'Man's World' http://sco.lt/8H4Igj