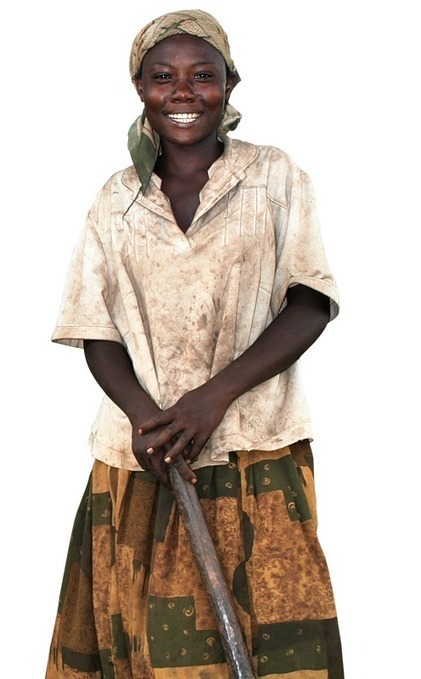 ▶ THE FEMALE FACE OF FARMING: AWARD-WINNING INFOGRAPH
Farmers. Workers. Entrepreneurs. Care-givers. Bread-winners. Bread-makers. Mothers. Wives.
Women are the backbone of the rural economy, especially in the developing world. Yet they receive only a fraction of the land, credit, inputs (such as improved seeds and fertilizers), agricultural training and information compared to men.
Empowering and investing in rural women has been shown to significantly increase productivity, reduce hunger and malnutrition and improve rural livelihoods. And not only for women, but for everyone. Let's take a closer look at the story of women and agriculture... http://www.farmingfirst.org/women/
WATCH
UN Women
THE ROLE OF WOMEN IN RURAL DEVELOPMENT, FOOD PRODUCTION AND POVERTY ERADICATION http://www.farmingfirst.org/women_infographic/
VIDEO
INTERNATIONAL WOMEN'S DAY, MARCH 8, 2013
INSPIRING CHANGE:
Globally, more than 600 million women are small-scale farmers and landless workers. Twelve women from around the world share their daily challenges, experiences and hopes for the future to mark International Women's Day on March 8, 2014. http://aas.cgiar.org/international-womens-day-inspiring-change
VIDEO
Lighthouse activities on Vimeo
▶ MOMENTUM FOR CHANGE WOMEN FOR RESULTS
PHOTO ESSAY
Modern Farmer, February 24, 2014
WOMEN ARE FEEDING THE WORLD
http://modernfarmer.com/2014/02/women-feeding-world/
International Women's Day:
-▶ THE SECRET OF 3 AFRICAN FEMALE FARMER' SUCCESS http://www.one.org/international/blog/share_the_secret/
CGIAR, March 05, 2014
-▶ INSPIRING CHANGE FOR RURAL WOMEN IN BANGLADESH THROUGH THE UE OF AGRICULTURAL BIODIVERSITY http://aas.cgiar.org/activity/news/inspiring-change-rural-women-bangladesh-through-use-agricultural-biodiversity#.UxmHal5kJK4
-▶ FARMING :
NO LONGER A 'MAN'S WORLD' : USA AND GLOBAL
VIDEO
-▶ WOMEN PLANTING STRUGGLES AND HOPE FOR FEMINISM AND FOOD SOVEREIGNTY
http://tv.viacampesina.org/Women-planting-struggles-and-hope?lang=en
Girls' Globe, January 27, 2014
▶ AFRICAN WOMEN: PILLARS OF AGRICULTURE BUT GREATLY MARGINALIZED http://girlsglobe.org/2014/01/27/african-women-pillars-of-agriculture-but-greatly-marginalized/
March 2, 2012 All Africa
▶ AFRICA: RURAL WOMEN LEAD THE WAY ON CLIMATE http://allafrica.com/view/group/main/main/id/00015839.html
CGIAR, March 05, 2014
-▶ INSPIRING CHANGE FOR RURAL WOMEN IN BANGLADESH THROUGH THE USE OF AGRICULTURAL BIODIVERSITY http://aas.cgiar.org/activity/news/inspiring-change-rural-women-bangladesh-through-use-agricultural-biodiversity#.UxmHal5kJK4
Girls' Globe, January 29, 2014
▶ ENDING HUNGER: THE TIME TO BEGIN IS NOW http://girlsglobe.org/2014/01/29/ending-hunger-the-time-to-begin-is-now/
FOLLOW - GIRLS' GLOBE http://girlsglobe.org/
Transform Nutrition, December 2013
▶ WOMEN'S EMPOWERMENT IN AGRICULTURE, PRODUCTION DIVERSITY AND NUTRITION http://www.transformnutrition.org/2013/12/02/womens-empowerment-in-agriculture-production-diversity-and-nutrition-evidence-from-nepal/
June 3, 2013 CGIAR WLE
-▶ WHEN LAND GETS GRABBED, DO WOMEN GET SIDELINED? http://wle.cgiar.org/blogs/2013/06/03/when-land-gets-grabbed-do-women-get-sidelined/
-▶ WOMEN'S RIGHTS AND THE RIGHT TO FOOD - UNITED NATIONS GENERAL ASSEMBLY - Report by Olivier De Schut - Special Rapporteur on the Right To Food http://www.ohchr.org/Documents/HRBodies/HRCouncil/RegularSession/Session22/AHRC2250_English.PDF
WATCH
Food and Agriculture Organization of the United Nations
▶ CLOSING THE GAP BETWEEN MEN AND WOMEN IN AGRICULTURE http://www.youtube.com/watch?v=uDM828TpVpY&feature=youtu.be&a
=========================
▶ WILL WOMEN LEAD THE GLOBAL SOCIAL ENTERPRISE REVOLUTION? http://sco.lt/80iNuL
▶ WOMEN'S KNOWLEDGE: THREE REASONS WE WON'T SOLVE CLIMATE CHANGE WITHOUT IT http://sco.lt/83NaQj
==========================
Farms.com
-▶ OLD McDONALD MIGHT BE A LADY: MORE WOMEN TAKE UP FARMING http://www.farms.com/ExpertsCommentary/old-mcdonald-might-be-a-lady-more-women-take-up-farming-71793.aspx
Thomson Reuters Foundation, October 13, 2013
▶ WHY DEVELOPMENT MUST TACKLE GENDER-BASED VIOLENCE http://www.trust.org/item/20131013183644-bikt2/?source=hpblogs
▶ VANDANA SHIVA: OUR VIOLENT ECONOMY IS HURTING WOMEN http://sco.lt/8zAPNR
LRI News
-▶ KEEPERS OF THE FLAME: WOMEN LIVESTOCK KEEPERS IN KENYA http://www.ilri.org/ilrinews/index.php/archives/11083
March 6, 2013 - Our World 2.0
-▶ WOMEN - GUARDIANS OF LIFE AND OF EARTH-
Women make up 43 percent of the agricultural labour force in developing countries and fight hunger on a daily basis. In this column, Jose Graziano da Silva, director-general of the United Nations Food and Agriculture Organisation (FAO), writes that giving women rights and access, in order to close the gender gap in the most vulnerable countries' farming systems, is one of the most important food security policies that governments and international cooperation agencies could ever implement.http://ourworld.unu.edu/en/guardians-of-life-and-of-earth/
IFAD social reporting blog, October 7, 2013
▶ RURAL WOMEN– UN PARTNERS SEEK DONOR SUPPORT FOR A JOINT EFFORT TO EMPOWER RURAL WOMEN http://ifad-un.blogspot.com/2013/10/ruralwomen-un-partners-seek-donor.html
September 4, 2013 All Africa
▶ AFRICA LOSES AS WOMEN FARMERS ARE MARGINALISED http://allafrica.com/stories/201309040276.html
UN WOMEN, February 9, 2012
▶ WOMEN FARMERS YIELDING PROFITS AND BETTER FUTURES IN RURAL RWANDA http://www.unwomen.org/en/news/stories/2012/2/women-farmers-yielding-profits-and-better-futures-in-rural-rwanda
Guardian Global Development, October 9, 2013
▶ WORLD HUNGER WILL NEVER BE SOLVED UNTIL UNDERLYING 'STRUCTURAL VIOLENCE' AND DISCRIMINATION AGAINST WOMEN IS ADDRESSED
Efforts to tackle global hunger and poor nutrition will not succeed unless the underlying "structural violence" and discrimination that prevents women from realising their human rights is addressed, according to a report from civil society groups.
The Alternatives and resistance to policies that generate hunger report, published on Tuesday, argues that particular attention must be paid to the social and political structures that constrain women's choices and limit their ability to participate in decision-making. These include discriminatory land laws and traditional gender roles... http://www.theguardian.com/global-development/2013/oct/09/women-world-hunger-food-rights
Guardian, September 25, 2013
▶ IMPROVING ACCESS TO SERVICES FOR WOMEN IN AGRICULTURE http://www.theguardian.com/global-development-professionals-network/2013/sep/25/women-agriculture-access-india

Inter Press Service, June 26, 2013
▶ WHY JAPAN IS CULTIVATING A GENERATION OF FEMALE FARMERS
http://www.ipsnews.net/2013/06/agriculture-leans-on-japanese-women/
June 3, 2013 CGIAR WLE
▶ WHEN LAND GETS GRABBED, DO WOMEN GET SIDELINED? http://wle.cgiar.org/blogs/2013/06/03/when-land-gets-grabbed-do-women-get-sidelined/
June 4, 2013 La Via Campesina
▶ INDONESIA: WOMEN FARMERS OF THE WORLD HEAD TO THEIR IV INTERNATIONAL ASSEMBLY http://viacampesina.org/en/index.php/main-issues-mainmenu-27/women-mainmenu-39/1413-indonesia-women-farmers-of-the-world-head-to-their-iv-international-assembly
▶ WE ARE THE SOLUTION! FAMILY FARMING IN WEST AFRICA http://sco.lt/6zfyK1
March 8, 2013 - farmlandgrab.org
▶ SECURING RIGHTS AND LIVELIHOODS FOR RURAL WOMEN IN THE CONTEXT OF CORPORATE LAND INVESTMENTS: LEARNING FROM EXPERIENCES IN AFRICA http://farmlandgrab.org/post/view/21743
▶ LIBERIAN WOMEN IMPACTED BY EXPANSION OF SIME DARBY'S INDUSTRIAL OIL PALM PLANTATIONS - farmlandgrab.org http://farmlandgrab.org/post/view/21726
March 8, 2013 - Deutche Welles Environment
▶ MEXICO'S RURAL WOMEN BATTLING DROUGHT, GUN-CARRYING GANGS AND A STRUGGLING DOMESTIC AGRICULTURAL MARKET http://www.dw.de/mexicos-rural-women-fight-drought/a-16653191?maca=en-rss-en-environment-4553-rdf
June 14, 2013 Humanosphere
BBC:
▶ A WOMAN'S FIGHT FOR HER LAND IN IVORY COAST REPRESENTS A MASSIVE GLOBAL INJUSTICE http://www.humanosphere.org/jp/bbc-a-womans-fight-for-her-land-in-ivory-coast-represents-a-massive-global-injustice/
UNEP, United Nations Environment Programme, November 6, 2013
▶ EMPOWERING WOMEN IN NATURAL RESOURCE MANAGEMENT CRITICAL FOR LASTING PEACE IN WAR-TORN COUNTRIES http://www.unep.org/newscentre/Default.aspx?DocumentID=2755&ArticleID=9685&l=en
June 24, 2013
▶ FEMALE LAND OWNERSHIP: Promoting equitable land ownership in Ethiopia and Rwanda http://wle.cgiar.org/blogs/2013/06/24/from-policy-to-action-promoting-equitable-land-ownership-in-ethiopia-and-rwanda/
Inter Press Service, January 5, 2014
-▶ SANTIAGO: WOMEN FARMERS IN CHILE TO TEACH THE REGION AGROECOLOGY
An organisation that brings together some 10,000 peasant and indigenous women from Chile is launching an agroecology institute for women campesinos, or small farmers, in South America.
http://www.ipsnews.net/2014/01/women-farmers-chile-teach-region-agroecology/

June 4, 2013 La Via Campesina
-▶ INDONESIA: WOMEN FARMERS OF THE WORLD HEAD TO THEIR IV INTERNATIONAL ASSEMBLY http://viacampesina.org/en/index.php/main-issues-mainmenu-27/women-mainmenu-39/1413-indonesia-women-farmers-of-the-world-head-to-their-iv-international-assembly
▶ AFRICAN WOMEN FARMERS SAY NO TO WESTERN-STYLE BIG AG TECHNIQUES http://www.scoop.it/t/agriculture-gmos-pesticides/p/994770640/african-women-
RESOURCES
GIRLS' GLOBE http://girlsglobe.org/
OSU Women Farmer Networks | Small Farms Programs http://smallfarms.oregonstate.edu/womens-farmer-networks/main
WOMEN'S AGRICULTURE COMMUNITY WEB http://www.safs.msu.edu/womenag/aboutus/us.htm
WOMEN FARM - WOMEN TEACHING WOMEN TO FARM REGIONALLY http://www.womenfarm.com/
HOLISTIC MANAGEMENT INTERNATIONAL: Agricultural Education, Sustainable Land Management | Healthy Land, Sustainable Future http://holisticmanagement.org/
▶ SEE MORE
-▶ PHOTOS OF "WOMEN FARMERS' GOOGLE IMAGE SEARCH http://ow.ly/jbLfg