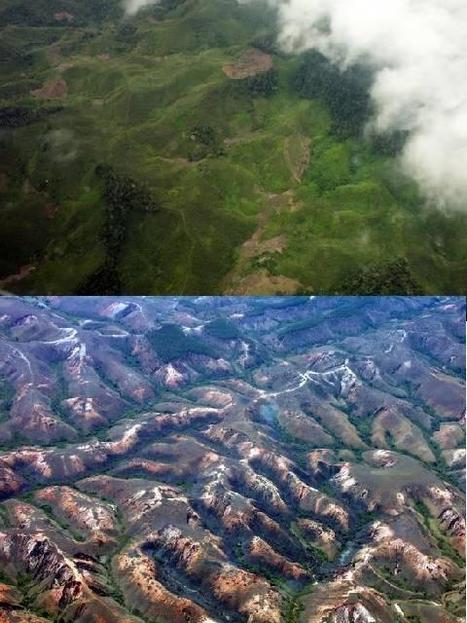 November 30, 2012; Union of Concerned Scientists
If you've ever checked product labels or company websites from the brands you buy, you've probably come across references to "sustainable palm oil" but what exactly does that mean?
Palm oil, which is currently the world's most used vegetable oil, is found in thousands of products we use every day. It's not only used for cooking, but can also be found in everything from candy bars and cookies to cleaning products and shampoo and even fuel. But there is a flip side: palm oil production drives more tropical deforestation (a major contributor to climate change) than any other vegetable oil... "certified sustainable palm oil" can still drive tropical deforestation and still have an enormous carbon footprint.http://blog.ucsusa.org/sustainable-palm-oil-should-not-drive-deforestation/#.ULkM4IdbyMQ.twitter
Mongabay, February 12, 2014
▶ DESPITE FALLING PALM OIL PRICE, PREMIUM FOR SUSTAINABLE PRODUCT RISES http://news.mongabay.com/2014/0212-palm-oil-price-premium.html
Nation of Change, November 11, 2013
▶ HOW FOOD WITH PALM OIL IS WIPING OUT ORANGUTANS AND ENSLAVING WORKERS http://www.nationofchange.org/how-food-palm-oil-wiping-out-orangutans-and-enslaving-workers-1384182288
One Green Planet
▶ ARE YOU EATING DIRTY PALM OIL? THE DAMAGE CAUSED BY PALM OIL INDUSTRY IS IRREVERSIBLE http://www.onegreenplanet.org/animalsandnature/are-you-eating-dirty-oil-the-environmental-impacts-of-the-palm-oil-industry/
Business Green, December 24, 2013
▶ HOW SUSTAINABLE IS YOUR MINCE PIE (AND ITS PALM OIL) http://www.businessgreen.com/bg/news/2320494/how-sustainable-is-your-mince-pie-and-its-palm-oil
Wildlife Extra News, January 2014
▶ L'OREAL COSMETIC COMPANY COMMITS TO END ROLE IN DEFORESTATION http://www.wildlifeextra.com/go/news/L-Oreal%20-deforestation.html#cr
▶ DO YOUR COOKIES AND SHAMPOO CONTAIN "DEFORESTATION"? http://sco.lt/5gTaj3
March 24, 2014
▶ COLGATE-PALMOLIVE ISSUES POLICY ON NO DEFORESTATION http://www.csrwire.com/press_releases/36835-Colgate-Palmolive-Issues-Policy-on-No-Deforestation
July 19, 2012 Mongabay
▶ EXPERTS: SUSTAINABLE LOGGING IN RAINFORESTS IMPOSSIBLE http://news.mongabay.com/2012/0718-hance-sustainable-logging.html
VIDEO:
THE PALM OIL HOLOCAUST -AND WE STAND BY AND ALLOW CORPORATE ECOCIDE? http://sco.lt/7KU641
Scientific American
▶ STOP BURNING RAINFORESTS FOR PALM OIL http://sco.lt/8t8aFl
▶ THE CORPORATE PALM OIL HOLOCAUST: ORANGUTAN CLINGS TO LAST REMAINING TREE AS ENTIRE FOREST BULLDOZED http://sco.lt/6JcGOn
JustMeans, January 16, 2014
▶ IS "SUSTAINABLE" PALM OIL ABOUT TO BECOME THE NORM? http://www.justmeans.com/blogs/is-sustainable-palm-oil-about-to-become-the-norm
▶ EXPERTS: THERE'S NO SUCH THING AS SUSTAINABLE AND PROFITABLE LOGGING IN RAINFORESTS http://www.scoop.it/t/biodiversity-is-life/p/2204091738/experts-there-s-no-such-thing-as-sustainable-profitable-logging-in-rainforests
VIDEO ANIMATION
" THE STORY OF UN REDD"
A REAL SOLUTION OR ACCELERATOR FOR DEFORESTATION?
http://www.scoop.it/t/biodiversity-is-life/p/2973775544/the-story-of-redd-a-real-solution-or-accelerator-for-deforestation-animation
International Institute for Environment and Development, March 18, 2013
▶ FOUR ACTIONS TO REDUCE THE 'FOREST FOOTPRINT' OF COMMODITIES http://www.iied.org/four-actions-reduce-forest-footprint-commodities
IPS News
▶ SUSTAINABILITY AND CONSERVATION NOW A MATTER OF LIFE AND DEATH http://www.ipsnews.net/2012/08/qa-sustainability-now-a-matter-of-life-and-death/
Care2, November 23, 2012
▶ HOW TO STOP BUYING PALM OIL AND HELP SAVE THE ORANGUTANS AND RAINFORESTS http://www.care2.com/greenliving/how-to-stop-buying-palm-oil-and-help-save-the-orangutans.html
WATCH:
ASIA PULP AND PAPER (APP) STILL SLASHING FORESTS IN INDONESIA, DESPITE NEW "SUSTAINABILITY" POLICY http://sco.lt/7cuFN3
ScienceDaily, December 19, 2013
-▶ IF A TREE DOESN'T FALL IN CHINA, CAN YOU HEAR IT ELSEWHERE IN THE WORLD http://www.sciencedaily.com/releases/2013/12/131219154553.htm
100 Reporters, November 21, 2013
▶ GLOBAL LAND GRAB: RAINFOREST VANISHING IN SHADY DEALS, REPORT SAYS. Spurred by increasing food prices and demand for biofuels in Europe and North America, one of the world's largest rainforests in Papua New Guinea is quickly disappearing under a voracious land rush that has handed 12 percent of the country's entire land area to foreign companies over the last decade, according to a new report. http://100r.org/2013/11/global-land-grab-rainforest-vanishing-in-shady-deals-report-says/
▶ NEW STUDY SLAMS INDONESIA'S FOREST PROTECTION: ONLY 3% OF FOREST WILL BE INTACT http://www.asiasentinel.com/?id=4470&Itemid=226&option=com_content&task=view
Mongabay, November 7, 2013
▶ PALM OIL COMPANIES IGNORING COMMUNITY RIGHTS, NEW STUDY SHOWS, Members of the Roundtable on Sustainable Palm Oil (RSPO) are violating the rights of local communities in tropical forests and failing to live up to social and environmental commitments http://news.mongabay.com/2013/1107-dparker-palm-oil-rights.html?n3ws1ttr
--- IMPORTANT WATCH ----
Don't Miss This Award Winning Best Short Documentary
REMEMBERING "GREEN"
AN ORANGUTAN'S JOURNEY
WATCH
VIDEO REPORT
TEN NEWS "PALM OIL ECOCIDE" TV AUSTRALIA VIDEO: http://www.scoop.it/t/biodiversity-is-life/p/1561454232/palm-oil-ecocide-ten-news-australia-video
▶ MAJOR PALM OIL COMPANIES ACCUSED OF ECOSIDE, BREAKING ETHICAL PROMISES IN ASIA AND AFRICA http://sco.lt/8TkGjh
▶ ECOCIDE: A PLAGUE OF DEFORESTATION SWEEPS ACROSS SOUTHEAST ASIA WITH TERRIBLE LOSS OF WILDLIFE AND BIODIVERSITY http://sco.lt/4lJ5ZR
WATCH
TED VIDEO
MAKING ECOCIDE AN INTERNATIONAL CRIME AGAINST PEACE
http://eradicatingecocide.com/
▶ ERADICATING ECOCIDE: WHY BUSINESS LEADERS MUST STEP UP TO THE CHALLENGE http://sco.lt/56vkOH
---- WATCH ----
July 4, 2013 theEcologistTV
LIQUID IVORY:
HOW PALM OIL IS KILLING INDONESIAN ELEPHANTS http://www.youtube.com/watch?v=vwI-N5KSUjQ&feature=youtu.be
▶ DEFORESTATION EMISSIONS. BIG FACTS http://www.scoop.it/t/biodiversity-is-life/p/3567321526/deforestation-emissions-big-facts
▶ AGRICULTURE CAUSES 80% OF TROPICAL DEFORESTATION - THE TERRIBLE PRICE WE PAY http://sco.lt/8DCl1d
▶ FOOD OR FUEL? RESEARCH SUGGESTS BIOFUELS WILL COST THE EARTH http://sco.lt/8ezJ2X
ASTOUNDING VIDEO:
PHILIPPINES - CORPORATE AND MILITARY FORCES RAVAGING FORESTS, DESTROYING INDIGENOUS LIVELIHOODS, CREATING DEPENDENCY http://sco.lt/7ywdeb
May 10, 2013 Guardian UK
▶ INDONESIA'S TROPICAL FORESTS SET TO BENEFIT FROM FURTHER CLEARING BAN? MAYBE... http://www.guardian.co.uk/world/2013/may/10/indonesia-tropical-forests-clearing-ban
▶ DESPITE MORATORIUM, INDONESIA FAILING TO TAKE ACTION ON ILLEGAL PALM OIL PLANTATIONS http://www.scoop.it/t/biodiversity-is-life/p/2162791585/despite-moratorium-indonesia-failing-to-take-action-on-illegal-palm-oil-plantations
VIDEO
INDIGENOUS AND THEIR FORESTS DESTROYED IN SARAWAK, MALAYSIA AS TOP LEVEL CORRUPTION REVEALED http://sco.lt/5Y6uUT
July 17, 2013 Mongabay
▶ 80% OF RAINFORESTS IN MALAYSIAN BORNEO LOGGED - ALONG WITH ALL LIFE WITHIN IT http://news.mongabay.com/2013/0717-borneo-rainforest-logging.html
--- WATCH --
"ALMA" a Journey Into The Soul Of Humanity -
Deforestation in The Amazon
A powerful statement about the global industrial economy and the terrible price we pay for deforestation and mindless consumerism http://sco.lt/60MIAz
Forest Peoples Programme
▶ CIVIL SOCIETY ORGANISATIONS CALL ON FINANCIAL INSTITUTIONS TO STOP FUNDING DEFORESTATION IN INDONESIA http://www.forestpeoples.org/topics/pulp-paper/news/2012/11/civil-society-organisations-call-financial-institutions-stop-funding-
CleanTechies Blog
▶ INDONESIAN PALM OIL IS GROWING SOURCE OF CO2 EMISSIONS, STUDY SHOWS http://blog.cleantechies.com/2012/10/09/indonesian-palm-oil-is-growing-source-of-co2-emissions-study-shows/
▶ PALM OIL PLANTATIONS REPLACING FORESTS IN KALIMANTAN, INDONESIA http://www.redd-monitor.org/2012/10/10/oil-palm-plantations-replacing-forests-in-kalimantan/
▶ FOREST CORRUPTION: iNDONESIAN VILLAGERS FACE OFF AGAINST PALM OIL FIRM'S BULLDOZERS http://www.eia-international.org/villagers-face-off-against-palm-oil-firms-bulldozers
▶ STANFORD RESEARCHERS SHOW PALM OIL PLANTATIONS ARE CLEARING CARBON-RICH TROPICAL FORESTS IN BORNEO http://www.seeddaily.com/reports/Stanford_researchers_show_oil_palm_plantations_are_clearing_carbon_rich_tropical_forests_in_Borneo_999.html
▶ THE DARK SIDE OF THE "GREEN ECONOMY" - THE WHOLESALE PRIVATIZATION OF NATURE http://www.scoop.it/t/biodiversity-is-life/p/2488706173/the-dark-side-of-the-green-economy-the-wholesale-privatization-of-nature
▶ RAREST GORILLAS LOSE HALF THEIR HABITAT IN 20 YEARS http://news.mongabay.com/2012/1001-great-apes-habitat.html
▶ INDONESIA: THE RAPE AND PILLAGE OF SUMATRAN TIGERS' LAST STRONGHOLD http://sco.lt/62jf3h
▶ DEFORESTATION AND EXTINCTION: CONFUSED KOALA DISCOVER HE HAS NOWHERE TO GO (PHOTOS) http://sco.lt/6BsWW1
▶ GMO FORESTS CREATE BIOLOGICAL DESERTS: MONSANTO GMO TREES COULD DEVASTATE FOREST ECOSYSTEMS: ERADICATING REAL FORESTS TO PLANT MONOCULTURE BIO-ENGINEERED TREES http://sco.lt/52lFDN
▶ AMAZON'S DOOMED SPECIES SET TO PAY DEFORESTATION'S EXTINCTION DEBT http://www.scoop.it/t/biodiversity-is-life/p/2162066015/amazon-s-doomed-species-set-to-pay-deforestation-s-extinction-debt
▶ AGRICULTURE IS THE LEADING CAUSE OF SOME 75 PERCENT OF GLOBAL DEFORESTATION http://ccafs.cgiar.org/bigfacts/deforestation-emissions/... ccafs­.cgiar.org -
May 3, 2013 Guardian Environment
▶ THE BIOMASS INDUSTRY SHOULD COME CLEAN ABOUT ITS ENVIRONMENTAL IMPACT http://www.guardian.co.uk/environment/blog/2013/may/03/biomass-industry-environmental-impact
May 29, 2013 Inter Press Service:
▶ LAND GRABS AND THE BITTER TASTE OF LIBERIA'S PALM OIL PLANTATIONS: http://www.ipsnews.net/2013/05/the-bitter-taste-of-liberias-palm-oil-plantations/?utm_source=dlvr.it&utm_medium=twitter
▶ FOR MORE ON FOOD CRISIS AND THE GLOBAL LAND GRAB http://www.farmlandgrab.org
MUCH MORE ON PALM OIL ECOCIDE - THE DEFORESTATION HOLOCAUST: Fast-Tracking Our Own Extinction http://www.scoop.it/t/biodiversity-is-life/p/1510545458/fast-tracking-our-own-extinction-the-deforestation-holocaust-
AND MUCH MORE ON THE CORPORATE RAINFOREST PALMOIL ECOCIDE http://www.scoop.it/t/biodiversity-is-life?q=PALM+OIL+ECOCIDE