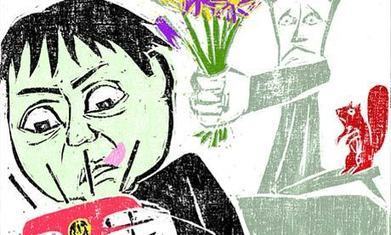 November 19, 2012 The Guardian, George Monbiot
- ▶ IF CHILDREN LOSE CONTACT WITH NATURE THEY WON'T FIGHT FOR IT. With half of their time spent at screens, the next generation will be poorly equipped to defend the natural world from harm...
... While the surveys show that the great majority would like to see the living planet protected, few are prepared to take action. This, I think, reflects a second environmental crisis: the removal of children from the natural world. The young people we might have expected to lead the defence of nature have less and less to do with it... http://www.guardian.co.uk/commentisfree/2012/nov/19/children-lose-contact-with-nature
Playworks, April 22, 2014
- ▶ PARENTS AGREE, "OUR KIDS NEED MORE NATURE" http://www.playworks.org/blog/parents-agree-our-kids-need-more-nature?
Mother Nature Network, April 09, 2014 - INFOGRAPH
- ▶ PARENTS WORLDWIDE AGREE: KIDS NEED MORE TIME OUTSIDE http://www.mnn.com/health/healthy-spaces/blogs/parents-worldwide-agree-kids-need-more-time-outside
George Monbiot, October 7, 2013
- ▶ REWILD THE CHILD http://www.monbiot.com/2013/10/07/rewild-the-child/
- ▶ CHILDREN AND NATURE: OUR FUTURE STEWARDS http://nativeplantwildlifegarden.com/future-stewards/
Children & Nature, November 05, 2013
- ▶ "WHY I PRESCRIBE NATURE" — In D.C., Pioneering Pediatricians Offer New Hope and Health Through Park Rx : The New Nature Movement http://blog.childrenandnature.org/2013/11/05/why-i-prescribe-nature-in-d-c-pioneering-pediatricians-and-park-rx-offer-new-hope-and-health/
- ▶ THE iMATTERS MOVEMENT: The voice of the generation most impacted by the climate crisis must be heard...http://www.imatteryouth.org/
April 18, 2014, Penn State News
- ▶ KIDS CAN EXPLORE FASCINATING WORLD OF INSECTS AT BUG CAMP http://news.psu.edu/story/312580/2014/04/17/campus-life/kids-can-explore-fascinating-world-insects-bug-camp
BENEFITS OF SPENDING TIME IN NATURE
Showing children how everything is connected reminds us all that we are a part of something bigger than ourselves! http://www.naturerocks.org/benefits/index.htm
YES Magazine, March 29, 2014
- ▶ YOU CAN'T BOUNCE OFF THE WALL IF THERE ARE NO WALLS: OUTDOOR SCHOOLS MAKE KIDS HAPPIER -- AND SMARTER http://www.yesmagazine.org/issues/education-uprising/the-original-kindergarten
The Atlantic, April 22, 2014
- ▶ MY STUDENTS DON'T KNOW HOW TO HAVE A CONVERSATION. "Students' reliance on screens for communication is detracting—and distracting—from their engagement in real-time talk." http://www.theatlantic.com/education/archive/2014/04/my-students-dont-know-how-to-have-a-conversation/360993/
July 22, 2013 Yahoo Shine
- ▶ NATURE'S RITALIN: 7 STUDIES SHOW WHY TIME OUTDOORS MAKES FOR HIGHER-FUNCTIONING KIDS http://shine.yahoo.com/green/nature-8217-ritalin-7-studies-show-why-time-172900536.html
Natural England
- ▶ ENGAGING CHILDREN ON THE AUTISTIC SPECTRUM WITH THE NATURAL ENVIRONMENT: Teacher insight study and evidence review http://publications.naturalengland.org.uk/publication/11085017
Children And Nature,
- ▶ NATURE-DEFICIT DISORDER
http://blog.childrenandnature.org/2014/02/04/australias-young-natural-leaders-students-asked-the-questions-in-2012/
VIDEO
Children and Nature Network - The New Nature Movement
"THE CHILD IN NATURE"
NATURE DEFICIT DISORDER
A Film by Miranda Andersen, 13,
http://blog.childrenandnature.org/2013/02/04/the-child-in-nature-a-new-film-by-miranda-andersen-13/
Salon, February 16, 2014
- ▶ OUTDOOR LEARNING: EDUCATION'S NEXT REVOLUTION?
A Growing body of research suggests that exposing students to Nature could yield extraordinary results http://www.salon.com/2014/02/16/outdoor_learning_educations_next_revolution/
Guardian, Green Schools Hub, March 12, 2014
- ▶ CROPS TO CLASSROOMS: HOW SCHOOL FARMS ARE GROWING STUDENT ENGAGEMENT. School farms boost learning and engagement across the curriculum, and provide innovative ways to teach students about wellbeing and green issues http://www.theguardian.com/teacher-network/teacher-blog/2014/mar/12/school-farms-engaging-students-curriculum-sustainability
Guardian, Green Schools Hub, July 12, 2014
-▶ ONE SCHOOL'S RECIPE FOR A HEALTHY APPROACH TO FOOD http://www.theguardian.com/teacher-network/teacher-blog/2013/jul/12/school-food-plan-primary-project
WATCH
VIDEO REPORT, NHK World English
SMART PHONES, SMART KIDS, SMART APPS
STARTING AT ONE YEAR OLD IN JAPAN
http://www3.nhk.or.jp/nhkworld/english/movie/feature201211211022.html
WrenSong
- ▶ WILDLIFE GARDENS BETTER FOR CHILDREN THAN TV AND DISNEY GARDENS http://www.beautifulwildlifegarden.com/wildlife-gardens-for-kids-not-disney-yards.html
- ▶ THE SCIENCE OF MARKETING FOOD ADDICTION TO KIDS http://sco.lt/8oqaEj
SlowMama, February 19, 2014
-▶INTO THE WILD: LEARNING FROM FOREST KINDERGARTEN SCHOOLS IN DENMARK
http://slowmama.com/travel/into-the-wild-learning-about-forest-kindergarten/
-▶ GO EXPLORE NATURE: WHERE CONNECTING KIDS WITH NATURE IS WHAT IT'S ALL ABOUT
Beginners Guide http://www.goexplorenature.com/
TED TALK VIDEO
Louie Schwartzberg:
"NATURE. BEAUTY. GRATITUDE"
http://www.ted.com/talks/louie_schwartzberg_nature_beauty_gratitude
Gizmag, June 03, 2013
-▶ CLASSROOMS THAT GROW FOOD. The SEEDclassroom is a place for children to learn and think about sustainability (SEED itself standing for Sustainable Education Every Day). Each 900 sq ft (84 sq m) building catches rainwater to be used in the sinks and basins, from which water is intercepted once again, and filtered through a "living wall" of edible plants. The classroom's energy is provided by rooftop solar power http://www.gizmag.com/seed-classroom/27763/
The New Nature Movement , February 07, 2014
- ▶TRENDS THAT GIVE US HOPE: THE POWER AND POTENTIAL OF GREEN SCHOOL YARDS http://blog.childrenandnature.org/2014/02/07/trends-that-give-us-hope-the-power-and-potential-of-green-schoolyards/
VIDEO
PROJECT WILD THING
CONNECTING CHILDREN WITH NATURE
An interview with film producer David Bond
http://www.youtube.com/watch?v=KgmmMKmX6oI&feature=youtu.be&campid=twitter
Spiegel Online International, November 22, 2013
- ▶ GOING BACK TO NATURE WITH FOREST KINDERGARTENS http://www.spiegel.de/international/zeitgeist/forest-kindergartens-could-be-the-next-big-export-from-germany-a-935165.html
Ecosystem Gardening
- ▶ WILDLIFE GARDENING WITH CHILDREN CREATES AWE AND WONDER http://www.ecosystemgardening.com/awe-and-wonder-always-welcome-in-the-garden.html
Guardian Environment, October 16, 2013
- ▶ FOUR OUT OF FIVE UK CHILDREN 'NOT CONNECTED TO NATURE' http://www.theguardian.com/environment/2013/oct/16/uk-children-not-connected-nature-rspb
August 29, 2013 Modern Farmer
- ▶ TURNING SCHOOL GARDENS INTO OUTDOOR CLASSROOMS http://modernfarmer.com/2013/08/using-school-gardens-classrooms/
August 6, 2013 Living Green Magazine
- ▶ GET YOUR KIDS HIKING ! START THEM YOUNG AND KEEP IT FUN http://livinggreenmag.com/2013/08/06/lifestyle-choices/get-your-kids-hiking-start-them-young-and-keep-it-fun/
Center for International Forestry Research, January 20, 2014
-▶ STUDY HIGHLIGHTS LINK BETWEEN TREE COVER AND NUTRITION IN CHILDREN http://blog.cifor.org/21069/study-highlights-link-between-tree-cover-and-nutrition-in-children#.UudecPbTlcy
Global Possibilities, December 23, 2013
- ▶ THE AMAZING WAYS NATURE CAN HEAL YOU AND MAKE YOU FEEL AT YOUR BEST http://www.globalpossibilities.org/the-amazing-ways-nature-can-heal-you-and-make-you-feel-at-your-best/
GOOD, December 6, 2013
- ▶ EVERY SCHOOL SHOULD HAVE A FARM TO FEED ITS STUDENTS http://www.good.is/posts/every-school-should-have-a-farm-to-feed-its-students?utm_source=email&utm_medium=digest&utm_campaign=title&utm_content=learn&utm_term=2
Center for International Forestry Research, January 20, 2014
-▶ STUDY HIGHLIGHTS LINK BETWEEN TREE COVER AND NUTRITION IN CHILDREN http://blog.cifor.org/21069/study-highlights-link-between-tree-cover-and-nutrition-in-children#.UudecPbTlcy
Guardian Environment, October 16, 2013
- ▶ FOUR OUT OF FIVE UK CHILDREN 'NOT CONNECTED TO NATURE' http://www.theguardian.com/environment/2013/oct/16/uk-children-not-connected-nature-rspb
FastCo Exist
- ▶ A DOSE OF NATURE HELPS CITY DWELLERS FIGHT THEIR NEED FOR INSTANT GRATIFICATION http://www.fastcoexist.com/3024153/a-dose-of-nature-helps-city-dwellers-fight-their-need-for-instant-gratification
- ▶ URBAN NATURE: HOW TO FOSTER BIODIVERSITY IN WORLD'S CITIES: A NEW URBAN WILDLIFE MOVEMENT? http://sco.lt/7ZVttR
- ▶ BRINGING NATURE BACK INTO YOUR LIFE -- AND THE WORK PLACE http://sco.lt/5ih73J
- ▶ AGRITECTURE: OFFICE BUILDINGS THAT GROW FOOD http://sco.lt/8m8LZ3
- ▶ DON'T FORGET WHAT IS KEEPING YOU ALIVE: DAVID ATTENBOROUGH ON OUR ALIENATION FROM NATURE http://sco.lt/8oZkvZ

- ▶ KEEPING NATURE IN OUR FUTURE: HEALTHY ECOSYSTEMS ESSENTIAL FOR ECONOMIC AND PLANETARY SURVIVAL http://sco.lt/99SfhJ
▶ HOW BIODIVERSITY COULD SAVE YOUR LIFE http://sco.lt/90Sr2n
▶ LARGE-SCALE BIODIVERSITY IS VITAL TO MAINTAIN HUMAN AND ECOSYSTEM HEALTH http://sco.lt/8amPlR
▶ RESTORING THE EARTH - THE BONN CHALLENGE http://sco.lt/4p7B3Z
▶ WEB-OF-LIFE UNRAVELLING - HEALTHY ECOSYSTEMS VITAL FOR ALL PLANETARY LIFE http://sco.lt/8idD7J
- ▶ BETTER THAN HUMAN? ROBOTS COULD HANDLE MOST U.S. CAREERS IN 20 YEARS http://sco.lt/7sjVKr