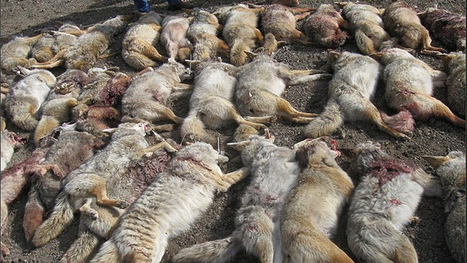 WildEarthGuardians, November 15, 2012
-▶ Every year literally hundreds of thousands of our nation's most majestic animals - including wolves, coyotes, grizzly bears and mountain lions- are poisoned, trapped and gunned down by the US government.
Few taxpayers realize that we help fund an agency called "Wildlife Services', a branch of the U.S. Department of Agriculture that wages a dirty war on America's wildlife. Between 2004 and 2011, Wildlife Services killed over 26 million animals purportedly to "protect" agribusiness or "bolster" hunting opportunities – a contention based on unsupported myths. The agency spends over $100 million each year on wildlife-killing actions... http://www.wildearthguardians.org/site/PageServer?pagename=priorities_wildlife_war_wildlife
======================
KILLING OUR WILDLIFE FOR ECONOMIC REASONS IS NOT OKAY. WE HUMANS ARE THE INTRUDERS, THEN KILL/DESTROY ANYTHING IN OUR PATH THAT DOESN'T FIT WITH OUR BOTTOMLINE. (BIG AG, RANCHING) WE CANNOT CONTINUE TO ANNIHILATE AND DESTROY THE NATURAL BALANCE OF OUR BIOSPHERE WITHOUT PAYING A TERRIBLE PRICE (POLLUTION, CLIMATE CHANGE) DOWN THE LINE FOR, WITHOUT NATURE WE DO NOT EXIST. THERE IS A NATURAL BALANCE WITHIN THE ENVIRONMENT THAT HUMANS ARE CHOOSING TO IGNORE, AT THEIR OWN PERIL.
=====================
Arizona Daily Star, April 16, 2014-▶ ARIZONA SENATE OKs KILLING OF ENDANGERED WOLVES http://azstarnet.com/news/state-and-regional/arizona-senate-oks-killing-of-endangered-wolves/article_d7cf1cdc-c59b-11e3-85e3-001a4bcf887a.html
Endangered Species Coalition, April 08, 2014
-▶ KILLING WOLVES: A HUNTER-LED WAR AGAINST SCIENCE AND WILDLIFE http://www.endangered.org/killing-wolves-a-hunter-led-war-against-science-and-willdife/
VIDEOS:
George Monbiot, The Guardian UK
MASS WOLF KILLINGS
ARE BASED ON THE MOST CYNICAL OF PREMISES
Summit Voice, April 25, 2014
-▶ MONTANA SUPREME COURT RULING CLEAR WAY TO RESTORE BISON ON FORT PECK AND FORT BELKNAP NATIVE AMERICAN LANDS http://summitcountyvoice.com/2013/06/25/montana-supreme-court-ruling-clears-way-to-restorate-bison-on-fort-peck-and-fort-belknap-native-american-lands/
eNews Park Forest, April 06, 2014
-▶ U.S. HOUSE MAJORITY AIMS TO DISMANTLE ENDANGERED SPECIES ACT WITH PIECEMEAL APPROACH.Proposals would undermine protections for wildlife on the brink of extinction http://enewspf.com/opinion/commentary/51812-house-majority-aims-to-dismantle-endangered-species-act-with-piecemeal-approach.html
Center for Biological Diversity, December 3, 2013
▶ PETITION SEEKS TO REFORM SECRETIVE FEDERAL AGENCY THAT KILLS MILLIONS OF WILD ANIMALS. 'Wildlife Services' Shoots, Traps, Poisons Animals With Little Regulation, Public Accountability http://www.biologicaldiversity.org/news/press_releases/2013/wildlife-services-11-03-2013.html
WildEarth Guardians
-▶ A ROGUE US GOVERNMENT AGENCY: HORRIFYING USDA WILDLIFE AGENCY TRAPPING ABUSE
Animal abuse and suffering posted on a Wildlife Services' agent's Facebook and other Web pages are stirring anger among wildlife advocates. The images show two dogs savagely attacking a coyote in a leg-hold trap and the employee posing with the tattered carcass of a coyote. They also show other trapped animals – dead and alive http://wg.convio.net/site/PageServer?pagename=priorities_wildlife_war_wildlife_kill_methods_trapping_abuse&autologin=true
WATCH - New Documentary
-▶ "EXPOSED: AMERICA'S SECRET WAR ON WILDLIFE" -▶
http://www.predatordefense.org/exposed/
In FY 2010, Wildlife Services admitted it killed 5 million animals (but its numbers are suspect. In 2010, it belatedly claimed to have poisoned 4 million starlings, black birds, and others in 2009), including 112,781 mammalian carnivores such as coyotes, wolves, bobcats, cougars, badgers and bears....
-▶ THE DEADLIEST DOZEN COUNTIES FOR WILDLIFE IN THE AMERICAN WEST - WildEarth Guardians http://www.wildearthguardians.org/site/News2?page=NewsArticle&id=7747
Reuters, March 19, 2014
-▶ IDAHO TO KILL/POISON THOUSANDS OF RAVENS TO "BENEFIT" IMPERILED BIRD SPECIES http://www.reuters.com/article/2014/03/19/usa-idaho-raven-idUSL2N0MG12V20140319
July 30, 2013 Focusing on Wildlife
-▶ THE U.S. FISH AND WILDLIFE SERVICE HAS ISSUED A PERMIT TO THE U.S. DEPARTMENT OF AGRICULTURE TO KILL OVER 90 SPECIES OF BIRDS within New York State this year, ANIMAL has learned. The birds slated for killing include owls, herons, hawks, and woodpeckers, in addition to the slaughter of Canada geese that has been widely publicized... http://focusingonwildlife.com/news/dozens-of-bird-species-could-be-slaughtered-in-new-york/
HLNtv, January 06, 2014
-▶ CONGRESSMEN CHALLENGE GOVERNMENT'S WAR ON WILDLIFE - The USDA's wildlife services is a cruel program that forces taxpayers to fuel the vicious killing of millions of wild animals for the benefit of select businesses like the cattle industry.
http://www.hlntv.com/video/2014/01/06/congressmen-challenge-govs-war-wildlife
EcoWatch, March 21, 2014
-▶ IDAHO PASSES BILL TO KILL HUNDREDS OF WOLVES http://ecowatch.com/2014/03/21/idaho-bill-to-kill-hundreds-of-wolves/
-▶ FEWER THAN 100 RED WOLVES EXIST, AND NOW THEY BEING KILLED http://www.care2.com/causes/fewer-than-100-red-wolves-exist-and-now-theyre-being-killed.html
-▶ MICHIGAN GOP LAWMAKERS ARE CONSIDERING LEGISLATION TO MAKE GRAY WOLVES A "GAME SPECIES" http://www.michiganradio.org/post/tribes-opposed-possibility-michigan-wolf-hunting-season
Cascadia Wildlands, March 31, 2014
-▶ NEARLY 500,000 MORE AMERICANS SPEAK OUT AGAINST FEDERAL PLAN TO STIP GRAY WOLVES OF PROTECTIONS http://www.cascwild.org/nearly-500000-more-americans-speak-out-against-federal-plan-to-strip-gray-wolves-of-protections/
The Tyee, March 27, 2014
-▶ TRAPPERS WARN OF INHUMANE BC WOLF KILLING PLANS http://thetyee.ca/News/2014/03/27/BC-Wolf-Killing/
========================
August 23, 2013 Care2Causes
-▶ U.S. GOVT GIVES LOGGERS OK TO KILL ENDANGERED SPOTTED OWLS WHILE RAZING OLD GROWTH FORESTS http://www.care2.com/causes/loggers-get-the-ok-to-kill-endangered-spotted-owls.html#ixzz2cxDziUqa
Forbes, November 05, 2013
▶ U.S. RANCHERS INSISTENCE ON CHEAP TAX-SUPPORTED GRAZING KEEPS WOLF POPULATION IN THE CROSSHAIRS http://www.forbes.com/sites/jamesmcwilliams/2013/11/05/ranchers-insistence-on-cheap-grazing-keeps-wolf-population-in-the-crosshairs/
Focusing On Wildlife, February 25, 2014
▶ STOP WILDLIFE KILLING CONTESTS IN CALIFORNIA. "What's at issue, is the wanton waste of wildlife and the awarding of prizes and inducements to kill as many individuals as possible- and the largest," stated Camilla Fox, founder and executive director of Project Coyote. "This is obviously not about sport or fair-chase. Wildlife killing contests are conducted for profit, entertainment, prizes and, simply, for the 'fun' of killing. No evidence exists showing that such indiscriminate killing contests control problem animals or serve any beneficial management function. Moreover such contests perpetuate a culture of violence and send the message to children that life has little value and that an entire species of animals is disposable." http://focusingonwildlife.com/news/stop-wildlife-killing-contests-in-california/
Conservatives Against Fox Hunting, March 2014
▶ FARMER SPEAKS OUT AGAINST RELAXATION OF FOX HUNTS http://www.conservativesagainstfoxhunting.com/2014/03/farmer-speaks-out-against-relaxation-of-hunt-ban-march-2014/
EarthJustice, April 29, 2014
▶ FOOD CHAIN ECOCIDE: WILDLIFE CONSERVATION GROUPS JOIN FIGHT TO BAN d-CON RAT POISONS. "EPA is trying to protect wildlife and children from the damaging and even lethal effects of rat poison" http://earthjustice.org/news/press/2013/wildlife-conservation-groups-join-fight-to-ban-d-con-rat-poisons
========================
▶ USA WILDHORSE ROUNDUP: SHOULD WE BE SLAUGHTERING WILD AND DOMESTICATED HORSES FOR MEAT? http://sco.lt/7Z6Ojx
===========================
NEW YORK STATE'S WAR ON WILDLIFE
July 28, 2013 Focusing On Wildlife
-▶ NEW YORK: HUNDREDS OF MIGRATING CANADA GEESE SLAUGHTERED IN NEW YORK JAMAICA BAY WILDLIFE REFUGE http://focusingonwildlife.com/news/hundreds-of-canada-geese-slaughtered-in-jamaica-bay-wildlife-refuge/
Digital Journal, March 05, 2014
-▶ PROTESTERS FLOCK TOGETHER TO STOP SWAN KILLINGS IN NEW YORK http://www.digitaljournal.com/news/environment/protesters-flock-together-to-stop-swan-killing-in-new-york/article/374288
NY Daily News, December 09, 2013
-▶ 'WILDLIFE SPECIALISTS' SHOOTING SNOWY OWLS AT NEW YORK CITY'S AIRPORTS http://www.nydailynews.com/new-york/snowy-owls-added-port-authority-kill-list-article-1.1541823
New York Times, January 30, 2014
▶ NEW YORK WANTS TO GET RID OF (KILL) THEIR 2,200 MUTE SWANS BECAUSE THEY'RE IN THE WAY OF MAN http://www.nytimes.com/2014/01/30/nyregion/a-winged-symbol-of-love-that-new-york-state-wants-banished.html?ref=earth&_r=0
10,000 Birds, December 09, 2013
-▶ SNOWY OWLS BEING SHOT AT JFK AIRPORT http://10000birds.com/snowy-owls-being-shot-at-jfk-airport.htm
July 10, 2013
-▶ USDA "BYE BYE BLACKBIRD" PROGRAM RESPONSIBLE FOR MASS KILLINGS OF MILLIONS OF BIRDS http://worldtruth.tv/usda-admits-exterminating-birds
PDF LISTING http://www.aphis.usda.gov/wildlife_damage/prog_data/2009_prog_data/PDR_G_FY09/Basic_Tables_PDR_G/Table_G_FY2009_Short.pdf
September 8, 2013 Scientific American
▶ VULTURES FACE EXTINCTION AND INDIFFERENCE "If they were gone, we'd be left with a huge disease-transmission time bomb,"
http://www.scientificamerican.com/article.cfm?id=vultures-face-extinction-and-indifference
WATCH
SHOOTING ONE OWL TO SAVE ANOTHER
July 26, 2013 NewsHour PBS Report
http://www.pbs.org/newshour/rundown/2013/07/shooting-one-owl-to-save-another.html
News Daily, December 20, 2013
-▶ U.S. FEDS BEGIN KILLING BARRED OWLS TO HELP SPOTTED OWL http://www.newsdaily.com/article/db7bafed5a5ad63f8383d8c0c296f7b8/feds-begin-killing-barred-owls-to-help-spotted-owl\
PETITION
STOP THE USE OF INHUMANE STEEL LEG HOLD TRAP AND KILLING OF URBAN COYOTES AND ALL ANIMALS IN TEXAS - NOW https://www.change.org/petitions/stop-the-use-of-inhumane-steel-leg-hold-traps-and-killing-of-urban-coyotes-and-all-animals-in-texas-immediately
-▶ TAKE ACTION: http://wg.convio.net/site/MessageViewer?em_id=9901.0

VIDEO
DIscovery Channel
COYOTE
http://www.discovery.com/tv-shows/north-america/animals/coyote.htm
===============================
-▶ WEB-OF-LIFE UNRAVELLING - Healthy Ecosystems Vital for All Planetary Life http://sco.lt/7Obz0L
-▶ MONARCH BUTTERFLY MIGRATION PLUNGE 59%. NOW AT LOWEST LEVEL EVER: INDUSTRIAL AG AND PESTICIDES http://sco.lt/5epVmz
BATTLE FOR THE BEES
Dying Bees Raise Alarm For Humans - Europe Bans Pesticide
National Science Foundation, January 15, 2014
-▶ LOSS OF LARGE PREDATORS CAUSING WIDESPREAD DISRUPTION OF ECOSYSTEMS. The study looked at research results from a wide range of terrestrial, freshwater and marine ecosystems and concluded "the loss of apex consumers is arguably humankind's most pervasive influence on the natural world." http://www.nsf.gov/news/news_summ.jsp?cntn_id=121020
-▶ THE GREAT AMERICAN CORPORATE GIVEAWAY: OUR PUBLIC WILDLIFE PRESERVES: OIL & GAS DRILLING, GMO CROPS & FORESTS, PESTICIDES & CHEMICALS http://sco.lt/99bwx7

-▶ NO SAFE HAVEN: MIGRATING BIRDS BEING MASSACRED BY THE MILLION AROUND THE WORLD http://sco.lt/8Y8tmb
-▶ WIND TURBINES: IS IT OK TO SLAUGHTER HUNDREDS OF THOUSAND OF BIRDS, BATS EVERY YEAR IN THE NAME OF CLEAN ENERGY? http://sco.lt/89su3d
VIDEO
THOUSANDS OF SNOWY OWLS
MIGRATE SOUTH IN UNBELIEVABLE WILDLIFE EVENT http://healthypets.mercola.com/sites/healthypets/archive/2012/03/12/arctic-snowy-owls-migrate-south.aspx
LOVELY WATCH
"THE MAGIC OF THE SNOWY OWL"
PBS Nature
http://www.pbs.org/wnet/nature/episodes/magic-of-the-snowy-owl/preview/7833/
-▶ STATE OF THE WORLD'S BIRDS REPORT INDICATE A PLANET IN PERIL http://sco.lt/4jydYv
AN URGENT MEMO TO THE WORLD
The Natural Eye Project
http://thenaturaleye.wordpress.com/2012/07/12/an-urgent-memo-to-the-world/
▶ National Geographic, February 02, 2014
REAL TRAGEDY OF TAIJI DOLPHIN SLAUGHTER IS OUR INHUMANITY TOWARD ANIMALS http://news.nationalgeographic.com/news/2014/02/140202-dolphins-taiji-japan-whales-marine-animal-altruism-science/
The Tyee, February 18, 2012
▶ HUMANS NEED NOT BE ENEMIES OF HEALTHY ECOSYSTEMS http://thetyee.ca/Blogs/TheHook/Environment/2012/02/18/Humans_need_not_be_enemies/
▶ A DISASTER: LOSS OF TWO THIRDS OF TOP PREDATORS CAUSING GLOBAL ECOSYSTEMS TO COLLAPSE http://sco.lt/7XHisr
▶ CAUSING ANIMALS WE EAT TO SUFFER COARSENS US AND MAKE US LESS COMPASSIONATE http://sco.lt/5nMAuP
▶ WHY CHOOSING NATURE WILL ONLY ADVANCE HUMAN SOCIETIES http://sco.lt/8BIJP7
▶ THE ANIMAL-HUMAN RELATIONSHIP: STATE OF THE ANIMALS 2013 http://sco.lt/8bx38j
-▶ THE SIXTH MASS EXTINCTION IS UPON US - CAN HUMANS SURVIVE? http://sco.lt/95E5aL
WATCH
▶ FILM: ***"HOME"
An Exquisite Dedication To the Stewards of Our Planet
http://thenaturaleye.wordpress.com/2011/03/26/home-an-exquisite-story-of-our-world/
▶ MORE ON EXTINCTION http://www.scoop.it/t/biodiversity-is-life?q=EXTINCTION