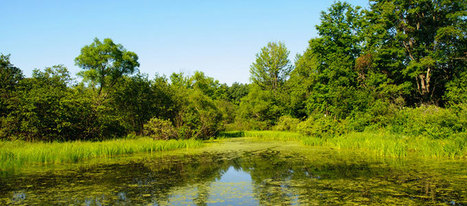 UN Report - 16 October 2012 –
-▶Governments must recognize the vital economic and environmental role that wetlands play in supporting human life and biodiversity, according to a United Nations-backed report released today, which also stresses that their protection is essential for countries to transition into resource-efficient and sustainable economies.... http://www.un.org/apps/news/story.asp?NewsID=43300&Cr=sustainable+development&Cr1=#.UJWR5IXZ03Y
USA Today, February 12, 2014
LOUISIANA BAYS AND BAYUS VANISH FROM NAUTICAL MAPS
The new maps document a disturbing trend Louisianans have witnessed for years. The state has lost more than 1,800 square miles of its coastal marshes – an area larger than the size of Rhode Island – since the 1930s, due to sealing off the Mississippi River with levees to protect towns, natural subsidence and thousands of miles of transport canals carved out by oil and gas companies.
In another rare move, a New Orleans area flood control board filed a lawsuit last year against 97 oil and gas companies, claiming they should fund billions of dollars in coastal restoration projects for their role in wetlands loss. Similar lawsuits by Plaquemines and Jefferson parishes followed. Only a fraction of a $50 billion, 50-year state plan to restore the coast has been funded... http://www.usatoday.com/story/news/nation/2014/02/12/noaa-maps-disappear-coastal-erosion/5259611/
Scientific American, December 14, 2013
-▶ LOUISIANA WETLANDS TATTERED BY INDUSTRIAL CANAL, NOT JUST RIVER LEVEES http://www.scientificamerican.com/article.cfm?id=carey-louisiana-wetlands-tattered-by-industrial-canals

-▶ MORE ON WETLANDS FROM SCIENTIFIC AMERICAN http://www.scientificamerican.com/search/?q=Louisiana+Wetlands+Tattered+by+Industrial+Canals%2C+Not+Just+River+Levees+&x=12&y=6
Bloomberg BNA, December 13, 2013
-▶ EPA, CORPS SAY BENEFITS OF PROTECTING WETLANDS, STREAMS FAR OUTWEIGH COSTS http://www.bna.com/epa-corps-say-n17179880702/
The Washington Post, December 08, 2013
-▶ STUDY SAYS U.S. CAN'T KEEP UP WITH LOSS OF WETLANDS http://www.washingtonpost.com/national/health-science/study-says-us-cant-keep-up-with-loss-of-wetlands/2013/12/08/c4801be8-5d2e-11e3-95c2-13623eb2b0e1_story.html
NOAA Fisheries
-▶ WHY WETLANDS MATTER:
Status and Trends of Wetlands in Coastal Watersheds INFOGRAPHIC http://www.nmfs.noaa.gov/stories/2013/11
Summit Voice, Septem ber 22, 2013
-▶ RATE OF COASTAL WETLANDS LOSSES SPEEDS: THREATENING MIGRATING BIRDS http://summitcountyvoice.com/2013/11/22/rate-of-coastal-wetlands-losses-speeds-up/
-▶ FAILURE TO PROTECT WETLANDS PUTS MIGRATORY WATERBIRDS AT RISK - UN http://sco.lt/9FQw3F
-▶ LARGE-SCALE BIODIVERSITY IS VITAL TO MAINTAIN HUMAN AND ECOSYSTEM HEALTH http://sco.lt/8amPlR
-▶ KILLING OFF BIODIVERSITY AND WILDLIFE DOESN'T PAY: DRAINED WETLANDS GIVE OFF SAME AMOUNT OF GREENHOUSE GASES AS INDUSTRY http://www.terradaily.com/reports/Drained_wetlands_give_off_same_amount_of_greenhouse_gases_as_industry_999.html
WATCH
VIDEO
BBC Future, March 13, 2013
-▶ "PANTANAL: LIQUID HEART OF SOUTH AMERICA"
In this film Rob Shore, head of Wetland Conservation at the Wildfowl & Wetland Trust, Michael Becker, conservation director at WWF-Brazil, environmental economist Pavan Sukhdev, and lead scientist with The Nature Conservancy Dr M Sanjayan reveal the richness of life supported by the Pantanal but also the contribution this great wetland makes to the life of people living far beyond its limits... http://www.bbc.com/future/story/20130312-liquid-heart-of-south-america
October 16, 2012 UNEP News Center
-▶ VITAL ECONOMIC AND ENVIRONMENTAL ROLE OF WETLANDS MUST BE RECOGNIZED TO AVOID FURTHER DEGRADATION AND LOSSES http://www.unep.org/newscentre/Default.aspx?DocumentID=2697&ArticleID=9305&l=en
-▶ WHY IS BIODIVERSITY IMPORTANT? http://www.naturalengland.org.uk/ourwork/conservation/biodiversity/importance/default.aspx
Guardian Environment, October 12, 2013
-▶ BRITAIN'S LOST RIVERS RESURRECTED AND FREED TO GO WITH THE FLOW http://www.theguardian.com/environment/2013/oct/13/britain-lost-rivers
January 26, 2012 Mongabay
-▶ PROTECTING ORIGINAL WETLANDS FAR PREFERABLE TO RESTORATION http://news.mongabay.com/2012/0126-hance_wetlands_restoration.html
September 5, 2013 Natural England
-▶ RECORD BREAKING SUMMER FOR SOMERSET'S WETLAND BIRDS http://www.naturalengland.org.uk/ourwork/conservation/biodiversity/avalonmarshesegretsfeature.aspx
August 22, 2013 Inter Press Service
-▶ NEW DELHI: ANGRY BIRDS SKIP POLLUTED DELHI - WETLANDS DISAPPEARING http://www.ipsnews.net/2013/08/angry-birds-skip-polluted-delhi/
September 5, 2013 Red Orbit
-▶ WETLANDS SERVE AS NATURAL SOURCE FOR IMPROVEMENT OF STREAM POLLUTED BY ACID RAIN http://www.redorbit.com/news/science/1112940260/wetlands-key-in-revitalizing-acid-streams-090513/
--- WATCH --
▶EDGE OF THE EVERGLADES - THE BIG CYPRUS SWAMP
YouTube http://www.youtube.com/watch?v=AHDHbzQPJcA
July 30, 2013 Environmental Working Group
-▶ REPORT: 7.2 MILLION ACRES OF USA WETLANDS AND FRAGILE LAND GO UNDER THE PLOW http://www.ewg.org/release/72-million-acres-wetlands-and-fragile-land-go-under-plow
Deep Green Resistance News Service
-▶ REPORT FINDS HALF OF EARTH'S WETLANDS DESTROYED SINCE 1900 http://dgrnewsservice.org/2012/10/18/report-finds-half-of-earths-wetlands-destroyed-since-1900/
November 27, 2012 TerraDaily
-▶ DRAINED WETLANDS GIVE OFF SAME AMOUNT OF GREENHOUSE GASES AS INDUSTRY http://www.terradaily.com/reports/Drain
July 4, 2013 | Science Matters | David Suzuki Foundation
-▶ WORKING WITH NATURE CAN PROTECT US FROM FLOODS - RESTORING WETLANDS: The business case for maintaining and restoring nature's ecosystems is stronger than ever... http://www.davidsuzuki.org/blogs/science-matters/2013/07/working-with-nature-can-protect-us-from-floods/
July 16, 2013 Global Possibilities
-▶ PROTECTING NATURE IS THE BEST WAY OF PROTECTING OURSELVES FROM RISING TIDES AND STORMS http://www.globalpossibilities.org/heres-an-easy-way-to-protect-coastal-communities-from-rising-seas-and-storms/
LOVELY VIDEO
-▶ *** AWHAR: RESTORING THE MESOPOTAMIAN MARSHES IN IRAQ - Full Episode http://sco.lt/5T7sNV
January 18, 2013 Guardian
-▶ RIVERS, LAKES AND WETLANDS; COULD WATER BECOME THE WORLD'S BIGGEST MARKET? http://www.guardian.co.uk/global-development/poverty-matters/2013/jan/18/rivers-lakes-wetlands-water-market
March 13, 2012 Terra Daily
-▶ 15-YEAR STUDY: WHEN IT COMES TO CREATING WETLANDS, MOTHER NATURE IS IN CHARGE http://www.terradaily.com/reports/15_year_study_When_it_comes_to_creating_wetlands_Mother_Nature_is_in_charge_999.html
March 11, 2012 The Globe and Mail
-▶ REBUILDING WETLANDS DESTROYED BY OIL SANDS MAY NOT RESTORE IT, RESEARCHERS SAY http://www.theglobeandmail.com/news/national/rebuilding-land-destroyed-by-oil-sands-may-not-restore-it-researchers-say/article2365858/
February 3, 2012 Phys.Org
-▶ DEFORESTATION THREATENS BRAZIL'S WETLAND SANCTUARY http://phys.org/news/2012-02-deforestation-threatens-brazil-wetland-sanctuary.html
WATCH
VIDEO
-▶ *** FROGS: THE THIN GREEN LINE - A WORLD WITHOUT FROGS http://sco.lt/7PA8vp
November 9, 2012 Living on Earth
-▶ WETLAND DESTRUCTION THREATENING RUSSIA'S SPOON-BILLED SANDPIPER
http://www.loe.org/shows/segments.html?programID=12-P13-00045&segmentID=5
-▶ RESTORING RIVERS: THE LIFEBLOOD OF BOTH HUMAN AND ECOLOGICAL COMMUNITIES http://sco.lt/5tVYLB
-▶ STATE OF THE WORLD'S BIRDS REPORT INDICATES A PLANET IN PERIL http://sco.lt/4yq6z3
-▶ RESTORING THE EARTH: THE BONN CHALLENGE http://sco.lt/4p7B3Z
-▶ WEB-OF-LIFE UNRAVELLING - Healthy Ecosystems Vital for All Planetary Life http://sco.lt/7Obz0L
-▶ DAMS, ECOCIDE AND WATER RIGHTS -▶
BIG MONEY DRIVES EXTINCTION
Indigenous Communities, EcoSystems, Forests Devastated
-▶ CONTEMPORARY AGRICULTURE IS BURNING UP OUR PLANET http://sco.lt/99tRI1
-▶ PESTICIDES FOR BIG AG ARE KILLING OUR PLANET: DECIMATING POLLINATORS, DRAGONFLIES AND OTHER AQUATIC INSECTS -- AND YOU http://sco.lt/5XzNlx