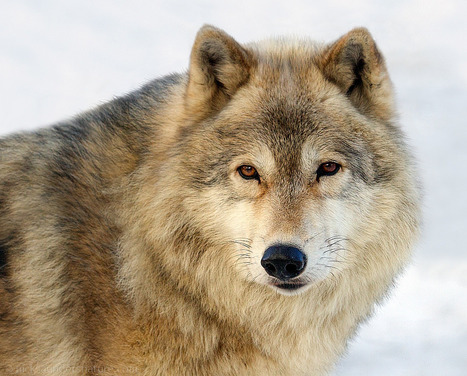 New York Times, September 30, 2012
-▶ WHY THE WORLD NEEDS WOLVES. Wolves and other predators have a powerful effect on the well-being of the ecosystems around them.
September 28, 2012. Wyoming wolves are being exterminated. Many Americans, even as they view the extermination of a species as morally anathema, struggle to grasp the tangible effects of the loss of wolves. It turns out that, far from being freeloaders on the top of the food chain, wolves have a powerful effect on the well-being of the ecosystems around them — from the survival of trees and riverbank vegetation to, perhaps surprisingly, the health of the populations of their prey. ... http://www.nytimes.com/2012/09/29/opinion/the-world-needs-wolves.html?_r=1&src=me&ref=general
THE WAR ON WOLVES ISN'T JUST HAPPENING OUT WEST
Indefinitely Wild, February 04, 2015
NORTH CAROLINA WANTS TO DECLARE ITS 100 WILD RED WOLVES EXTINCT BY ROUNDING THEM UP AND FORCING THEM INTO CAPTIVITY. As mind boggling as that may seem, it is more surprising when you consider that the NCWC is a formal partner of the USFWS in the reintroduction program. In adopting these resolutions, the commission cited "hybridization with coyotes, encroachment onto private lands, and a failure to meet project goals" as reasons to end the program.
http://indefinitelywild.gizmodo.com/north-carolina-wants-to-declare-its-100-wolves-extinct-1683624432
August 28, 2013 MinnPost
▶ ARE WE REALLY LEAVING THE FUTURE OF MINNESOTA WOLVES UP TO HUNTERS/TRAPPERS AND LIVESTOCK PRODUCERS? http://www.minnpost.com/community-voices/2013/04/are-we-really-leaving-future-minnesotas-wolves-hunterstrappers-and-livestoc
Canis lupus 101, February 03, 2015
-▶ THIS STATE'S WOLF POPULATION IS RECOVERING, SO NOW RANCHERS CAN SHOOT THEM http://canislupus101.blogspot.com/2015/02/this-states-wolf-population-is.htm
▶ FEWER THAN 100 RED WOLVES EXIST, AND NOW THEY BEING KILLED http://www.care2.com/causes/fewer-than-100-red-wolves-exist-and-now-theyre-being-killed.html
SAVING THE WOLVES OF YELLOWSTONE
Top Predators Crucial For Ecosystem Health
WATCH
RADIOACTIVE WOLVES ~ Full Episode.
Chernobyl 25 Years On - A Land Without Humans
Radioactive Wolves ~ Full Episode. Chernobyl 25 Years On - A Land Without Humans http://sco.lt/4tjLO5
-▶ FAREWELL TO A ROCK STAR -- GUNNING DOWN WOLVES FOR FUN http://sco.lt/8pq4XJ
=========================

VIDEOS:
George Monbiot, The Guardian UK
MASS WOLF KILLINGS
ARE BASED ON THE MOST CYNICAL OF PREMISES
http://sco.lt/7PRq7t
-▶ A DISASTER: LOSS OF TWO THIRDS OF TOP PREDATORS CAUSING GLOBAL ECOSYSTEMS TO COLLAPSE http://sco.lt/7XHisr
ENDING THE WAR ON USA WILDLIFE
ECOLOGICAL ARMAGEDDON
EXTINCTION CRISIS
IN 40 YEARS WE HAVE DISAPPEARED HALF OF THE WORLD'S WILD ANIMALS http://sco.lt/8fK5eT
==========================
-▶ AS GRAY WOLVES RETURN , SO DOES DEBATE OVER "MANAGEMENT" HUNTING http://sco.lt/9KJ4fh
WATCH
THE LAST WILD WOLVES
IN BRITISH COLUMBIA'S GREAT BEAR RAINFOREST" (7:16)
The problem is that people are becoming so disconnected from their environment, to which all life on Earth depends. I hope videos like this encourage people to go outside an appreciate the beauty of the raw outdoors and all that it has to offer because once enough people recognize the value in healthy functioning ecosystems societies focus might change from economy boosting exploitation to conservation, respect and appreciation. A happy healthy environment equals happy healthy people!
https://www.youtube.com/watch?v=NNK30nwReRQ&feature=youtu.be
Canis lupus 101, February 02, 2015
-▶ ICONIC CARNIVORES MAKE THEIR HOMES IN BOREAL FORESTS INCLUDING WOLVES...LET'S SAVE THIS WILDERNESS FOR THEM
http://canislupus101.blogspot.com/2015/02/iconic-carnivores-make-their-homes-in.html
-▶ KILLING ALL WOLVES: A PRODUCT OF ALBERTA'S BIG OIL AND GAS BOOM: TAR SANDS http://sco.lt/81UQoT
WATCH
"RIVER OF NO RETURN
Full Episode PBS Nature
Central Idaho's Frank Church – River of No Return Wilderness is the largest contiguous wilderness area in the lower 48 States. Endless rugged mountains, wild rivers, forests and deep canyons define this land — home to numerous species of wildlife, including wolves, who have just returned after 50 years of near absence.
http://www.pbs.org/wnet/nature/episodes/river-of-no-return/full-episode/7648/
VIDEO
TROPHY, CANNED HUNTING:
Lions, Tigers Bred In Captivity For Trophy Hunting