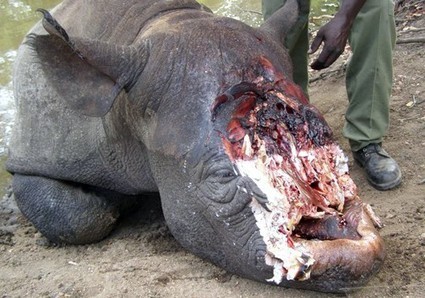 AmmoLand, October 11, 2013
▶ ▶ UNBELIEVABLE !! RHINO PERMIT TO BE AUCTIONED AT U.S. DALLAS SAFARI CLUB CONVENTION http://www.ammoland.com/2013/10/rhino-permit-to-be-auctioned-at-dallas-safari-club-convention/#axzz2hZwTD3xq
Al Jazeera America, October 25, 2013
TEXAS HUNTERS TO AUCTION HUNTING PERMIT FOR ENDANGERED BLACK RHINO http://america.aljazeera.com/articles/2013/10/25/texas-hunters-pledgesavingblackrhinobykillingone.html
TreeHugger, October 18, 2013
KENYA MICROCHIPPING EVERY SINGLE RHINO IN AMBITIOUS ANTI-POACHING EFFORT http://www.treehugger.com/endangered-species/kenya-microchipping-every-single-rhino-ambitious-anti-poaching-effort.html
October 1, 2013
RHINO POACHING HAS GONE UP 5000% SINCE 2007 http://www.treehugger.com/endangered-species/rhino-poaching-south-africa-has-gone-5000-2007.html
April 30, 2013 Telegraph
▶ POACHERS COMPLETELY WIPE OUT AFRICAN RHINOS IN MOZAMBIQUE http://www.telegraph.co.uk/news/worldnews/africaandindianocean/mozambique/10028738/Last-rhinos-in-Mozambique-killed-by-poachers.html
Mongabay, September 29, 2013
▶ WORST RHINO POACHING YEAR ON RECORD FOR SOUTH AFRICA
At least 688 rhinos have been poached in South Africa this year, surpassing last year's record of 668 with more than three months remaining in 2013 http://news.mongabay.com/2013/0929-rhino-poaching-record.html
Yale Environment 360, November 27, 2012
▶ THE DIRTY WAR AGAINST AFRICA'S REMAINING RHINOS http://e360.yale.edu/feature/the_dirty_war_against_africas_remaining_rhinos/2595/
▶ POACHED RHINO: SHE WAS FIVE YEARS OLD via @Nikela_Wildlife http://sco.lt/8puVN3
INFOGRAPHIC: THE JOURNEY OF A RHINO HORN http://www.aljazeera.com/programmes/wildlife-warzone/2013/10/infographic-journey-a-rhino-horn-2013107143045828890.html?wwftw2
March 23, 2013 - Digital Journal
▶ RHINO HORN NOW MORE VALUABLE ON THE MARKET THAN GOLD, PLATINUM OR COCAINE - THE SMUGGLING ROUTE FOR SOUTH AFRICAN RHINO HORN Read more: http://www.digitaljournal.com/article/346292#ixzz2Ot7pjBbp
April 5, 2013 Yale Environment 360:
▶ SOUTH AFRICA GAME RESERVE INJECTS POISON INTO LIVING RHINO HORNS IN EFFORTS TO HALT POACHERS (No Mention Of How This Would Affect the Rhinos Themselves) http://e360.yale.edu/digest/south_africa_game_reserve_poisons_rhino_horns_to_halt_poachers/3810/?utm_source=feedburner&utm_medium=feed&utm_campaign=Feed%3A+YaleEnvironment360+%28Yale+Environment+360%29
March 1, 2013
▶ RHINO POACHING ELEVATED TO 'PRIORITY CRIME' via @Nikela_Wildlife http://sco.lt/701x6P
Link TV November 15, 2012
VIDEO:
▶ I0 ADULT RHINOS AND A FOUR-MONTH OLD CALF KILLED ON SOUTH AFRICAN FARM. DEATHS BRING NUMBER OF RHINOS SLAUGHTERED THIS YEAR ALONE TO 558 http://news.linktv.org/videos/seven-rhinos-slaughtered-in-south-africa
▶ THE DIRTY WAR AGAINST AFRICAN'S RHINOS - EXTINCTION IS FOREVER http://www.scoop.it/t/biodiversity-is-life/p/3527088396/the-dirty-war-against-africa-s-rhinos-extinction-is-forever
▶ TROPHY HUNTING: IT'S IMPACT ON WILDLIFE AND PEOPLE http://www.scoop.it/t/trophy-hunting-in-africa-it-s-impact-on-wildlife-and-people
GOING...GOING...GONE
May 4, 2013 Care 2
▶ RANGERS HELP POACHERS MURDER THE LAST 15 RHINOS IN MOZAMBIQUE http://www.care2.com/causes/rangers-help-poachers-murder-the-last-15-rhinos-in-mozambique.html
May 17, 2013 David Shepherd Wildlife Foundation
▶ SOUTH AFRICA: RHINO DEATHS - 14 IN 24 HOURS http://www.davidshepherd.org/news-events/news/rhino-deaths-14-in-24-hours/
Huffington Post Green, September 23, 2013
▶ STAGGERING NUMBER OF RHINOS KILLED IN SOUTH AFRICA BY POACHERS http://www.huffingtonpost.com/2013/09/23/rhinos-killed-south-africa-record-2013-poaching_n_3976258.html
▶ WHAT'S HAPPENING TO AFRICA'S RHINO? http://www.scoop.it/t/what-s-happening-to-the-african-rhino
October 10, 2013, WWF
▶ UNDERSTANDING THE PLIGHT OF THE SUMATRAN RHINO http://worldwildlife.org/stories/understanding-the-plight-of-the-sumatran-rhino
April 3, 2013
▶ SOUTH AFRICA KRUGER NATIONAL PARK RHINO POACHING ALREADY TOPS 200 THIS YEAR http://www.terradaily.com/reports/South_Africa_rhino_poaching_toll_for_year_tops_200_999.html
▶ NEW THREAT TO CONSERVATION OF WILDLIFE: "CYBERPOACHING" EXTINCTION NEARS http://sco.lt/6CmpXt
April 8, 2013 BBC News
▶ NEPAL'S RHINO HUNTERS BECOME THE HUNTED http://www.bbc.co.uk/news/world-asia-22030392
Original Article: http://www.thestar.com/news/world/2013/07/05/fighting_a_booming_trade_in_rhino_horns.html
April 5, 2013 World Wildlife Fund -
▶ TRAUMATIZED, DEHYDRATED ORPHANED INDIAN RHINO STRUGGLES TO SURVIVE AFTER MOTHER SHOT DOWN FOR HER HORN http://wwf.panda.org/wwf_news/index.cfm?208176/Orphaned-rhino-struggles-to-survive-after-mother-killed
▶ THE ANIMAL NOBODY WANTS TO KEEP - THE DISAPPEARING RHINO http://www.scoop.it/t/biodiversity-is-life/p/3285098855/the-animal-nobody-wants-to-keep
WATCH:
▶ RHINO CRISIS - HELPING RHINOS
Via: Rhino Poaching South Africa http://sco.lt/5gXXCj
Live Science, September 27, 2013
▶ HOW CHILDREN IN VIETNAM MAY PREVENT THE RHINO'S EXTINCTION http://www.livescience.com/39993-how-children-in-vietnam-may-prevent-the-rhinos-extinction.html
April 24, 2013 WildLife News
▶ NO RHINOS LEFT IN LIMPOPO NATIONAL PARK http://wildlifenews.co.uk/2013/no-rhinos-left-in-limpopo-national-park/?buffer_share=382f8
May 1, 2013 Treehugger
▶ POACHERS HAVE NOW SLAUGHTERED ALL THE RHINOS IN MOZAMBIQUE http://www.treehugger.com/natural-sciences/poachers-have-now-killed-all-rhinos-mozambique.html
International Conservation Forum
▶ SOUTH AFRICA RHINO CLINGING TO LIFE AFTER SAVAGE ATTACK http://www.icforum.info/category/rhinos/
April 8, 2013 Mongabay
▶ SUMATRAN RHINO POPULATION PLUNGES, DOWN TO 100 ANIMALS http://news.mongabay.com/2013/0408-hance-sumatran-rhino-100.html
25 March, 2012 Focusing on Wildlife
▶ FACING EXTINCTION, CONSERVATIONISTS CALL EMERGENCY SUMMIT TO SAVE SUMATRAN RHINOS - NOW UNDER 200 http://focusingonwildlife.com/news/facing-extinction-conservationists-call-emergency-summit-to-save-sumatran-rhinos/
June 9, 2013 The Guardian
▶ KENYA OVERHAULS WILDLIFE LAWS FOLLOWING RISE IN ELEPHANT AND RHINO DEATHS http://www.guardian.co.uk/environment/africa-wild/2013/jun/07/kenya-wildlife-laws-elephant-rhino-deaths
June 3, 2012 Guardian Environment
▶ SEVEN RHINOS KILLED BY POACHERS IN KENYA'S BLOODIEST WEEK http://www.guardian.co.uk/environment/africa-wild/2013/jun/03/rhinos-killed-kenyas-bloodiest-week
▶ SALE OF RHINO HORN STOCKPILE WILL ONLY FEED THE CORRUPT @scoopit via @Nikela_Wildlife http://sco.lt/91MFfN
Original Article: http://www.timeslive.co.za/ilive/2013/07/08/sale-of-horn-stockpile-will-feed-the-corrupt-ilive
April 18, 2013 IPS
▶ BACKING A LEGAL RHINO HORN TRADE FOR PRIVATE RHINO FARMERS -- FOR PROFIT ??!! http://www.ipsnews.net/2013/04/backing-a-legal-rhino-horn-trade/
May 2, 2013 Bloomberg
▶ RHINO'S DYING BREATH SIGNALS GENERAL'S RETURN TO WAR http://www.bloomberg.com/news/2013-05-01/rhino-s-dying-breath-signals-general-s-return-to-war.html
February 18, 2013 Inter Press Service
▶ A WIN, A LOSE:
SHOOT-AT-SIGHT ORDER EFFECTIVELY KEEPING RHINO POACHERS AT BAY, NOW WEED THREATENS REFUGE http://www.ipsnews.net/2012/02/environment-weed-threatens-indian-rhinos-last-refuge/
Jan 15, 2013 INTERNATIONAL UNION FOR CONSERVATION OF NATURE ▶ — Illegal trade in rhino horns involves highly organized, mobile and well-financed criminal groups, mainly composed of Asian nationals based in Africa. These networks have ... http://ecowatch.org/2013/rhinos-in-crisis/
21 Jan 2013
▶ INDIA: PREMATURE DEATH OF 50+ ONE-HORNED INDIAN RHINO TRIGGERS CALL FOR IMPROVED CONSERVATION EFFORTS http://www.dw.de/spike-in-indian-rhino-deaths-triggers-worry/a-16537077?maca=en-rss-en-environment-4553-rdf
May 15, 2013 Environmental News Service
▶ CALIFORNIA FATHER AND SON IMPRISONED FOR HEADING UP RHINO HORN SMUGGLING RING IN USA http://ens-newswire.com/2013/05/15/california-father-and-son-rhino-horn-smugglers-imprisoned/
++++++AND DON'T FORGET THE ELEPHANTS++++++
▶ CHADS LAST ELEPHANTS - NUMBERS PLUNGE FROM 4,300 TO 450 | http://sco.lt/8nnEJd
▶ VIDEO
ENTIRE FAMILY OF 11 ELEPHANTS WIPED OUT - KENYA TRIALS TEXT MESSAGE ALERTS IN BID TO CURB POACHING http://www.scoop.it/t/biodiversity-is-life/p/3994924661/kenya-trials-text-message-alerts-in-bid-to-curb-poaching-after-entire-family-of-11-elephants-wiped-out-video
▶ 27 March, 2013 World Wildlife Fund
BABY RHINOS SIGNAL SUCCESS OF ASSAM TRANSLOCATION AFTER BEING POACHED OUT http://wwf.panda.org/wwf_news/index.cfm?uNewsID=208092&
LOVELY DOCUMENTARY
"THERE IS A RHINO IN MY HOUSE"
http://topdocumentaryfilms.com/rhino-my-house/
▶ FOLLOW: WILDLIFE MARGRIT - FOR ALL NEWS ON AFRICAN WILDLIFE AND POACHING
FOLLOW: RHINO POACHING @suemac74 on @scoopit http://www.scoop.it/t/rhino-poaching