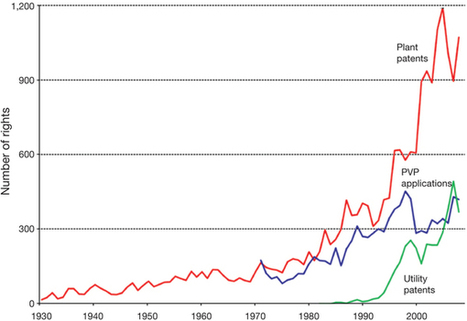 The types of plants being protected, by whom and by what form of varietal right, has changed markedly since the United States first enabled intellectual property protection for plant varieties in 1930.
Intellectual property (IP) protection for plant varieties seems perpetually embroiled in policy controversy and professional debate. The United States, a hub of plant innovation with multiple types of plant IP protections, has long been at the center of the storm. As early as 1869, the objections of a writer in the Rural New Yorker captured the essential argument against such protections that persists to this day...
When plant varietal rights were first offered in the United States in 1930, the agriculture sector, including horticulture, produced $10.2 billion in output; there were 6.5 million farms in the United States, averaging 151 acres per farm. Almost 80 years later, the US agricultural economy has grown 24-fold, yet the farm sector has massively consolidated, down to 2.1 million farms, averaging 446 acres in size. Moreover, 70% of the agricultural production (by value) came from just 7% of all commercial farms in the United States in 2003.
... substantial amounts of seed are now purchased annually rather than saved and reused. Accordingly, seed and other input markets servicing US agriculture have evolved and adjusted. The scientific basis for manipulating cultivated crops has also changed radically over the past 80 years, again changing the incentives and structures of the crop-breeding, multiplication and marketing sectors.
Along with these broader market changes have come changes in US markets for IP in general, and for IP pertaining to plant varieties in particular. Here we describe the changing legislative and legal structures that directly affect plant varieties, as well as the marked changes in the crops being protected, the types of varietal rights sought and the applicants seeking them since 1930...
Via
Alexander J. Stein
,
Mary Williams
,
Luigi Guarino