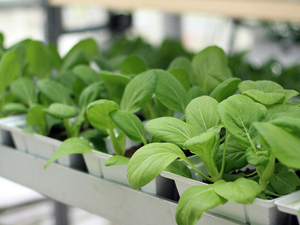 Urban farming goes vertical, as Singapore opens a 30-feet tall greenhouse for bok choy and cabbage. The farm is already producing half a ton of veggies per day for local supermarkets.
Entrepreneur Jack Ng says he can produce five times as many vegetables as regular farming looking up instead of out. Half a ton of his Sky Greens bok choy and Chinese cabbages, grown inside 120 slender 30-foot towers, are already finding their way into Singapore's grocery stores.
The idea behind vertical farming is simple: Think of skyscrapers with vegetables climbing along the windows. Or a library-sized greenhouse with racks of cascading vegetables instead of books.
Ng's technology is called "A-Go-Gro," and it looks a lot like a 30-foot tall Ferris wheel for plants. Trays of Chinese vegetables are stacked inside an aluminum A-frame, and a belt rotates them so that the plants receive equal light, good air flow and irrigation. The whole system has a footprint of only about 60 square feet, or the size of an average bathroom.