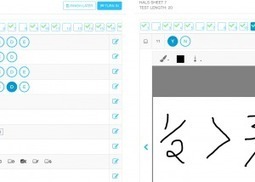 It's all about student engagement and timely feedback. Interactive gives you the spontaneity to engage with your students at the time of instruction, giving them an opportunity to show what they know.
The Answer Pad helps you transition from paper to digital assessment. Save yourself lots of time by using your existing quizzes, but set up The Answer Pad to grade them for you!
As soon as the students turn in their quizzes, you have access to a great selection of instant, standards-based online reports, and students get immediate feedback on their answers.