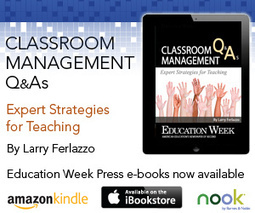 "When [co-teaching] is really, really strong, it is clear that there are two different teachers with two types of expertise," said Marilyn Friend, a co-teaching guru who has studied collaboration for decades and provided professional development to schools and districts around the country.
Co-Teaching Models
Professional development for co-teaching has focused on a handful of models that general and special educators can use to meet the needs of diverse learners in one classroom. Each model offers benefits and drawbacks.

Source: Co-teaching: Concepts, Practices, and Logistics, by Marilyn Friend
And when it's not strong?
"You might as well keep pulling kids out [of the classroom]," said Ms. Friend, a professor emerita of education at the University of North Carolina at Greensboro. "Because they're not going to get what they need."