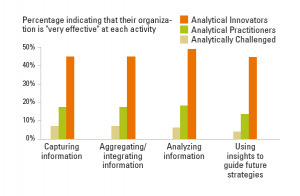 ompanies continually look for ways to outperform their competitors. One way is to apply analytics to their treasure trove of data. Researchers, for example, have found that top-performing businesses were twice as likely to use analytics to guide future strategies and guide day-to-day operations compared to their low-performing counterparts. Earlier this year, MIT and SAS released the results of a studywhich identified some of the reasons behind these differences. They surveyed 2500 respondents (55% being executives) across a variety of industries about how their organizations use data to advance their business objectives.
Three Ways to Improve the Value of Analytics for your Business
The researchers compared Analytical Innovators (businesses where analytics created a competitive advantage and has helped innovation) with Analytically Challenged (businesses where analytics did not create a competitive advantage and did not help innovation). They found that Analytical Innovators adopted different analytic practices compared to Analytically Challenged. According to their findings, if you want to be an Analytical Innovator, you need to:...