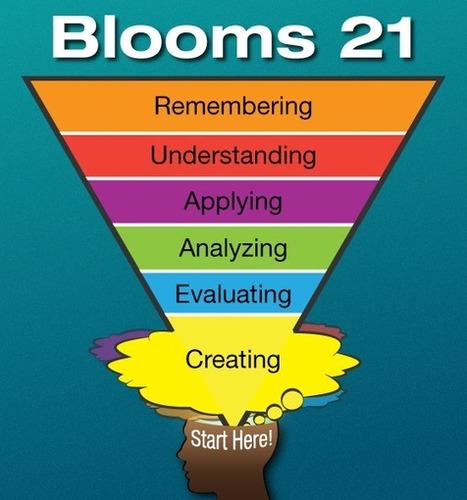 I think the revised Bloom's Taxonomy is wrong. I agree that the taxonomy accurately classifies various types of cognitive thinking skills. It certainly identifies the different levels of complexity. But its organizing framework is dead wrong.
Many teachers in many classrooms spend the majority of their time in the basement of the taxonomy, never really addressing or developing the higher order thinking skills that kids need to develop. We end up with rote and boring classrooms. Rote and boring curriculum. Much of today's standardized testing rigorously tests the basement, further anchoring the focus of learning at the bottom steps, which is not beneficial for our students.
....
I think the best flipped classrooms work because they spend most of their time creating, evaluating and analyzing. In a sense we're creating the churn, the friction for the brain, rather than solely focusing on acquiring rote knowledge. The flipped classroom approach is not about watching videos. It's about students being actively involved in their own learning and creating content in the structure that is most meaningful for them.
Blooms 21 actively places learning where it should be, in the hands of the learner.