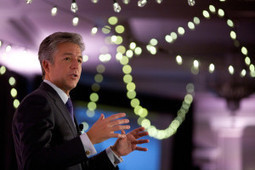 "Find out why understanding the Millennial generation is important, if not crucial to a business' survival."
No single trend has a greater impact on business, government or the role of technology in the world than the emerging millennial workforce. ...[They are the]... largest purchasing class in the world.
Excerpted:
They are the first generation born into the mobile device. According to a survey, millennials would rather give up driving than their smartphone or laptop.
They are driven by purpose, rather than professional recognition.....they care more about making a positive difference than workplace recognition.
They ...they want a meaningful career....not old school companies.
In his keynote, Bill McDermott said, "Millennials are disruptive and creative...They will define the future of work into an environment that is highly digitized, mobile, social and of course, sustainable ... "dematerializing and demonetizing at a breathtaking pace," impacting markets in a disruptive way.
....millennial consumers don't buy products, they buy experiences and they want easy access to these experiences.
...almost every mobile device maker is now trying to capitalize on the next biggest idea – wearable technology.

For all REVELN ScoopIt excerpted articles, click on the photo or title to open the full, original article.
Via
Deb Nystrom, REVELN