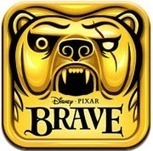 Temple Run Brave For iPad3 download link features Temple Run Brave For iPhone4S Retina display Temple Run Brave For iPod Touch iOS Best Games for iPad3 Retina display...
Earlier we discussed that Disney is planning to launch a new version the existing game The Temple Run game which is a huge success and highly addictive game. Temple run has a simple story, you are running running with ancient temple treasure with monkeys on your back. If you slow down, these wild monkeys are gonna eat you. Oh! by the way, there are lots of obstacles where you have to jump, slide and make quick turns to keep running and stay alive. Temple Run Brave is the new game from Disney for iOS, a successor of Temple Run original. This game has a new story. You play the role of a princess who is trying to escape the fortress. That's not it. To spice up the spirit of the game Disney has replaced monkeys with bears what will rip you apart if you slow down. Bad for a princess! Don't you worry, cause there are few upgrades to the temple run so you have archery skills to shoot.
New features of Temple Run Brave for iOS
Introducing ARCHERY – tap targets to shoot a bullseye and earn extra coins New, amazing visuals. It looks better than ever! All new environments inspired by Disney/Pixar Brave and the wilds of Scotland Play as Merida from Disney/Pixar Brave Outrun Mordu, the demon bear, to earn running glory Temple Run Brave for iOS also includes the following features of Temple Run: Simple swipe and tilt control that are easy to use and just feel right Level up your character and use crazy power-ups Game Center Leaderboards and Achievements to compete with your friends Endless play!