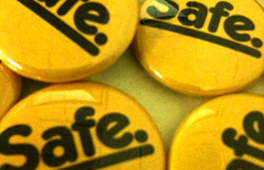 Safe and Makewaves introduce the Safe SID Badge to reward young people who 'Connect with Respect' for Safer Internet Day 2013 on Tuesday 5th February.
Digital Badges are being awarded to young people who take part in the Safer Internet Day 2013 campaign run by Safe - the Certificate in Social Networking - and Makewaves, the award winning social learning environment.
Young people can earn their SID 2013 Badge by sharing what they are doing for Safer Internet Day 2013. The Safe Network will be hosting live content, debates and featuring highlights from SID2013.
Earn your SID2013 badge in 3 simple steps:

1. Create a story for SID2013 e.g. a blog, top tips, a video or poem...
2. Publish your story using your Makewaves reporter page
3. Submit your story to the Safer Internet Day Channel