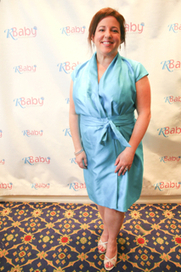 Genius clothes tricks from a fashion stylist that'll take off 10 pounds
WANTED: My waistline. It hasn't been seen since approximately May 2002, when my baby-carrying belly popped. One gift of motherhood is that I haven't had much time to mourn my shape's disappearance. Recently, though, I had a body panic attack: I had two events to attend, and I no great outfits for them. I needed a dress, bad. I needed my waist even more.
Then a fairy godmother arrived in my email in-box: Kimberly Garrett of Plush Fashion Styling, to be exact. Formerly part of the celeb dressing team at Polo Ralph Lauren, she's helped style Blake Lively, Julianne Moore and Debra Messing; she's also worked with the wardrobe designers on Gossip Girl and Sex and the City 2. Turns out she now specializes in working with New York City moms, and she was up for lending me—non-celeb me!—her expertise for events. Free. Was I interested?