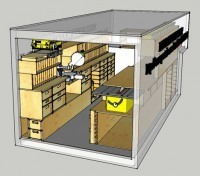 "Ron Paulk's mobile woodshop fits inside a 1,000 cubic foot truck and packs every major power tool with a number of rather clever storage solutions. Even better, Ron has created sketchup plans..."
De la serie '¡Mamá quiero un barfablab móvil!' Para adaptar este proyecto a un barfablab móvil hay que ampliarlo con al menos una zona chilout ;) Sin problema puede instalarse utilizando el espacio exterior donde se ubique temporalmente la barfablab móvil...
No podemos olvidarnos de ubicar nuestra impresora 3D open source favorita..., nuestro espacio de soldadura,...