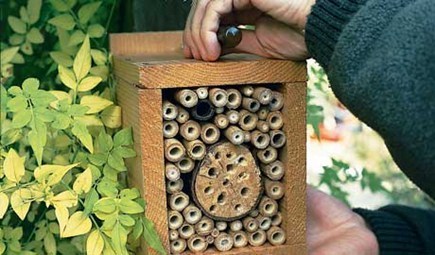 Insects - learn how to make your own bug box with advice from the Gardeners' World experts.
An insect hotel is a manmade structure created from natural materials, they can come in a variety of shapes and sizes depending on the specific purpose or specific insect it is catered to. Most consist of several different sections that provide insects with nesting facilities – particularly during winter, offering shelter or refuge for many types of insects.
**Why Build One?
Our gardens are home to a wide range of living creatures. An average garden could hold over 2,000 different species of insect!
With all this diversity of life it is good to know that very few creatures cause significant damage to our prized flowers, fruit and vegetables, the ones that gardeners call pests.
Even better, there are many more creatures that help us control the pests.
By providing the right habitats we can greatly increase the number of beneficial insects in the garden.
Some wild invertebrates, such as bumblebees and solitary bees, are declining in numbers in the wider countryside, so by providing homes we can contribute to their conservation.
>> Items to prepare:
The following list is for guidance only - and is in no way exhaustive.
Pallets, or strips of wood
Pen casings and drinking straws
Cardboard tubes and corrugated card
Straw, hay, dry leaf litter and moss
Plant pots
Plastic and ceramic pipes of various diameter
Roofing felt
Stones
Bricks and concrete blocks, preferably with holes
Roof tiles
Hollow bamboo canes
Dead hollow stems cut from shrubs and herbaceous plants
Pinecones
Logs drilled with various sized holes
Crushed brick and concrete rubble
Succulent plants
Sand
Supportive:
Via
Mhd.Shadi Khudr