Scoop.it!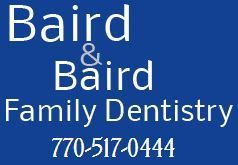 Dentist GA's insight:
Baird Family About Us
Baird & Baird Family Dentistry is family owned and operated having served the community of Woodstock, GA for more than 15 years at the same location. We take pride in our Georgia roots and enjoy providing a valuable service to our local community.
Both Dr. Baird and Dr. Baird attended The University of Georgia as well as the Medical College of Georgia earning their DMD. The Baird brothers are proud members of The American Dental Association and The Georgia Dental Association.
When visiting the Baird & Baird Family Dentistry patients can expect the highest level of professionalism a well as an experience that exceeds your every expectation. We are a family dentistry office and all patients and ages are welcome.
Our Dental Hygiene Staff have been with us for years and are second to none. They will help everyone feel welcome and comfortable so that your experience is pleasant.
Our administrative staff is extremely professional and will assist each patient in identifying their insurance coverage and set up financial plans to help you complete any dental treatments that you may need.
Call one of our team members today to schedule an appointment for you and your family.
Call Today: 770-517-0444