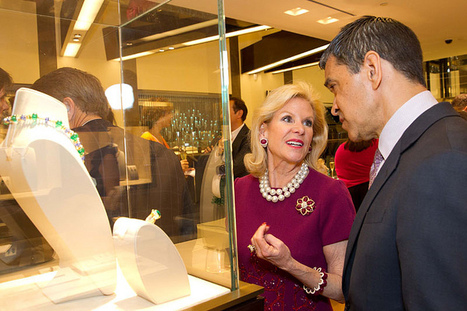 Bulgari recently celebrated the 2012 San Francisco Opera Ball in their beautiful Union Square store at a private event hosted by Dede Wilsey and Bulgari's US President, Alberto Festa.
At the event Bulgari also unveiled, for the first time in the United States, its collection of High Jewelry pieces made exclusively for the 2012 Biennale des Antiquaires in Paris. Â A gorgeous collection!
Inspiration for the imagery of some Bulgari's latest creations is said to come from Cleopatra. For instance the Serpenti necklace, with emeralds, turquoise and diamonds, was created for the Biennale des Antiquaires as a tribute to the legendary queen, and is meant to convey her power, charm and sensuality.
Other pieces were designed in homage to Elizabeth Taylor, one of the great connoisseurs of Bulgari's jewelry.
Via
Syndicat National des Antiquaires