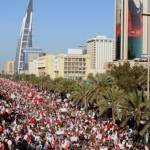 A Bahraini Shiite opposition leader called for Sunni-Shiite harmony on Friday as thousands of protesters marched in Manama, a day after residents of a town south of the capital reported sectarian clashes.
"I will consider any attack against anyone in this country as an attack against me," Sheikh Ali Salman, the head of the Islamic National Accord Association (INAA), the main Shiite political formation, told thousands of demonstrators marching on the King Faisal Corniche in Manama.
Shiites should guarantee the safety of every Sunni family, and Sunnis should do the same for the Shiites, Salman said.