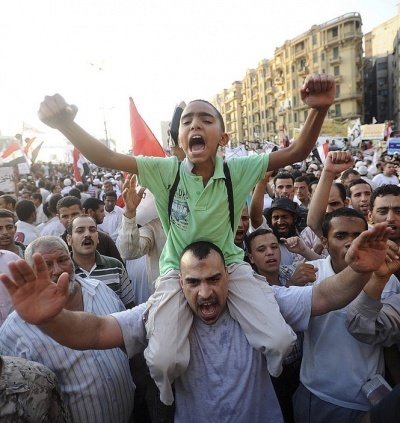 Egypt After Mubarak

Egypt turns to the Dark Side as Muslim Brotherhood Calls the Shots

... In Cairo, tens of thousands of demonstrators gathered in Tahrir Square on July 29, in response to an appeal launched by the Muslim Brotherhood. Fifteen lay political formations as well as Coptic Christians joined in the demonstration.
Among the slogans in the square, there was ''Islam, Islam, we do not want a liberal State," "The people want Islamic law,"''Islam: not West or East," to which were political demands, such as bringing ormer President Hosni Mubarak to justice.
...During Egypt's spring there was heard "Hold your head up high, you're Egyptian." On Friday, "Muslim" was substituted for "Egyptian." Similarly, the chant that resounded throughout the revolution, the people want to topple the regime," became "The people want to apply God's law." Moreover, the chant "There is no constitution but Islam," was also heard.
...
"The young protagonists of the revolution in previous months (who forced the resignation of President Mubarak) would like a more democratic government," said Rev. Verdoscia. "These young people are from the cities and are able to handle the most modern means of communication, such as the social network."
"On the other hand," continued the missionary, "the Muslim Brotherhood has a considerable organizational capacity and appeal especially to religious identity. One must keep in mind that a good part of the Egyptian population lives in rural areas. These people have no culture and their identity is only religious."
...
Following Friday prayers, contending groups of Egyptians flooded Tahrir Square and chanted conflicting slogans. Prominent among these were Salafists, an ultraconservative branch of Wahabi Islam that has close ties to Saudi Arabia. Saudi flags were evident among members of the crowd that numbered in the thousands and appeared to fill the now iconic Tahrir ('freedom') Square in Cairo. Both the Salafists and Muslim Brotherhood contingents vastly outnumbered the other groups present.
The Salafists are considered to be more religiously conservative than the Muslim Brotherhood. According to local reports, in some cities the Salafists have refused to allow contending groups to join them in marchs demonstrating against the current government. ...